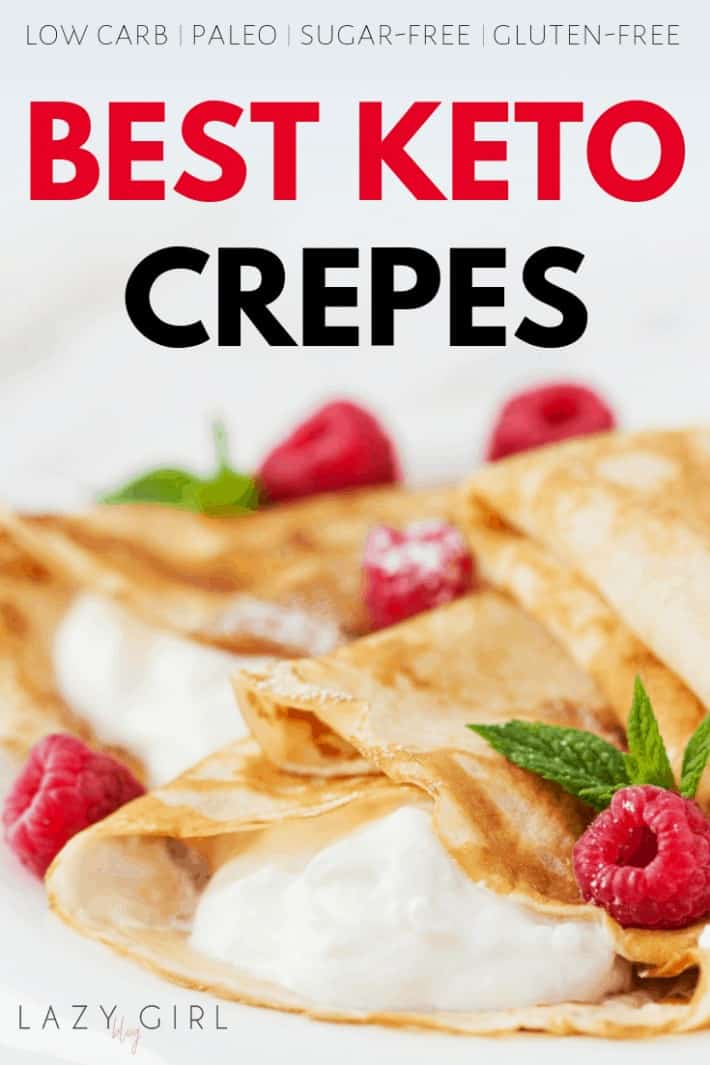 Best Keto Crepes
Best Keto Crepes recipe, while inspired by the sweet French breakfast, is completely sugar-free and low carb. Made with cream cheese, coconut oil, and coconut flour, the flavor is rich and sweet with the added value of healthy fats and the best coconutty aroma!
Whether you're trying out a Keto lifestyle or you just want to try a new approach to an iconic breakfast, this recipe is for you! They are not only easy to prepare but result in perfect, thin pancakes. Fill them with sweet or savory low carb fillings for the perfect breakfast, lunch, dinner or dessert!
Coconut flour is the trick to keeping these Easy Keto Crepes low in carbs, free of gluten, grain, and nuts perfect to satisfy your sweet tooth with no guilt. I love coconut flour because it has a nice neutral flavor and holds moisture really well, making anything moist. If you can't find coconut flour it can easily be made at home by blending unsweetened shredded coconut into a fine powder.
They are delicious stuffed with yogurt, fruits or nut butter. It is a 100% paleo and gluten-free crepe recipe that all the family loves.
---
This post may contain affiliate links. As an Amazon Associate, I earn from qualifying purchases for my referral at no extra cost to you! See Disclosure
---
Best Keto Crepes Recipe:
Prep Time: 15 mins
Cook Time: 10 mins
Total Time: 25 mins
Servings: 6 crepes
Course: Breakfast, Dessert
Cuisine: French Recipes
---
Ingredients
---
Instructions
In a large mixing bowl, add all the ingredients in this order: eggs, melted coconut oil, almond milk, cream cheese, vanilla extract, coconut flour, and almond meal
Using a whisk or electric mixer, beat until a smooth batter form with no lumps. Set aside for 10 minutes to allow the coconut flour to soak the liquid and thicken the batter slightly.
Heat lightly oil mini egg pan over medium/high heat. I used coconut oil that I rub on the pan with a piece of absorbent paper. My pan is a mini nonstick egg pan size 4.7 inches (12 cm). I recommend a small saucepan of this size to make perfect crepes that won't break.
Pour 1/4 cup of the crepe batter onto the pan, then tip and rotate the pan gently to spread batter as thinly as possible. Brown on one side first, cook 2-3 minutes until the sides are crispy and unstick easily from the pan. The center should be set and dry before you flip over to avoid the crepe to break.
Brown on other sides about 1-2 minutes and serve hot with your favorite fillings.
Enjoy!
---
Storage: you can store your crepes on a plate, covered with plastic wrap, in the fridge up to 2 days. Rewarm in the pan a few minutes, add the filling and enjoy.
---
Nutrition
Per Serving: 1 mini crepe (4.7 inches) | Calories: 59kcal | Carbohydrates: 1.8g | Protein: 4.3g | Fat: 3.8g | Fiber: 1.1g | Sugar: 0.3g | Net carb per crepes with no filling (carbs take away fiber): 0.7 g
If you like this recipe share it with your friends and (..of course..) pin it for later. 🙂