Everyone loves tiramisu … A fruity twist on a classic – Easy No-Bake Keto Strawberry Tiramisu Cups! In this luxurious dessert, traditional tiramisu gets dressed up in pink and brightened with fresh strawberries.
Strawberry Tiramisu! What can be better than a showstopping no-bake dessert, easy to prepare, bursting with strawberries, and served in individual glasses. Everlasting dessert!
I absolutely love this Strawberry Tiramisu recipe. Why? Because it's easy to make, because I don't have to turn on the oven, and because this airy dessert can impress anyone.
This is a pretty simple recipe. There are a few easy steps involved and a few bowls to clean but it's worth it cause they are so pretty and so refreshingly delicious.
I can say that this is the best alternative to a classic recipe. It is a fabulous fruit-based variant with strawberries in velvety mascarpone filling – a perfect combination!
Besides that, it is a healthy dessert, low in carbs, and perfect for your sugar cravings on your keto diet.
This is a great recipe for anyone who loves tiramisu and anything light and creamy.
---
This post may contain affiliate links. As an Amazon Associate, I earn from qualifying purchases for my referral at no extra cost to you! See Disclosure
---
Ingredients In Keto Strawberry Tiramisu Cups
---
Detailed measurements and instructions can be found on the printable recipe card at the bottom of the page.
Strawberries – I definitely recommend using fresh berries, we want berries that are juicy and plump and bright!
Mascarpone Cheese – Mascarpone is an essential creamy addition to tiramisu and will provide some rich tang to our dessert.
Do not skip mascarpone to cream cheese, as it will change properly the taste of your Tiramisu.
Mascarpone has a higher fat content and a much richer and creamier taste than cream cheese. So, using cream cheese you risk getting runny cream.
Whipped cream
Chocolate – 90% Dark Chocolate shaved or grated to be sprinkled on top.
How to make Keto Strawberry Tiramisu?
---
Prep the strawberries: Cut the strawberries into the small cubes (pieces), and put it in the large bowl.
Add sugar substitute and lemon juice. Mix gently with a spatula and leave for 10-20 minutes. Let them all hang out while you are making the creamy layer.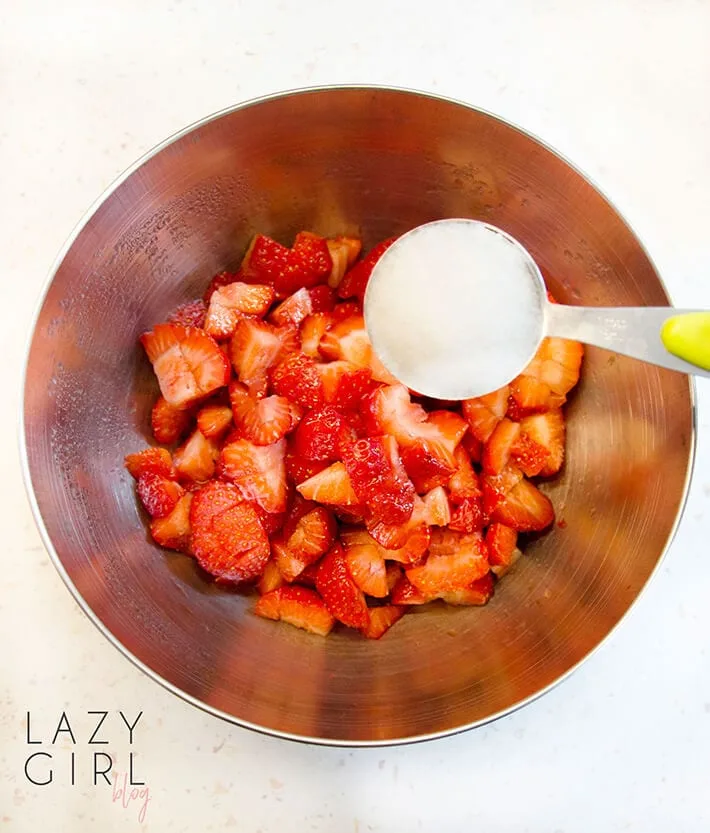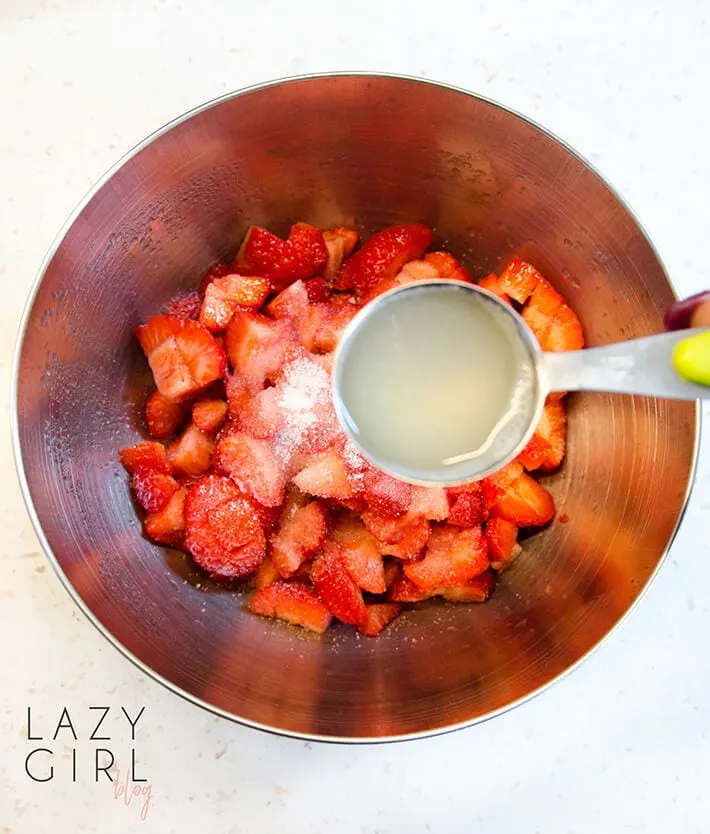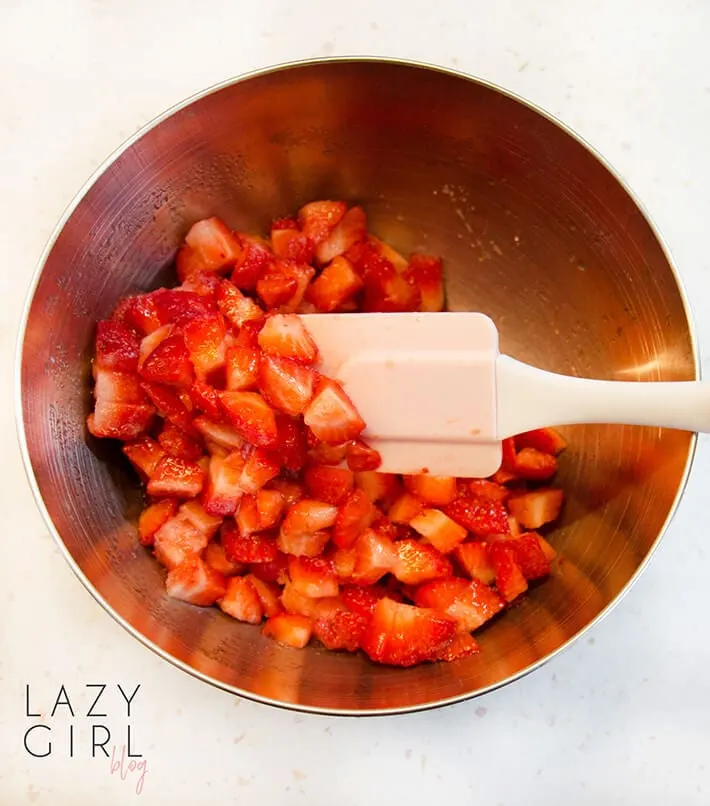 Create the creamy filling: The mascarpone layer is just a few ingredients. A little sugar is mixed into the mascarpone to sweeten it up a bit.
I used my mixer, but mascarpone cheese is generally fairly soft, even when cold. It's pretty easy to mix, so just combine the cheese and sugar however you prefer.
Be sure not to over mix them though, as mascarpone cheese can break down and become really soft and almost watery when over mixed.
Added to the mascarpone cheese is some whipped cream, which lightens it up perfectly.
Assemble the Keto Strawberry Tiramisu: Take individual glasses (cups), and layer the bottom with strawberries mixture.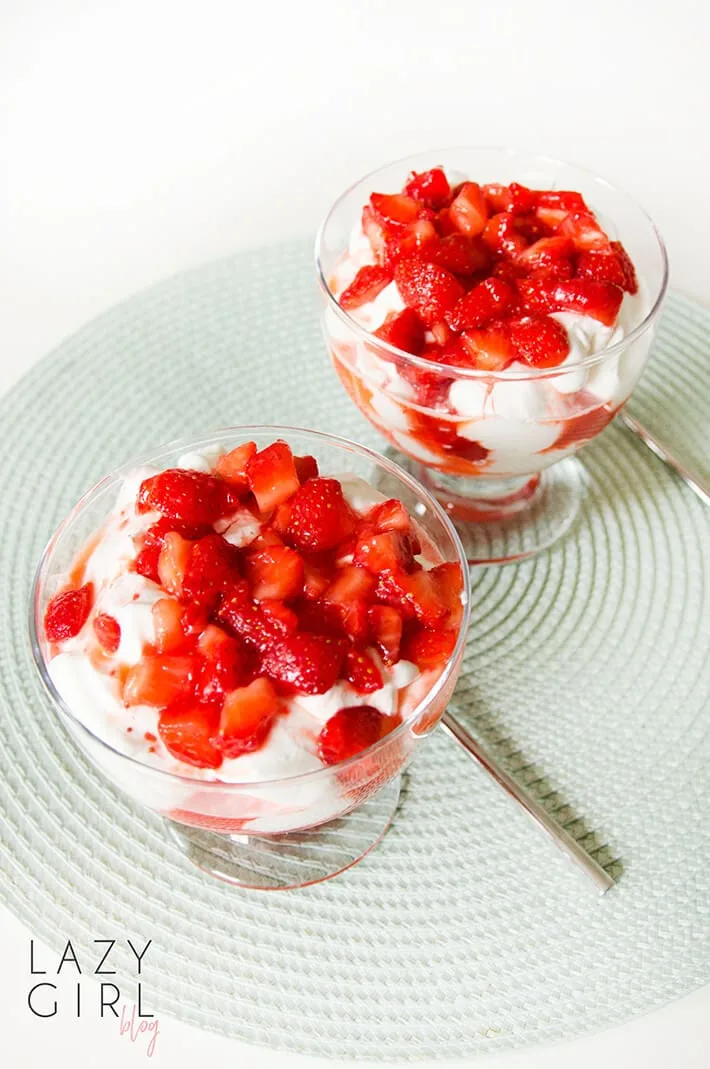 Then, add a layer of mascarpone cream filling. Repeat that creating at least 2 layers of each, or until you use all mixtures, but save some strawberries mixture to top your Tiramisu Strawberries Cups.
Refrigerate for at least 3 hours or overnight. Before serving you can top it with shredded dark chocolate f you want.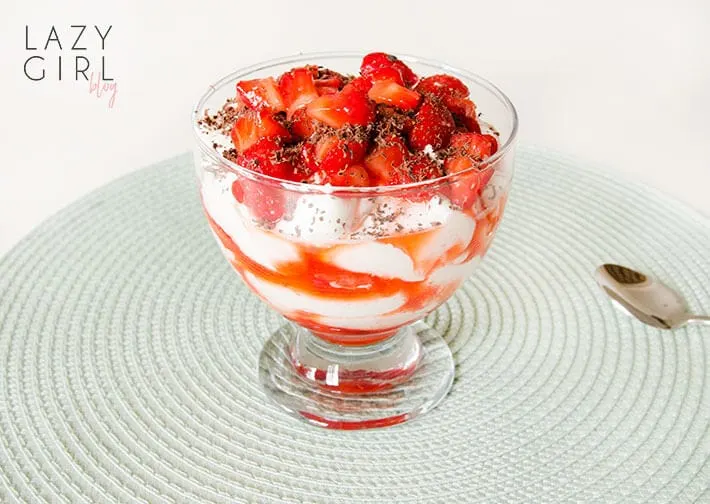 Equipment
---
Keep It Keto With These Other Recipes!
---
– Best Easy Keto Chocolate Waffles
– Easy Fluffy Keto Pancakes With Berries
– Best Healthy 1 Minute Keto Mug Brownie
– Best Keto Tiramisu Cheesecake
Did you try this Easy No Bake Strawberry Tiramisu Cups recipe? Tag me on Instagram so I can see! @lazy_girl_tips
Leave a comment, rate it, pin it, share it, and don't forget to tag a photo #lazy_girl_tips on Instagram. I'd love to see what you come up with. Cheers, friends!