Are you seeking for a great and simple keto bread recipe? This Garlic Butter Keto Bread recipe is the perfect if you are looking for a delicious side dish to pair with your favorite keto meal and it is the best Keto Bread recipe EVER!
Homemade garlic butter bread with a cheese blend and garlic flavor is ideal for anyone following a keto or low-carb diet, and perfect for quick dinner meals.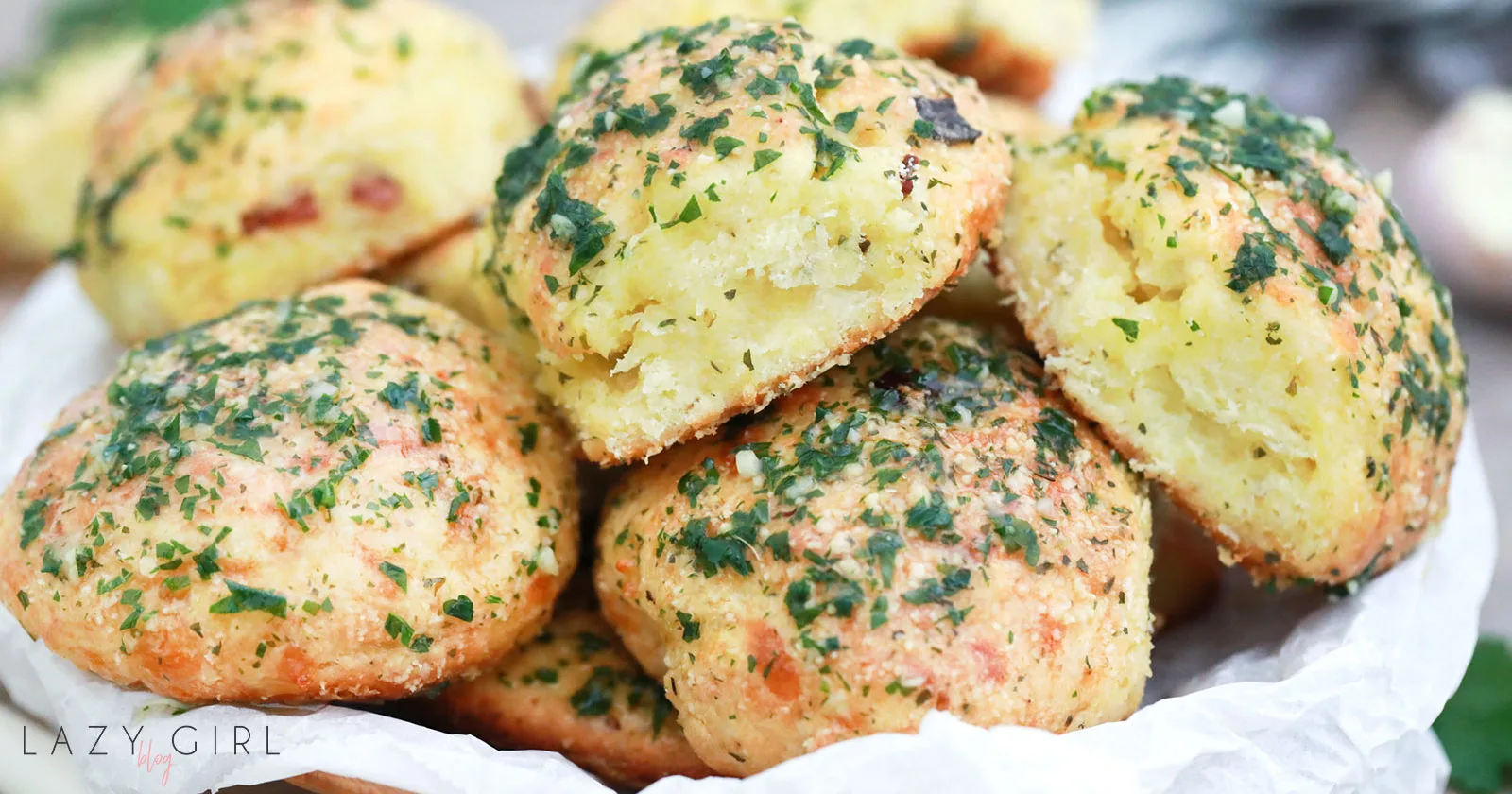 ---
This post may contain affiliate links. As an Amazon Associate, I earn from qualifying purchases for my referral at no extra cost to you! See Disclosure
---
Additionally, it has crispy bacon bits that add a smoky flavor along with browned butter for richness; minced garlic bite while fresh parsley provides zestiness to the bread.
Preparing this easy-to-make keto recipe calls only for a few ingredients that you probably already have in your kitchen, which means that you can make this delicious meal tonight!
The key ingredient in this enticing recipe is none other than almond flour which sets itself apart from others due to its low carb content as well as high nutritional value with cholesterol-lowering attributes too.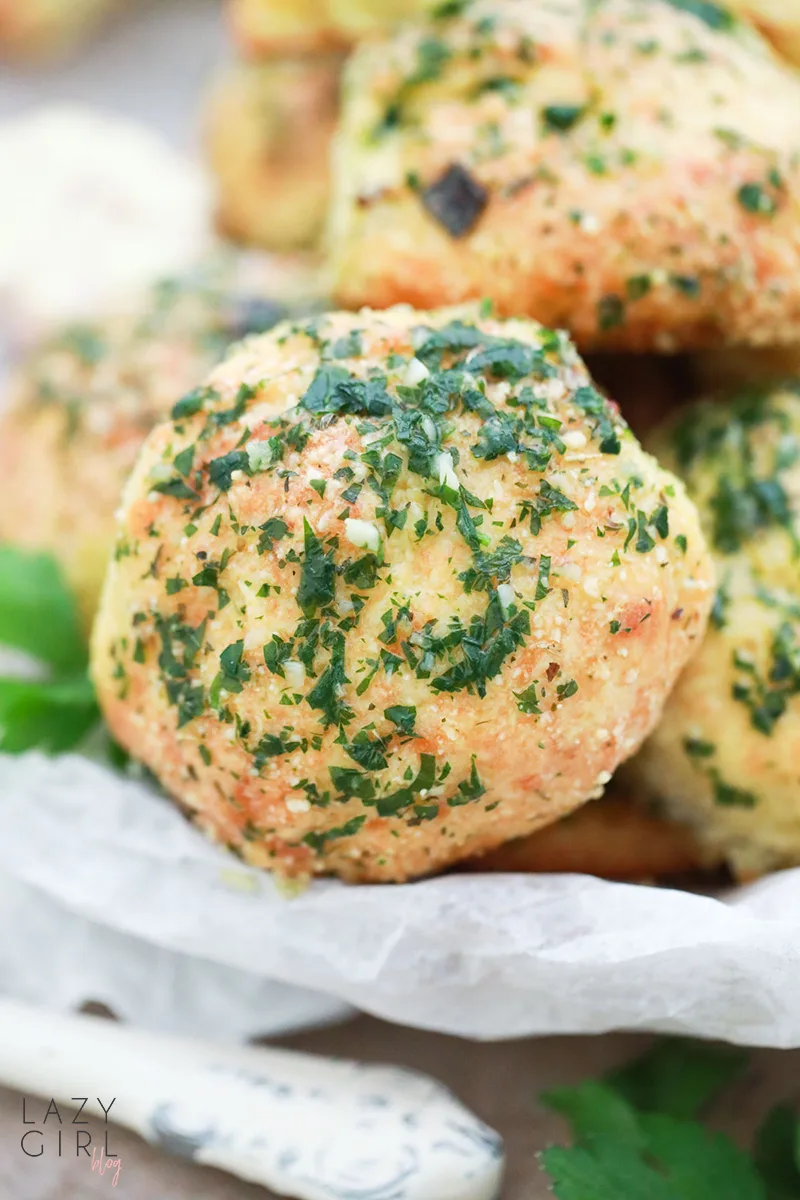 This recipe adds more flavor to a similar recipe to this called "fathead dough bread" with garlic, bacon bits, Italian seasoning, and parsley. You can also make this recipe without garlic and use it for regular bread or rolls.
Try making this bread at home and enjoy the deliciousness for dinner tonight. I am sure that if you try this it will become the favorite part of your family dinner. So why not give this garlic butter keto bread try?
---
Garlic butter keto bread
Anyone following a keto or low-carb diet will benefit greatly from this simple keto-friendly bread with a garlic flavor.
I have tried so many different keto bread recipes so far, but this one is most tasty and flavorful with only 2 net carbs per serving, and my family agrees with me on that.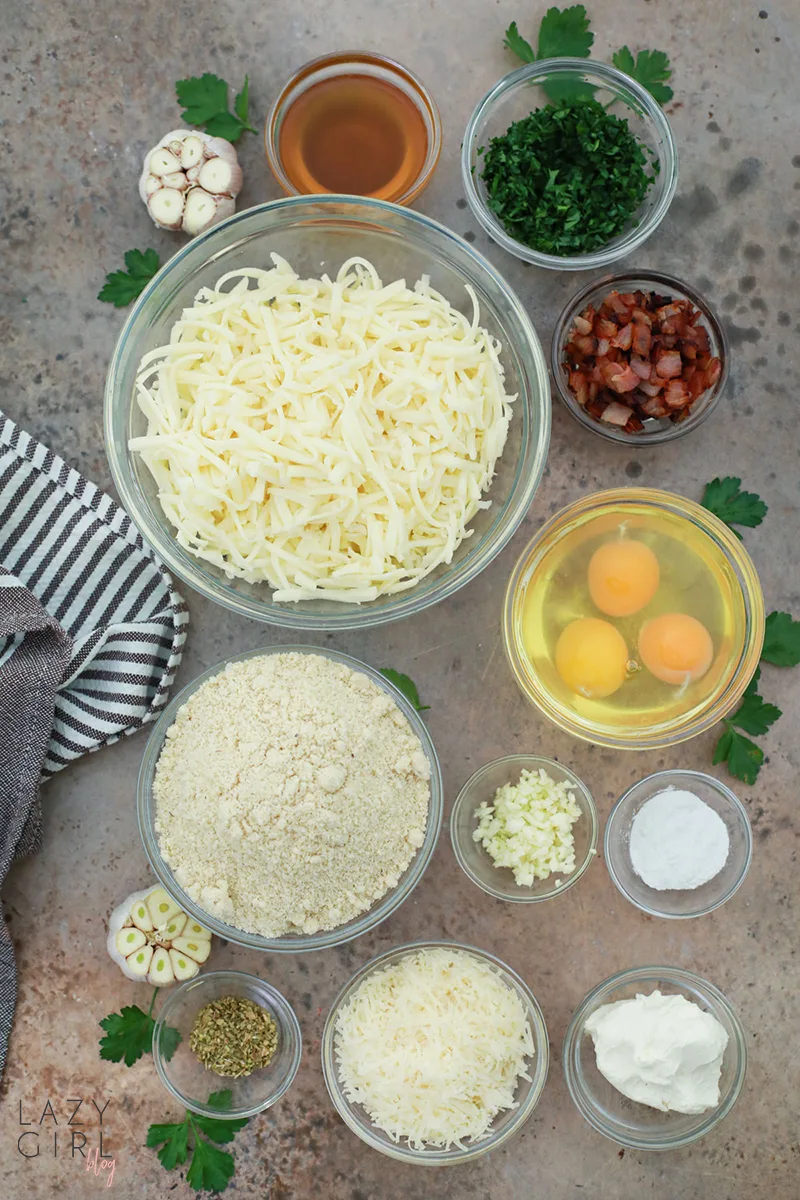 Ingredients needed:
To make keto garlic bread, gather the below ingredients. Then, scroll down to our recipe card for complete instructions and exact measurements when you are ready to begin.
Cream cheese: Softened to room temperature:
Large eggs: Also at room temperature.
Almond flour: Get the super-fine type for the best keto garlic bread.
Baking powder: Not baking soda.
Cooked bacon bits
Browned melted butter
Finely minced garlic
Chopped parsley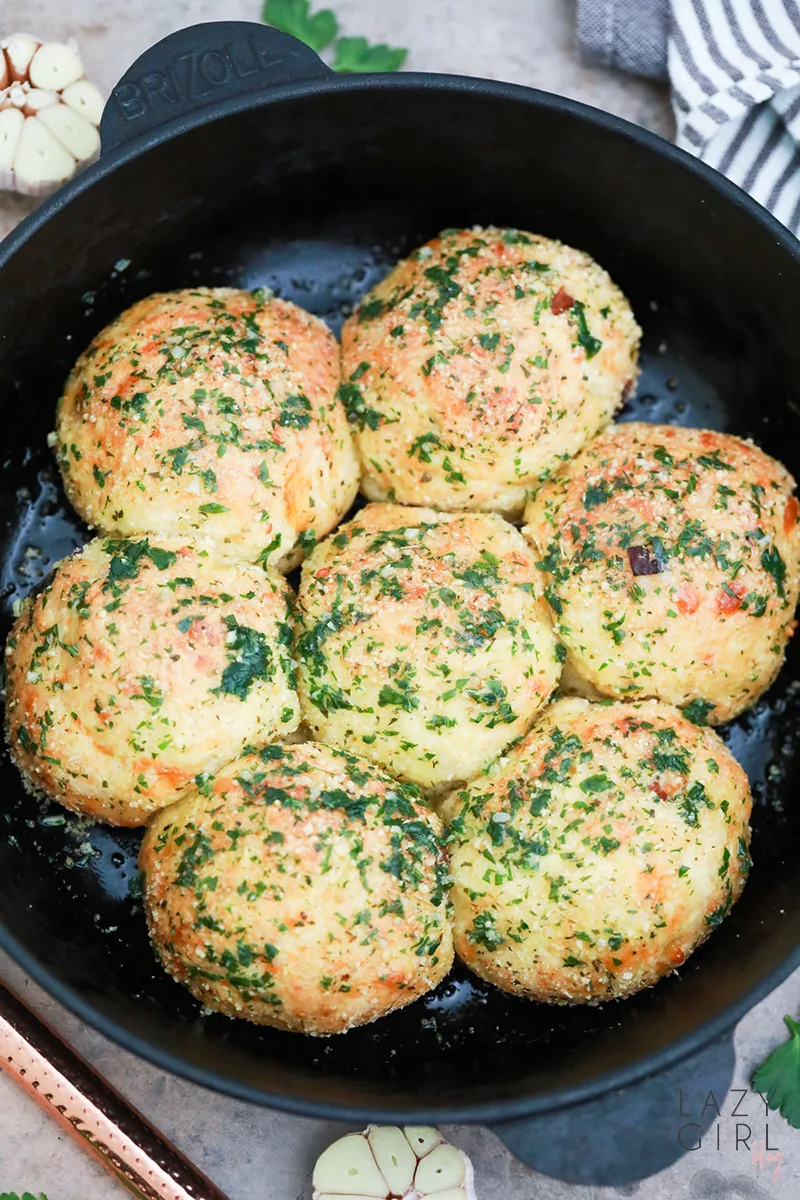 ---
How to make this garlic butter keto bread recipe from scratch?
Recipe variations:
You can use whatever oil you want for greasing the skillet. That also includes coconut, avocado, or olive oil.
You could also use sour cream or Greek yogurt, instead of cream cheese, but I do not advise replacing the almond flour with coconut flour, because coconut flour is very absorbent.
Using regular butter instead of browned butter is fine too.
You can also use a different cheese like cheddar or swiss if you do not have or do not like mozzarella cheese.
---
How to serve garlic butter keto bread:
You can try one of these delicious serving ideas for this Keto garlic bread with almond flour:
This bread goes great with a large bowl of zucchini noodles in pasta sauce.
You could also use this recipe to make pizza crust for your next pizza night.
Put the bread in a toaster oven or broiler for a few minutes before serving for a crispier crust.
Add extra parmesan or romano cheese on top after cooking for a richer flavor.
Serve with a dollop of marinara or spaghetti sauce for dipping.
You could also dip this bread in ranch dressing or your favorite dipping sauce.
---
Frequently asked questions:
Is garlic good for keto?
Indeed, garlic is a great keto food! It is often used to add flavor to your food rather than add bulk, but it won't have a significant impact on your daily macros, even if you add a lot of garlic to your dishes.
Is cheese OK for keto?
Yes, definitely! All types of cheese are allowed on the keto diet, as cheese is relatively low in carbohydrates, which complies with the key principle of the keto diet. You can enjoy your favorite cheese guilt-free while following the keto diet.
Is there a difference between almond flour and almond meal?
Yes. Regular almond flour is just the almonds, giving it a smoother texture. You will also see it referred to as blanched almond flour when the skins are removed. Almond meal is not a very good substitute for baking bread or cakes while the almond meal is made by grinding the almonds and the almond skins together. The almond meal might be a little more coarse while almond flour might be a little finer.
---
How to store leftovers:
Store: After you let your bread cool completely, you can store your leftovers in an airtight container and refrigerate for up to three days.
Freeze: You could also freeze your garlic butter keto bread for up to three months by covering it in foil or in plastic wrap.
Thaw: Remember to put your frozen leftovers in the fridge to thaw overnight before serving.
Reheat: To reheat, put the bread in the microwave for about 30 seconds, depending on the size of the bread.
---
Recipe tips:
Make sure your refrigerated ingredients are at room temperature before using them.
If you do not have a cast iron pan or skillet, you can use a baking dish or baking sheet pan lined with parchment paper.
You can use garlic powder if you do not have fresh garlic.
For an easy way to make bacon bits, just toss crispy bacon into the food processor for about 30 seconds.
Instead of using a cookie scoop, divide the dough into 10 or 12 equal dough balls. If you make them larger they will need more baking time.
Use a part-skim mozzarella because regular mozzarella has too much moisture in it.
Make sure your baking powder is aluminum free so that your bread doesn`t have a metallic taste.
To brown butter, place it in a light-colored pan on medium heat and cook while stirring. It will start to foam and sizzle after melting. Just keep stirring and within a few minutes and make sure you do not let it burn, the butter will all be golden brown.
Looking for more delicious keto recipes to try with this delicious garlic butter keto bread recipe? This bread goes perfectly with this Pork main dish that is very easy to prepare!
If you're looking for more delicious and crowd-pleasing keto dinner recipes, try these:
The Best Keto Bacon Wrapped & Cheese Stuffed Burgers
Best Low Carb Keto Bacon Wrapped Grilled Cheese
If you enjoyed this recipe, please share it with your friends, and leave me a comment below.
Tag me on Instagram @lazy_girl_tips so I can see it! Leave a comment, rate it, pin it, share it, and don't forget to tag a photo #lazy_girl_tips on Instagram. I'd love to see what you come up with. Cheers, friends!