This keto creme brulee is a healthy elegant low-carb dessert made with just 4 ingredients.
Did you know delicious creme brulee could be just as delicious as the keto version? You need a torch to make the top crunchy and delicious, but everything else about this recipe is super simple.
A healthier spin on a very popular dessert, this low-carb creme brulee is creamy and decadent, but sugar-free.
Smooth custard underneath the crunchy caramelized top, makes a dreamy dessert, ready in 40 minutes.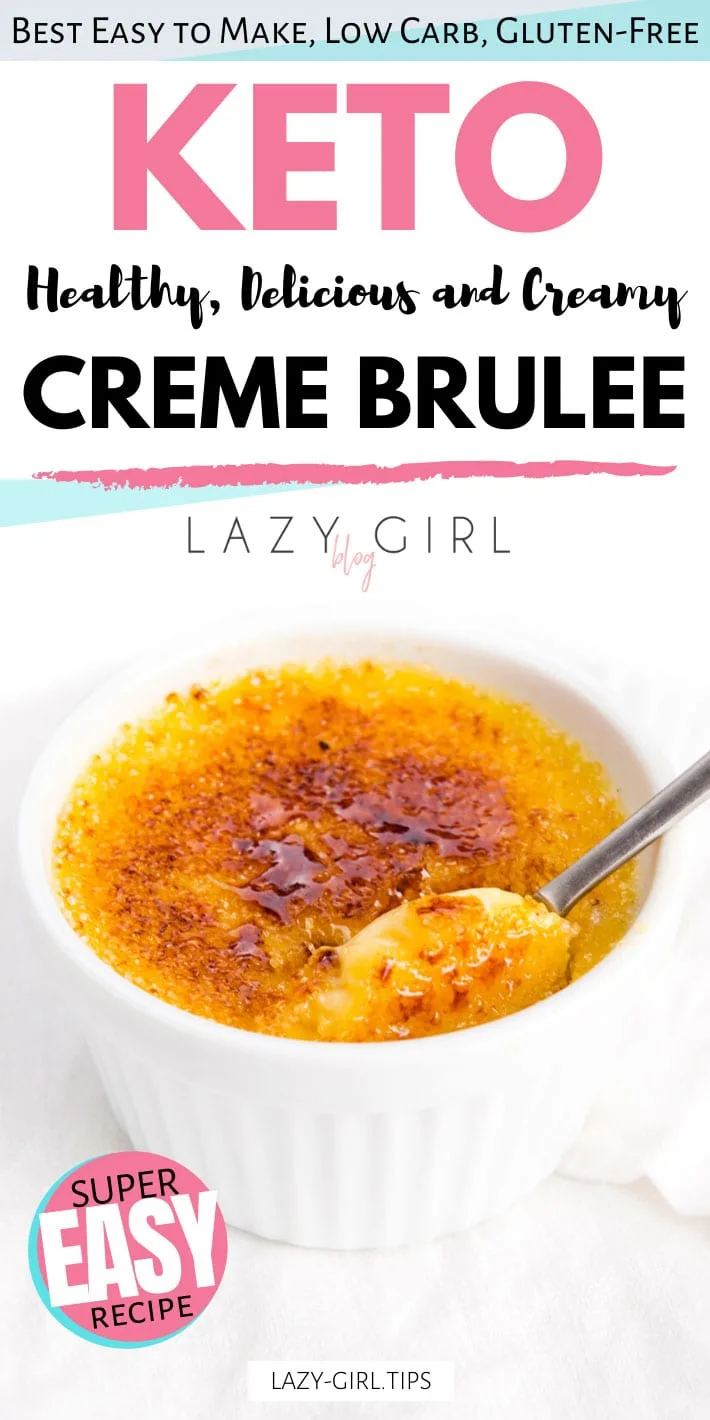 The best Low Carb Creme Brulee recipe always uses the best ingredients, so make sure you get fresh ingredients for this low-carb sweet to taste fantastic.
You can easily make this recipe dairy-free by substituting the cream with coconut cream.
It's much easier than you think and it tastes every bit as decadent as the original version! You don't need any special skills to do it. Just make sure you have all the ingredients and follow the directions.
This is one of the easiest dessert recipes to convert to low-carb.
The main difference is in the sweetener used. For classic creme brulee, you use regular white sugar.
For the low-carb version, you need to use a Keto-friendly sweetener.
---
This post may contain affiliate links. As an Amazon Associate, I earn from qualifying purchases for my referral at no extra cost to you! See Disclosure
---

Do you need ramekins to make creme brulee?
---
I think ramekins work best, but you can use any oven-safe dishes for this.
Do you need a blow torch to make creme brulee?
---
While the easiest way to melt and caramelize the sugar on top of the brulee is by using a blow torch, you don't really need one.
You can set the oven broiler on high and place the ramekin with sugar on top inside.
The broiler will melt and caramelize the sugar within 1-2 minutes. Make sure you keep a close eye on it.
Some people use a grill lighter to melt the sugar, but I have not tried this method.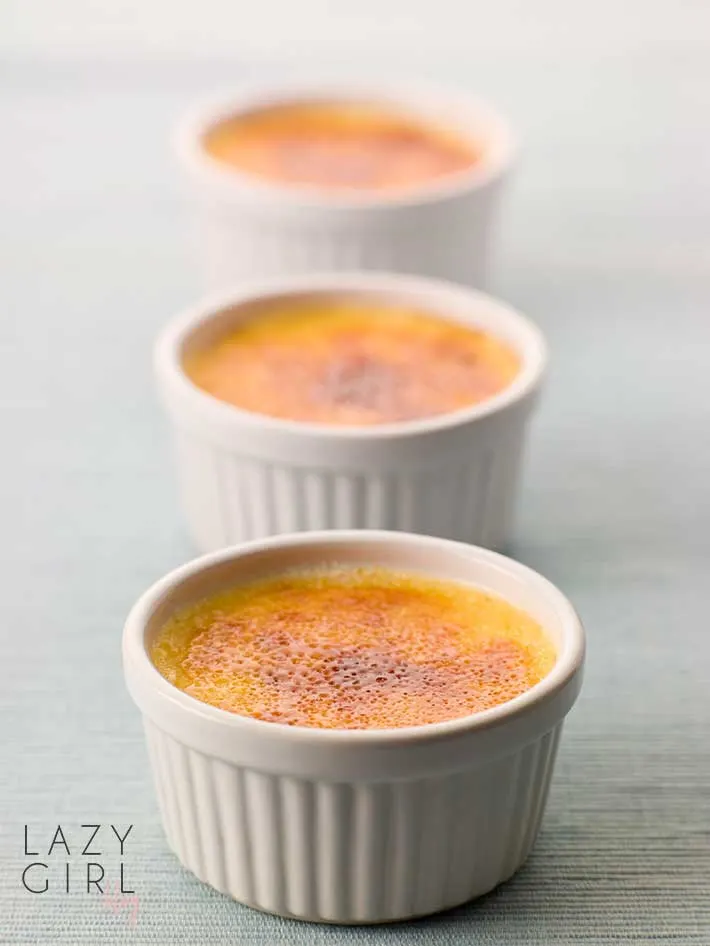 What ingredients do I need to make Keto, Low-carb creme brulee?
---
The best part is that the ingredient list for this creme brulee is short. You need just 4 ingredients.
Put those ingredients together and you`ll have a keto dessert that brings a well-spiced finish to your evening. So indulgent, yet amazingly on-plan.
How to make this low-carb creme brulee?
---
Preheat the oven to 325°F. Place 4 ramekins in a large roasting pan. Bring a pot of water to a boil.
Place heavy cream and 1 tbsp of the sweetener in a saucepan. Bring to a boil and immediately remove from heat.
Separate the eggs by cracking them and placing whites and yolks in separate bowls. This recipe only calls for yolks, so cover the egg white bowl with plastic wrap and store it in the fridge for another recipe.
In a bowl, combine egg yolks and 4 tbsp sweetener. Add vanilla. Whisk until the sweetener has been incorporated.
Add 1/2 cup of the hot cream to the egg yolk mixture and whisk to combine. Pour the mixture back into the pot with heavy cream. Whisk to combine.
Divide the mixture between 4 ramekins. Place ramekins in the baking dish. Pour about 2-3 cups of hot water inside the baking dish so it covers about 1-inch of the ramekins. The water makes the cream cook gently and evenly for a creamy and smooth result.
Bake for 30-40 minutes, until the tops are set, but still wiggly.
Remove the ramekins from the baking dish and let cool to room temperature.
Cover each ramekin and refrigerate.
Sprinkle 1 tsp of sweetener on top of each brûlée and using a kitchen torch melt until it caramelizes.
You can enjoy this dessert either lukewarm or cold, preferably with a clementine segment on top.

Did you make this Keto Creme Brulee recipe? Tag me on Instagram so I can see! @lazy_girl_tips
Leave a comment, rate it, pin it, share it, and don't forget to tag a photo #lazy_girl_tips on Instagram. I'd love to see what you come up with. Cheers, friends!