No-Bake Keto Cheesecake is the perfect easy Keto dessert.
This is the best gluten-free, low-carb, and keto cheesecake.
There isn't much difference between a "normal" cheesecake and this Keto cheesecake.
The only thing we need to replace is the sweetener and the crust. Mission accomplished!
This is the best and easiest no-bake low carb and keto cheesecake – even people who aren't on a keto diet LOVE this unbelievably creamy cheesecake!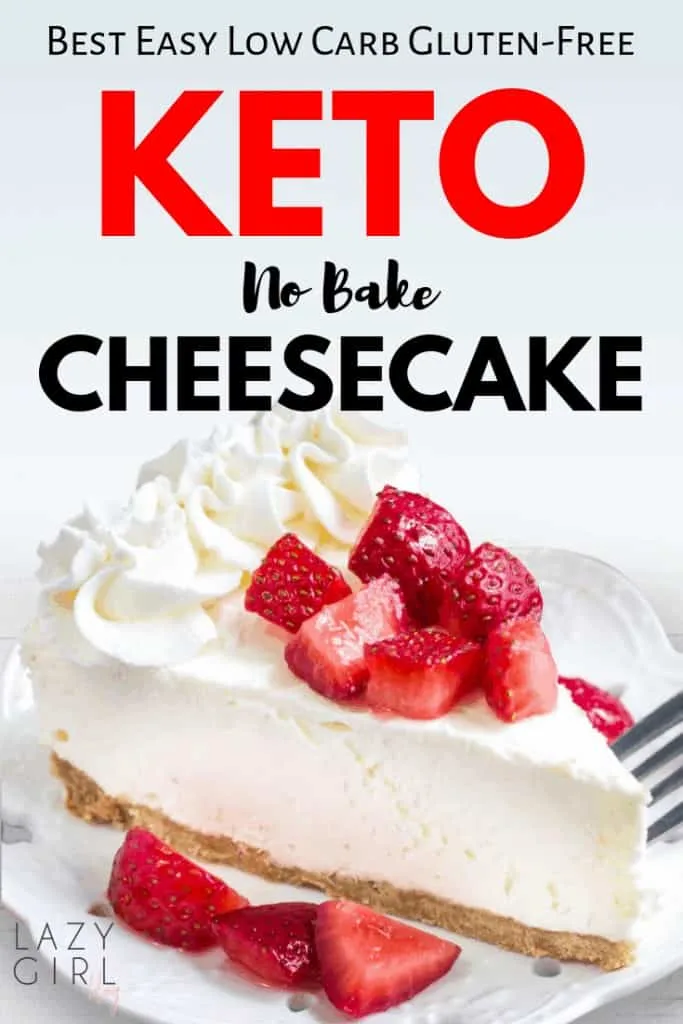 Low Carb diets have been sweeping the nation and with good reason.
Who doesn't like eating cheesecake and losing weight?
This No-Bake Keto Cheesecake is my favorite because it tastes great, but has only about 5 carbs per serving.
It also has ZERO EGGS which makes it super light and creamy. Best of all, this cheesecake is incredibly easy to make.
I hope you enjoy this silky, no-bake keto cheesecake as much as I do.
This recipe is easy to make and will fit your macros while giving you the taste you've been missing!
The whole family will love making and eating this easy low-carb cheesecake recipe.
---
This post may contain affiliate links. As an Amazon Associate, I earn from qualifying purchases for my referral at no extra cost to you! See Disclosure
---
Tips for making No-Bake Keto Cheesecake
Make sure to wait until your crust has completely cooled BEFORE pouring your filling. You will end up with a runny mess if you pour the filling on a warm crust.
Next, cover the cheesecake with a lid or plastic wrap.
The better the seal you get on the cover, the longer it will stay creamy. If it is open to any air, it can get grainy.
It's best to either use a pie pan with an airtight lid or to press the plastic wrap on top of the cheesecake.
Finally, chill your cheesecake in the fridge for at least two hours.
This keto cheesecake crust calls for almond flour as the base – if you don't have any on hand, simply pulse raw almonds or pecans in a food processor until they turn to a flour consistency.
Or you can use a different crust recipe or even make the cheesecake crustless if you prefer, and each slice will have just 200 calories and under 2 grams of net carbs.
I hope you love this cheesecake as much as we all do!!!
---
More Keto Sugar-Free Dessert Recipes
If you're looking for more crowd-pleasing sugar-free desserts, try these:
Learn how to make this No-Bake Keto Cheesecake – easy and sugar-free! And, this is one of the best low-carb desserts ever. If you're looking for delicious keto desserts that everyone else will love too, this is for you.
---
Easy No-Bake Keto Cheesecake Recipe:
[bs_icon name="glyphicon glyphicon-time"] Prep Time: 15 minutes
[bs_icon name="glyphicon glyphicon-time"] Chill Time: 5 hours
[bs_icon name="glyphicon glyphicon-cutlery"] Servings: 8 people
---
Ingredients
For Crust:
---
For Filling:
500ml double / heavy whipping cream
500g cream cheese
1 tsp vanilla extract
½ tsp lemon extract optional
---
Instructions
For Crust:
Prepare a 9-inch pie pan or springform pan
In a medium-size bowl mix together almond flour (or groundnuts), sweetener, butter, and salt using a hand mixer. Fully combine all of these ingredients, the mixture will still be crumbly, but that's ok.
Stir in the mixture in the pan and press the crust evenly.
Refrigerate for at least one hour before filling.
---
For Filling:
In a large mixing bowl, beat together the cream cheese, double/heavy whipping cream, powdered sweetener, and vanilla extract until well combined and creamy.
Spread filling into prepared crust. Rest in the refrigerator for at least 4 hours (preferably overnight) and serve chilled. Top with fresh berries and whipping cream if desired.
---
[bs_icon name="glyphicon glyphicon-tag"] Note: All of your ingredients should be at room temperature. Anything that is refrigerated should be left out for at least 2 hours.
[bs_icon name="glyphicon glyphicon-heart"] Tip: This is the best basic recipe for Keto Cheesecake, so you can play with it and add any flavor you like.
For example, you can add lemon zest, a few drops of lemon extract, and Walden farms strawberry syrup (zero everything), and you will get an amazing lemon strawberry cheesecake that is not overbearing on flavor.
Instead of almonds, you can use half pecans and half walnuts grounded. And then you can bake them for 12 min.
---
[bs_icon name="glyphicon glyphicon-tasks"]

Nutrition
---
Some of the links above are affiliate links, which pay me a small commission for my referral at no extra cost to you! If you make a purchase through the link, it won't cost you more but I may earn a small commission. I only recommend products that I personally use and love!
Did you make this Easy No-Bake Keto Cheesecake dessert recipe? Tag me on Instagram so I can see! @lazy_girl_tips
Leave a comment, rate it, pin it, share it, and don't forget to tag a photo #lazy_girl_tips on Instagram. I'd love to see what you come up with. Cheers, friends!