This low-carb Keto Cookie Dough Cheesecake is like three desserts in one! Rich and fudgy brownies, silky cheesecake, and classicly sweet cookie dough.
This is the ULTIMATE cheesecake for the ULTIMATE dessert lover!
Two of the most delicious treats in the whole wide world are rolled into one in this Keto Cookie Dough Cheesecake.
If like me you're the biggest fan of both cheesecake and cookie dough, then I urge you to make this cheesecake at once. Don't even hesitate, not even for one second.
It's more than just a cake: it's an experience you won't soon forget!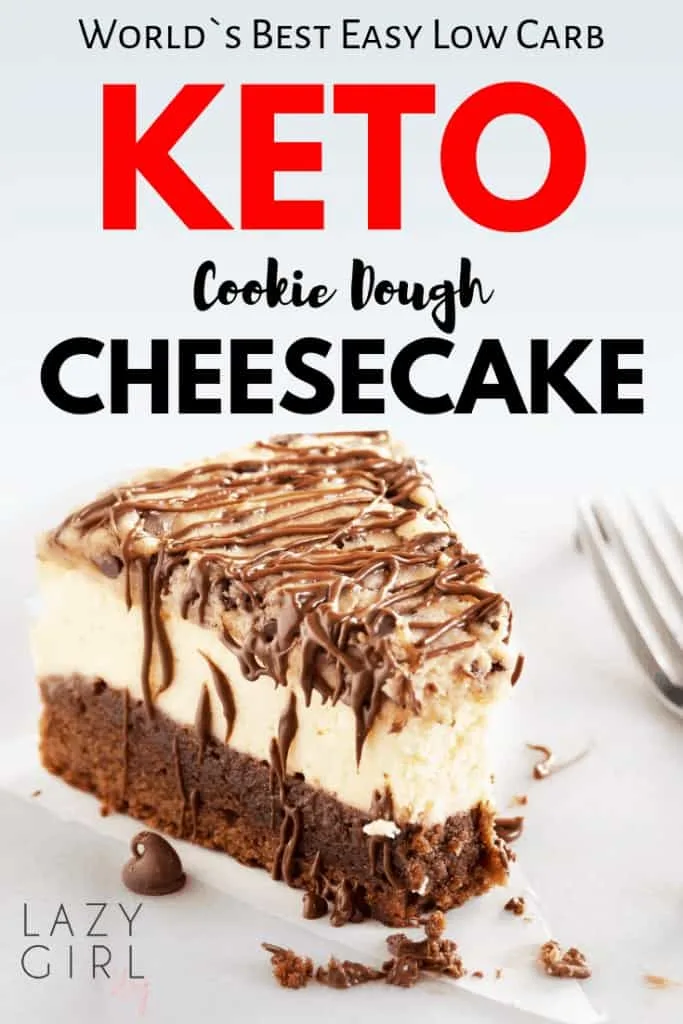 ---
This post may contain affiliate links. As an Amazon Associate, I earn from qualifying purchases for my referral at no extra cost to you! See Disclosure
---
Keto Cookie Dough Cheesecake Recipe:
[bs_icon name="glyphicon glyphicon-cutlery"] Serves: 16
---
Ingredients
For Crust:
---
For Cheesecake:
500 ml double/heavy whipping cream
500g cream cheese
---
For Cookie Dough:
8oz cream cheese
½ cup butter softened
2-3 drops of Liquid Stevia, I use this brand
1/2 cup peanut butter, I use this brand
---
For Chocolate Glaze:
---
Instructions
For Crust:
Preheat the oven to 350 degrees F. Line the bottom of a 7-inch springform pan with parchment paper. To do that, remove the ring and cover the bottom with parchment paper. Fold the excess paper back under the plate and, while holding it in place with one hand, put the ring back in its position with the other hand. Bring the excess paper back from under the pan but do not cut it off. You can also use a larger 9-inch springform pan for "flatter" slices.
In a large bowl, whisk together the butter, sweetener, eggs, and vanilla extract.
Add the almond flour, cocoa powder, gelatin, baking powder, and salt and whisk until well combined. Stir in the water to thin the batter. Stir in the chocolate chips, if using.
Spread the batter in the prepared baking pan. Bake 15 to 20 minutes, until the edges, are set but the center still seems a tiny bit wet.
Remove and let cool in the pan.
---
For Cheesecake:
In a large mixing bowl, beat together the cream cheese, double/heavy whipping cream, powdered sweetener, and vanilla extract until well combined and creamy.
Spread filling into prepared crust. Rest in the refrigerator.
---
For Cookie Dough:
In a stand mixer (or hand mixer), cream together butter and sweetener until light and fluffy.
Add cream cheese, vanilla extract, peanut butter, and liquid stevia. Mix all together and then stir in chocolate chips.
Use an offset spatula to gently spread cookie dough over the top of the cooled cheesecake.
---
For the chocolate glaze:
Microwave chocolate chips and coconut oil in 30-second bursts (stirring each time), until nearly melted. Stir to melt the remaining lumps.
Drizzle melted chocolate over the top of the cheesecake.
Can be refrigerated or served immediately!
---
[bs_icon name="glyphicon glyphicon-list-alt"]

Nutrition

Per serving (1 slice): Calories 286; Fat 26g; Total Carbs 5g; Fiber 2g; Net Carbs 3; Protein 6g;

If you like this recipe share it with your friends and (..of course..) pin it for later. 🙂