Even on a sugar-free diet, you can still enjoy a sweet treat. No-Bake Keto Peanut Butter Chocolate Bars will satisfy all of your dessert cravings with almost none of the sugar.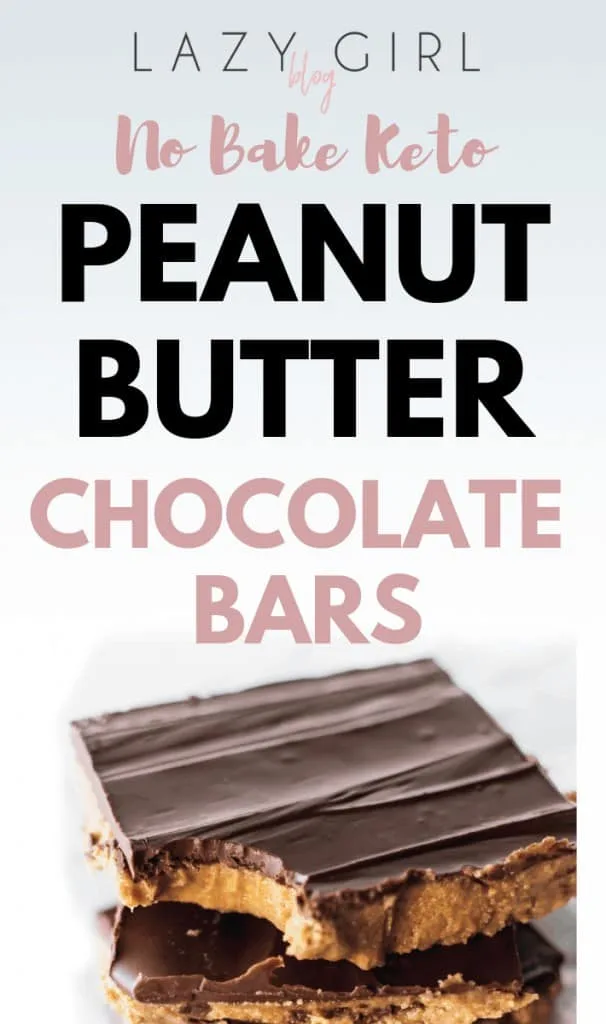 Low Carb, low sugar, high-fat No-Bake Keto Peanut Butter Chocolate Bars make a perfectly delicious keto dessert or fat bomb.
They are chocolatey, intense, and wonderful.
They combine two of my favorite foods: creamy peanut butter and very dark chocolate.
There's something addictive about peanut butter. And when paired with dark chocolate, it's even more dangerous. But these amazing peanut butter bars are so satisfying, that a little goes a long way.
---
More Keto Chocolate Dessert Recipes
So what are the best keto chocolate desserts to have on keto? Here are some of our favorite low carb / no carb desserts you might like:
---
This post may contain affiliate links. As an Amazon Associate, I earn from qualifying purchases for my referral at no extra cost to you! See Disclosure
---
Keto Peanut Butter Chocolate Bars Recipe:
Ingredients
---
Topping:
---
Instructions
Line an 8×8 pan with parchment paper. Gather ingredients
In a medium bowl, using an electric mixing whip together softened butter and peanut butter.
Stir in almond flour.
Press mixture evenly into lined pan.
Refrigerate while melting the chocolate.
Combine chocolate chips with butter and melt.
Pour over the top of the peanut butter mixture.
Refrigerate for 1 hour. Cut into 12 equal squares.
---
[bs_icon name="glyphicon glyphicon-list-alt"]

Nutrition

Per serving: 246kcal | Fat: 23g | Saturated fat: 8g | Carbohydrates: 7g | Fiber: 3g | Sugar: 1g | Protein: 7g

Tip: DO NOT RUSH THIS. Let it solidify in the fridge and let the tastes mingle. If you eat it too soon, it will taste like artificial sugar. Let the tastes meld together and it will be super fantastic.
Photo credit: meghensley (Flickr)