Who says you can't eat brownies when you're on the keto diet?! These keto brownies are the best.
I've gone through test batch after test batch trying to find the perfect keto brownie recipe.
Until I made these Keto Brownies. Finally.
I'm not exaggerating when I say these are the World's Best Keto Brownies because they certainly are.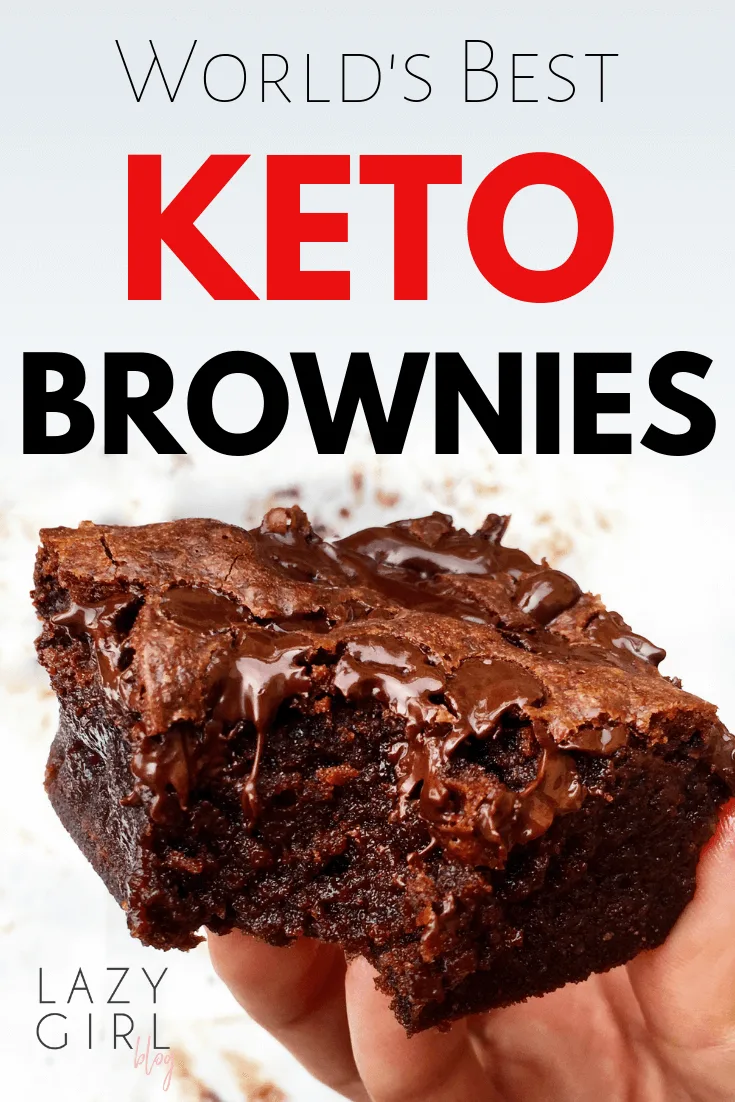 I've tested this recipe over a dozen times and made loads of batches until I finally found the BEST version.
What makes them so incredible is that they are fudgy and dense, just as every brownie should be!
It's a hard task getting them to come out fudgy and moist, but we did it!
I also added some peanut butter, which will help deliver healthy fats and a nice nutty flavor.
These super easy-to-make keto brownies are super low in carbs, and fudgy, and have a dense and creamy texture that melts in your mouth.
Made with lots of chocolate and other real food ingredients, yum!
The awesome thing about this brownie recipe is that it only uses a small amount of coconut flour to hold together the overwhelming amount of chocolate fudge flavor!
Brownies don't use a lot of flour normally, so making a keto version is not that different than making regular brownies and the final outcome is pretty similar too.
They taste like really delicious fudgy brownies and I don't think many people would be able to even tell they are low carb and keto-friendly.
In less than 40 minutes you have the perfect keto brownies that are the ideal company for a cup of keto coffee or your favorite tea.
---
This post may contain affiliate links. As an Amazon Associate, I earn from qualifying purchases for my referral at no extra cost to you! See Disclosure
---

Sugar Substitute for Keto Brownies
Baking with sugar substitutes and sugar-free chocolate is a little bit of a learning curve. Here are some tips you should read through before making this recipe.
It is important to make sure you use confectioners rather than granular ones.
Granular sugar works for traditional brownies, but because erythritol does not melt as well as granular sugar, you need the powdered version in these brownies or else it won't melt into the batter.
---
Sugar-Free Chocolate
The chocolate flavor in these brownies is a combination of cocoa powder and chocolate chunks.
I don't recommend leaving out the chocolate chunks because the brownies will be missing half of their chocolate flavor.
---
Tips for Making Brownies
Make sure to use slightly warmed eggs. Cold eggs will cause the melted butter to harden and it will become very difficult to mix. Warmed eggs will melt into the batter and keep it liquid.
I prefer to bake brownies in a light metal nonstick pan. Darker metal pans tend to cook the edges of the brownies too soon and glass pans tend to cook the brownies slower.
Let the brownies sit for about 30 minutes before slicing.
---
Some of the links above are affiliate links, which pay me a small commission for my referral at no extra cost to you! If you make a purchase through the link, it won't cost you more but I may earn a small commission. I only recommend products that I personally use and love!
Did you make this World`s Best Keto Brownies recipe? Tag me on Instagram so I can see! @lazy_girl_tips
Leave a comment, rate it, pin it, share it, and don't forget to tag a photo #lazy_girl_tips on Instagram. I'd love to see what you come up with. Cheers, friends!