Hey, pizza-lover! Make this 90-Second Keto Pizza In A Mug and enjoy cheesy, saucy deliciousness whenever you want it!
Just like the name suggests, this 90-Seconds Keto Pizza in a Mug is ready in just 90 seconds and it's perfect for lunch, dinner, snacks, easy meals, after school/work, sleepovers, pizza parties, or even birthday parties!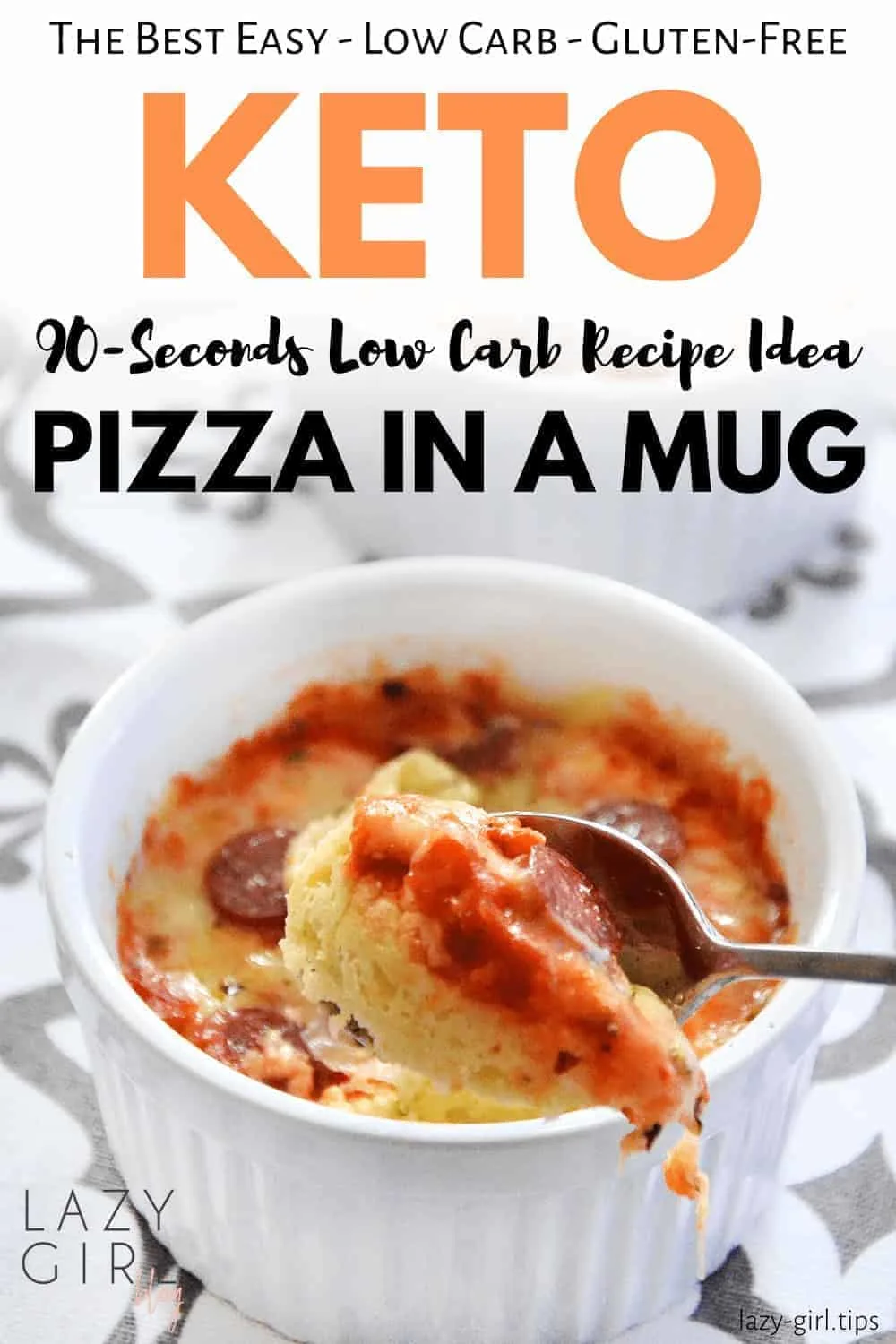 When compared to the fathead pizza, this Keto Pizza In A Mug In a Minute is one of the most coveted recipes you can make in just 90 seconds. It has all the flavors of a real pizza and requires much lesser time for preparation and consumption!
It'll take you just 90 seconds, and you won't miss pizza ever again. Pizza in a mug is also fun to make with kids. Your kids will love it too. All you have to do is mix, microwave, and enjoy! This quick keto pizza in a mug recipe will satisfy your cravings.
The best part is that this recipe calls for ingredients that you probably already have on hand! 90-second Keto Pizza in a Cake is just as easy to make as any other keto mug cake.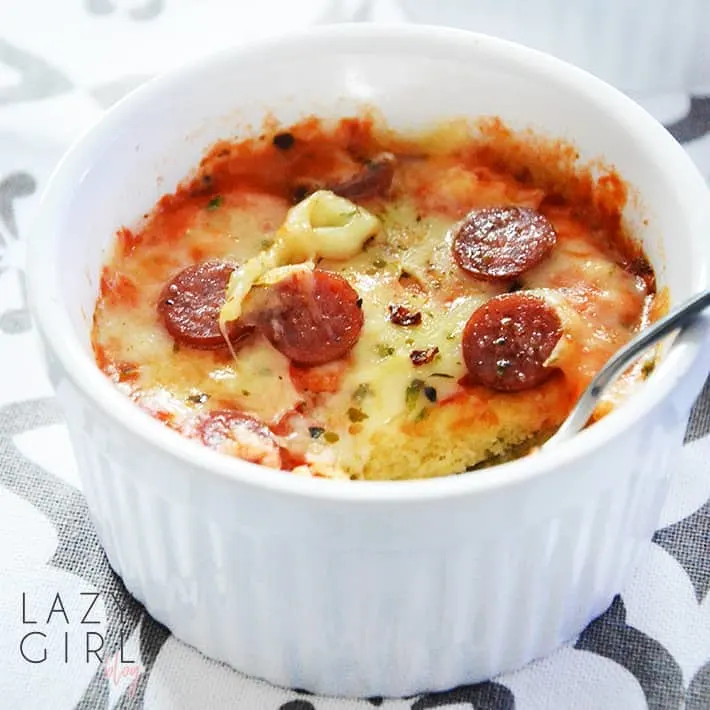 This easy low-carb recipe will satisfy your pizza cravings – and it tastes just like the real deal, but without the carbs!
This quick, easy recipe will take you no time at all to make, and boy will it be tasty. It tastes even better with homemade keto pizza sauce, which will enhance the flavor of your pizza and give you a taste of Italy in your own home.
Preparing this easy keto pizza recipe in 90 seconds using homemade sauce will ensure that your pizza will taste fresh because some canned or jarred sauces often include sodium and preservatives to help keep them from spoiling.
The keto diet encourages the use of fresh, homemade ingredients whenever possible. Fresh foods tend to be more nutritious than jarred and preserved foods.
Make a Keto Mug Pizza in a Mug with your favorite toppings. My favorite is pepperoni pizza, but mushroom is a close second.
This easy Keto Mug Pizza in a Mug is a versatile dish that you can change up according to your taste preferences, but one thing remains the same – it tastes lip-smackingly delicious.
So, get your mugs ready and follow this recipe to make Keto Mug Pizza in a Mug in no time.
Here's a quick and easy keto pizza recipe that's ready in only 90 seconds.
---
This post may contain affiliate links. As an Amazon Associate, I earn from qualifying purchases for my referral at no extra cost to you! See Disclosure
---
Frequently asked questions
Does any pizza chain sell keto pizza?
Blaze Pizza became the first national pizza chain to roll out a keto-friendly option in the US with its new super-popular keto crust with only six grams of net carbs. It is a wonderful option for anyone on a low-carb or keto diet.

What makes them different from other pizza joints is that they make the pizzas right in front of you. You can choose your own toppings, which are available at no extra cost and in unlimited quantities. And then you can add finishing touches after the pizza comes out of the oven.
If you want to order something special, like pizza with keto crust it is better to build your own because not every topping or sauce is going to be keto-friendly. This way you can control how many carbs you are consuming.

To make your pizza, start with Blaze's keto crust and add your favorite toppings. Blaze Pizza also has an app that's great for ordering pizza from your phone!
Will pizza kick me out of ketosis?
Yes, if you eat regular crust pizza but there are many keto and low-carb pizzas that will keep you in ketosis that you can try. This Keto Pizza In A Mug recipe is just one of the recipes that you can find here.
How many carbs you can have on keto?
The ketogenic diet typically recommends that you stay between 15-30g of net carbs a day and it is necessary if you want to get into ketosis. In general, it is recommended that you consume roughly 70-80 percent of your calories from fat, 5-10 percent from carbohydrates, and 10-20 percent from protein.
Some of the links above are affiliate links, which pay me a small commission for my referral at no extra cost to you! If you make a purchase through the link, it won't cost you more but I may earn a small commission. I only recommend products that I personally use and love!
Did you make this 90-Seconds Keto Pizza In A Mug recipe? Tag me on Instagram so I can see! @lazy_girl_tips
Leave a comment, rate it, pin it, share it, and don't forget to tag a photo #lazy_girl_tips on Instagram. I'd love to see what you come up with. Cheers, friends!