Keto Chocolate Cake recipes simply don't get better than this one! With tender and fluffy keto chocolate cake with a creamy chocolate frosting, this keto chocolate cake is to die for! It is incredibly moist, rich, and chocolatey. The recipe is low carb, sugar-free and gluten-free.
Do you want to see everyone at your table sink into silence, occasionally interrupted by a contented sigh? Serve this cake and watch the magic happen.
This low-carb cake with almond flour is easy to make and the perfect low-carb dessert for birthdays, parties, or any time you're craving a death by chocolate cake.
Everyone needs an amazing chocolate cake recipe in their back pocket when that chocolate craving hits.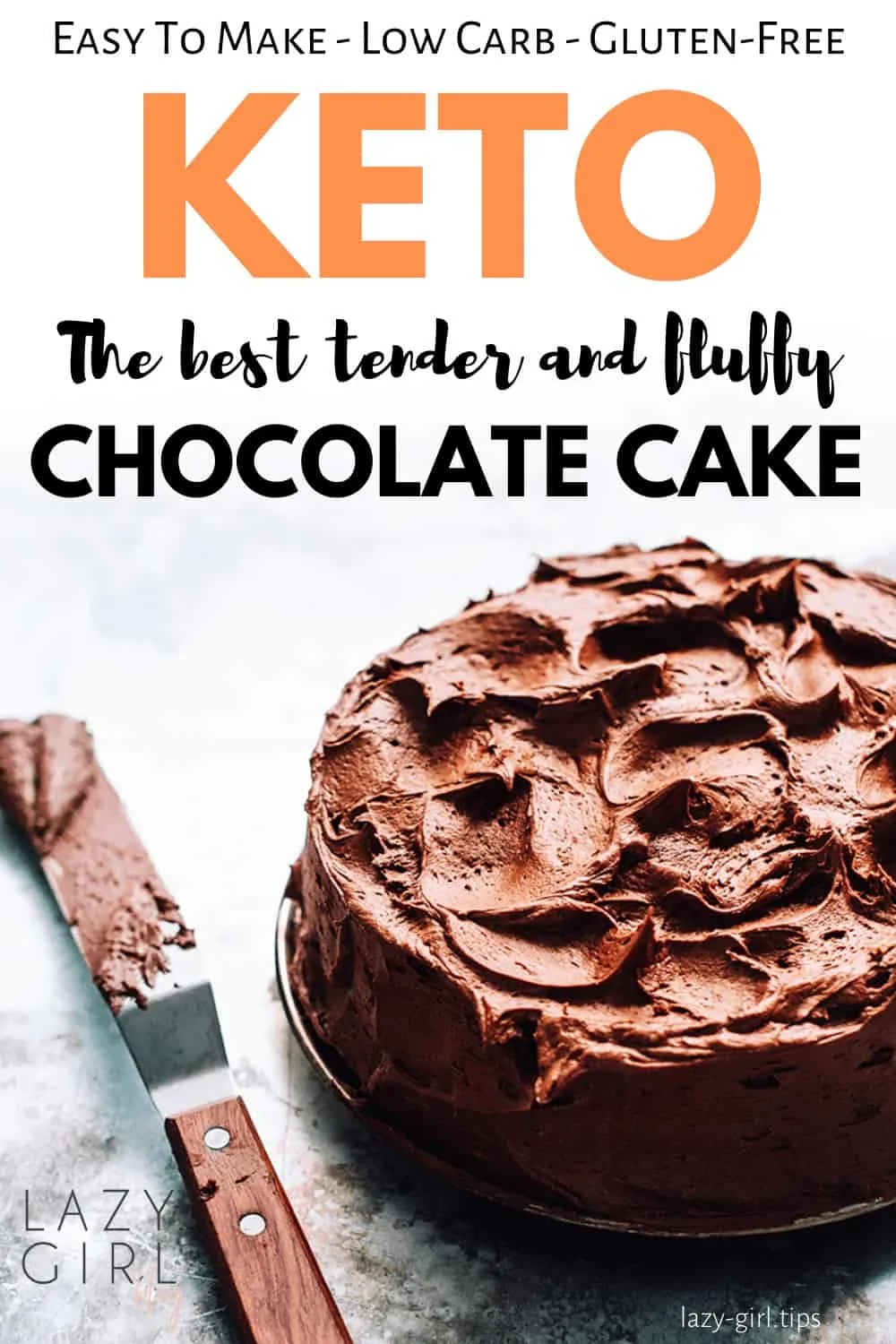 ---
This post may contain affiliate links. As an Amazon Associate, I earn from qualifying purchases for my referral at no extra cost to you! See Disclosure
---
Chocolate Cake On Keto (LCHF) Diet?
---
Chocolate cake isn't something that is usually low carb, or even keto-friendly for that matter.
I mean, a cake is basically all sugar…and maybe some fat too.
With that being said, in order to make a keto chocolate cake, you'll need to use some alternative ingredients. And all that means is that you'll be using low-carb ingredients to replace the higher-carb ones.
So, that means you'll be swapping out "regular" flour for blanched almond flour, and sugar for "sugar-free" sweetener (it's basically a sugar replacement that has 0 NET CARBS, and 0 CALORIES – which makes it an ideal sugar substitute for people following a low carb diet like keto).
Also, if you need to pick up Blanched Almond Flour I recommend using this one by Kirkland's. I not only used it in today's Keto Chocolate Cake recipe, but I use it in all of my other recipes that call for almond flour.
I personally like Kirkland's Blanched Almond Flour for 2 reasons.
Number one, it's cheaper than most – if not ALL – other brands. And number two, it only has 2g NET CARBS, which is the lowest I've seen for almond flour.
If you are asking "Can I swap coconut flour for almond flour or almond flour for coconut flour?" – the answer is NO.
Coconut flour and almond flour have different absorption rates. What that means is coconut flour is highly absorbent and soaks up liquid at a much higher rate than almond flour.
If you substitute coconut flour for the almond four in today's cake recipe, expect the cake to be EXTREMELY dry.
DO NOT expect good results.
So, as I said, this Keto Chocolate Cake is unbelievably easy to make.
All you have to do is add all of the ingredients to a large bowl, mix everything up, and then bake it for 14-15 minutes. And if you can believe this, making the Keto Chocolate Buttercream Frosting top the cake with is even easier!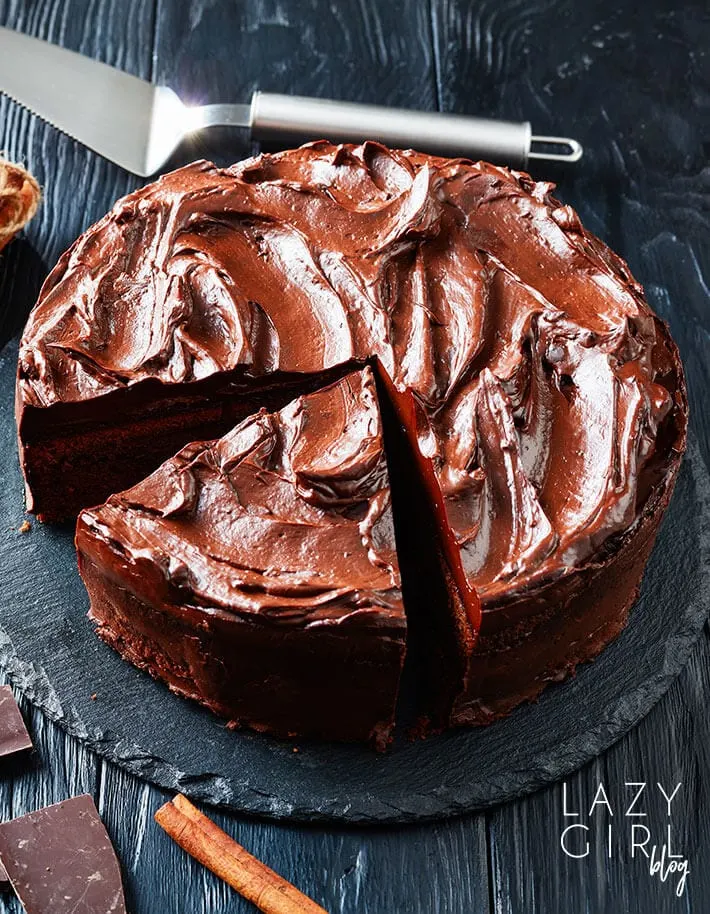 More Keto Chocolate Dessert Recipes
---
So what are the best keto chocolate desserts to have on keto? Here are some of our favorite low carb / no carb desserts you might like:
Keto Cake Frosting Recipe
---
For this chocolate cake, I used this fluffy cream cheese chocolate frosting recipe.
Feel free to use your favorite homemade vanilla or chocolate buttercream frosting, just be sure to let the cake cool completely before spreading icing on top.
Sharing is caring. If you like this keto chocolate cake recipe feel free to rate it, save it to Your low carb/keto recipe boards for later, and share it with your friends. 🙂
---
Some of the links above are affiliate links, which pay me a small commission for my referral at no extra cost to you! If you make a purchase through the link, it won't cost you more but I may earn a small commission. I only recommend products that I personally use and love!
Did you make this Keto Chocolate Cake recipe? Tag me on Instagram so I can see! @lazy_girl_tips
Leave a comment, rate it, pin it, share it, and don't forget to tag a photo #lazy_girl_tips on Instagram. I'd love to see what you come up with. Cheers, friends!