This delicious Keto Pizza with Fathead Dough Crust is perfect if you are missing pizza since starting a low-carb, keto diet.
Low Carb Keto Pizza with Fathead Dough Crust tastes just like the real thing. This easy mozzarella dough takes minutes to make and bake!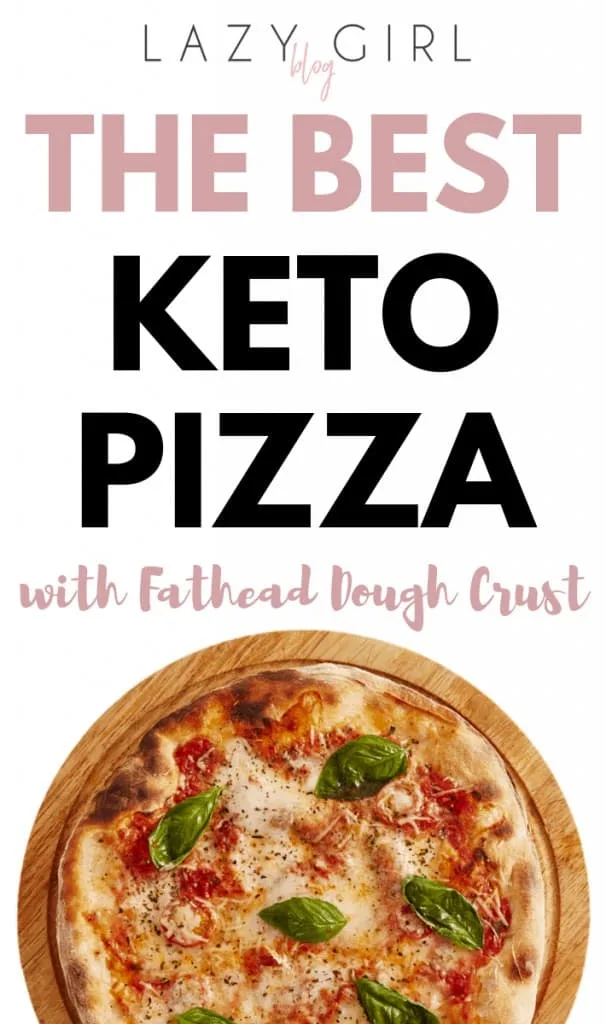 You are going to love making this Cheese Pizza recipe, especially since it's just like the real thing.
I love to make fathead dough because it's so versatile and you'll be surprised to see that the main ingredient is mozzarella. You can even make sweet keto snacks using this dough.
If you haven't tried this recipe for low-carb pizza crust, let me warn you. This is for serious cheese lovers only. It's made almost entirely of cheese!
---
This post may contain affiliate links. As an Amazon Associate, I earn from qualifying purchases for my referral at no extra cost to you! See Disclosure
---
Note: Use a touch more cream cheese in this recipe for moisture. Your dough will be sticky and not necessarily easy to roll out.
REFRIGERATE the dough for about 10 minutes, place a piece of plastic wrap over it and pat or roll it out. Much easier!
If you follow the keto way of eating or just eat low carb, this is a MUST to have in your recipe arsenal.
Once you master the art of making Keto Fathead Dough, you'll want to use it in so many recipes. So grab all the ingredients and start working on this masterpiece.
---
Can I make the fathead dough with coconut flour?
Substituting the almond flour in this recipe with coconut flour is possible. If you want to make the pizza with a low-carb coconut flour dough, you'll have to add an extra egg and use 1/3 cup coconut flour instead of the almond flour.
---
Keto Pizza with Fathead Dough Crust Recipe:

Ingredients:
---
For the keto pizza crust
---
For the toppings
1/4 cup mozzarella cheese shredded
12 slices pepperoni
3 Tbsp Passata Sauce Tomato Puree
1/4 chopped red pepper
1 tsp oregano to garnish
---
Instructions:
Preheat the oven to 425F (220C).
In a medium microwave-safe bowl, add cream cheese and mozzarella. Microwave on high for 20 seconds at a time until melted.
Add the remaining ingredients to the melted cheese.
Mix in the rest of the base ingredients with a fork. Roll out with a rolling pin between 2 sheets of baking paper
Roll until the dough is 1/4" thick. Using a fork, poke holes to prevent bubbles from forming.
Put the base in the oven for 7 mins, flip the base and cook the other side for 3 mins
Take the pizza out of the oven. Using a tablespoon, smother the pizza base with the tomato sauce.
Spread the tomato sauce over the crust, sprinkle the cheese, top with pepperoni slices, and add some chopped red pepper.
Bake for another 4-5 minutes or until the cheese is melted.
Enjoy!
I hope you enjoy this filling Fathead Pizza as much as I did. Don't forget to share this Keto Fathead Pizza with a friend in need, or anyone who would be excited about finding a perfect filling Keto Fathead Pizza.
Loved this recipe? Let us know!