Keto Taco Pie, also known as crustless taco pie, is one of the best keto recipes in my opinion.
The delicious blend of the beef mixture with taco flavor, creamy cheese, and chunky salsa is perfect for any keto diet and the whole family will love it.
You can eat low-carb without sacrificing the flavor with this low-carb recipe.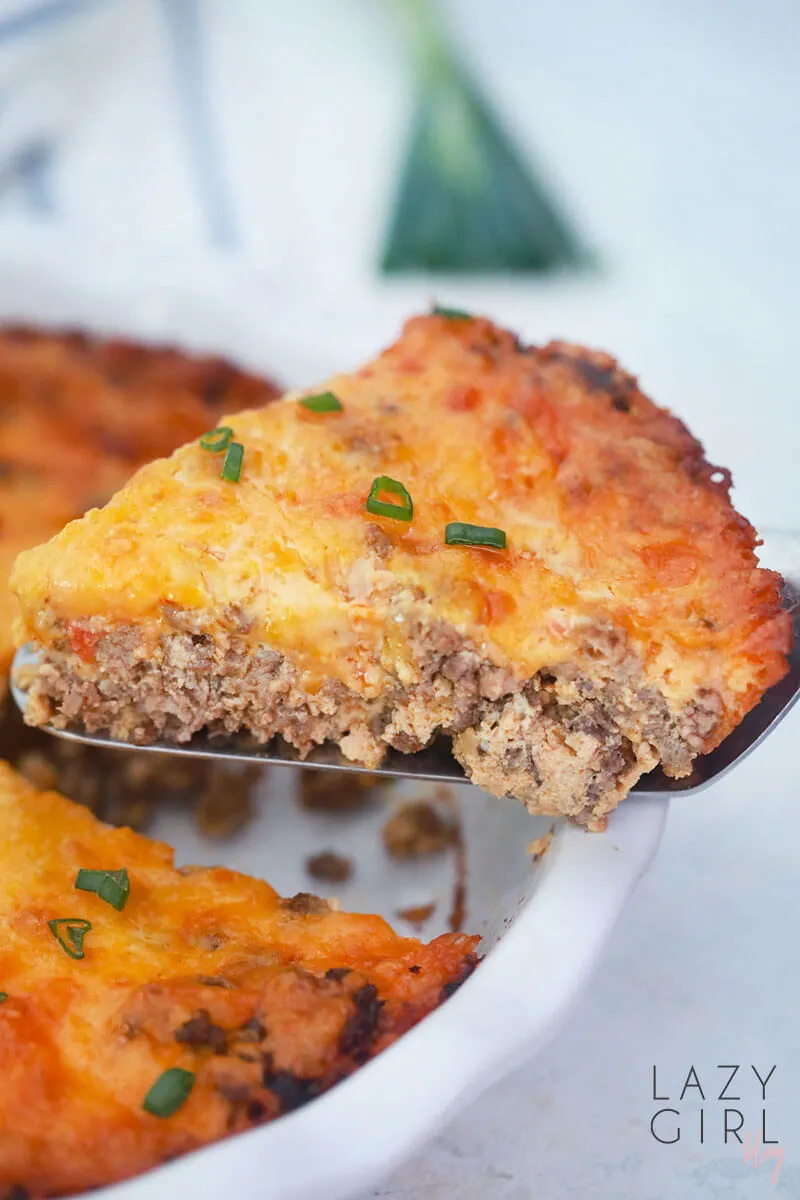 ---
This post may contain affiliate links. As an Amazon Associate, I earn from qualifying purchases for my referral at no extra cost to you! See Disclosure
---
Keto taco pie
This keto recipe is definitely a keeper so make sure you print our recipe card.
My family gave this fantastic recipe 5 stars and if your family likes Mexican food, yours will too.
Whether you serve it with huge scoops of cheddar cheese, juicy diced tomatoes, or hot and spicy with jalapenos and cayenne pepper, this low-carb keto recipe is great.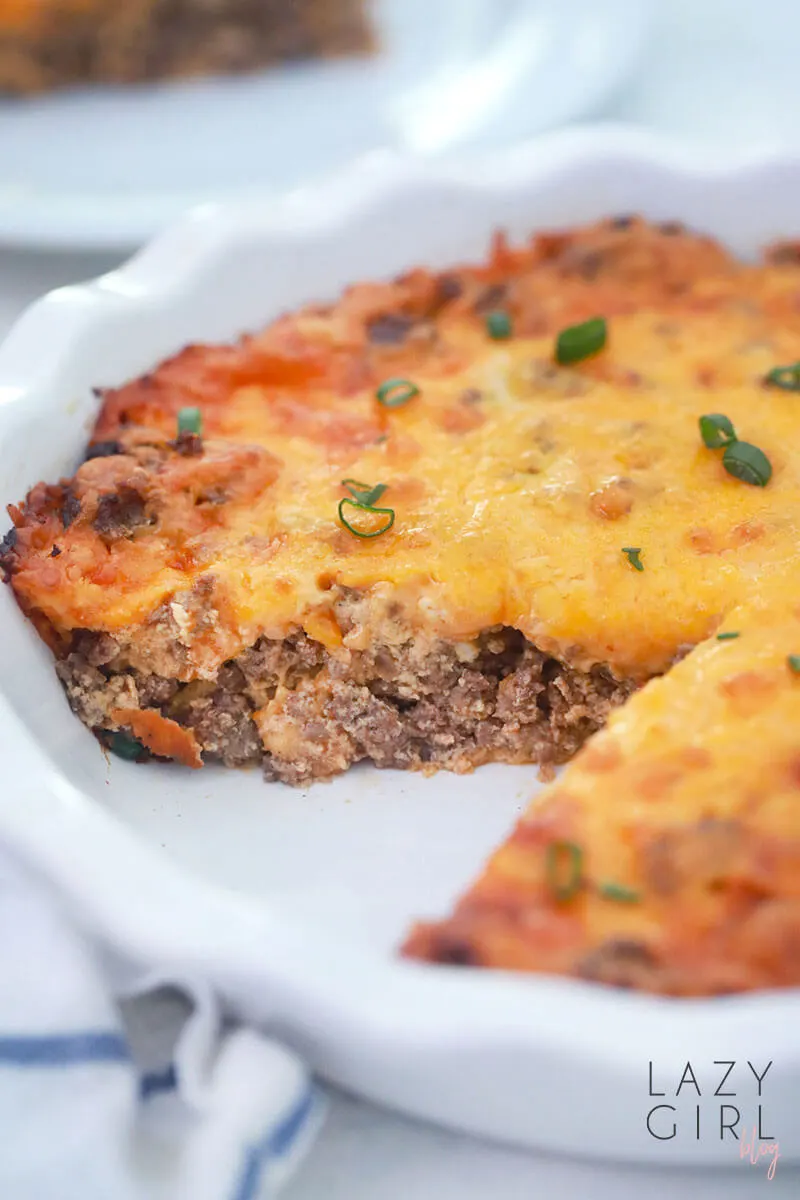 Ingredients needed:
This crustless taco pie recipe calls for just a handful of ingredients. To see the exact measurements, scroll down to our recipe card where you can also find the step-by-step directions.
Ground beef: We used 80/20 low-fat ground beef.
Heavy cream: Heavy whipping cream.
Large eggs: At room temperature.
Cheddar cheese: Freshly shredded cheese is best.
Salsa: Chunky salsa is what we used.
Taco seasoning: Packaged taco seasoning or use your own homemade taco seasoning recipe.
Garlic salt
Ground black pepper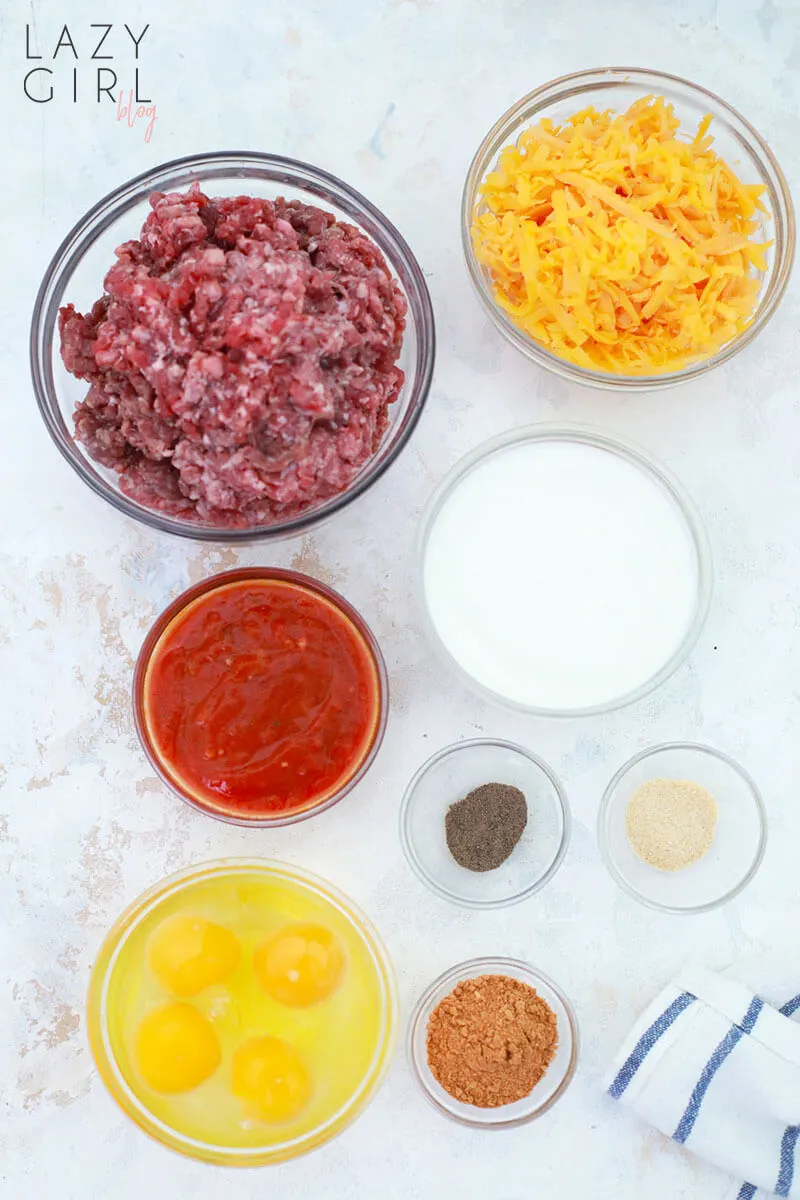 How to make keto taco pie from scratch?
Preheat: First, preheat the oven to 350 degrees F and place the oven rack in the center position. Grease a nine-inch pie pan or casserole dish. and set aside.
Brown ground beef: While you wait for the oven to heat up, brown ground beef over medium heat in a large skillet, stirring with a wooden spoon, and drain the grease.
Prepare taco meat: Next, add the powdered taco seasoning mix and stir to combine before spooning the prepared taco meat mixture into the greased pie pan.
Make the cream mixture: Immediately, mix heavy cream and eggs together in a small bowl before adding the salsa, one cup of shredded cheese, garlic powder, salt, and pepper.
Combine: Then, pour the egg mixture on top of the prepared beef mixture and sprinkle the remaining cheese on top of that.
Bake: After, bake the crustless keto taco pie uncovered for 35 to 40 minutes. The center should be set and the top should be golden brown.
Cool and serve: Finally, let your low-carb taco pie cool for five minutes before serving with your favorite taco toppings and garnishes.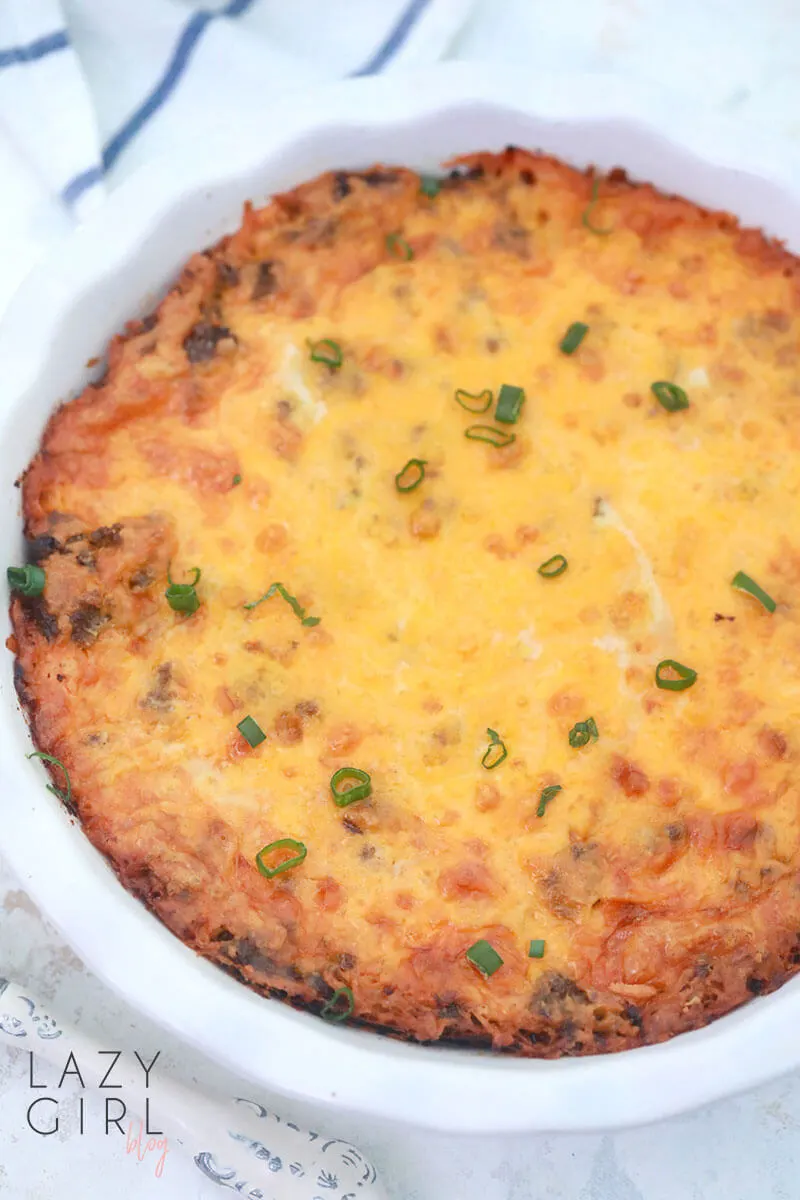 Recipe variations:
Low fat: To make this keto crustless taco pie low-carb, use plain Greek yogurt or almond milk instead of cream.
No cream: If you do not have heavy cream, you can use coconut cream or sour cream instead.
More veggies: Feel free to add more veggies like chopped green onion, chopped tomatoes, bell pepper, grilled corn, or avocado.
Other meat: Instead of beef, try this delicious dish using ground turkey or chicken to this tasty recipe.
Chili powder: You can also use chili powder instead of taco seasoning in this taco pie.
Spice it up: Add chopped jalapeno for extra heat but make sure you remove the seeds from the jalapeno unless you like it extra-spicy.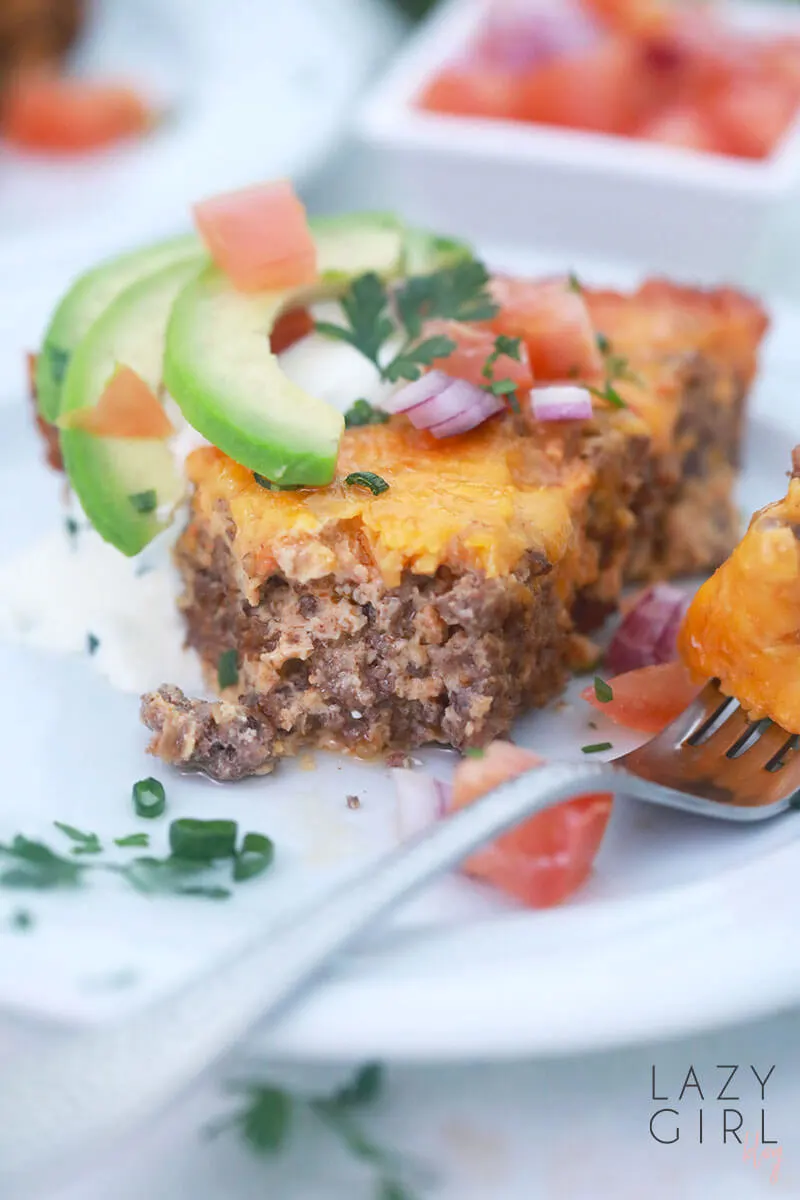 How to serve:
This easy taco pie recipe is the perfect weeknight dinner tonight or you can add it to your Taco Tuesday rotation.
You can actually serve this anytime and the whole family will love it. Try one of these absolutely delicious serving ideas:
Serve with your favorite toppings like shredded lettuce, olives, diced tomatoes, fresh avocado, chives, cilantro, guacamole, and sour cream.
Chop up some green onions and add them to the top for extra flavor.
Sprinkle some Mexican cheese on your crustless keto taco pie like cotija cheese or queso fresco.
Don't forget the hot sauce! Place small bowls of different flavors and spiciness out with the other toppings. Try enchilada sauce for a milder heat or Cholula for a sharp burst of spiciness.
Use leftovers to make taco soup, casserole, salad, or your own great recipe.
Another way to enjoy this taco pie is by putting the filling into bell peppers. Just cut the peppers in half lengthwise, scoop out the middle, and add the keto pie filling before baking.
---
Frequently asked questions
How many carbs are in this crustless taco pie?
Although it varies depending on the ingredients you use, the carb count is only about 5 grams per serving. Besides that, you also get 32 grams of protein, 1,800 units of vitamin A, 12 milligrams of vitamin C, 441 milligrams of calcium, and 5 milligrams of iron.
Are refried beans keto-friendly?
According to health experts, refried beans have a lot of carbs. In fact, the typical canned refried beans have 10 grams of carbs per serving. If you really want beans in your taco pie, use black soybeans, mung beans, or lentils instead.
What are the best chips for this keto taco pie recipe?
Most tortilla chips are made with corn or flour tortillas, which are not keto-friendly. There are quite a few low-carb keto chips on the market but many of them still have corn or flour and they do not taste very good.

Make your own keto tortilla chips with just two ingredients. All you need is one cup of almond flour and two cups of melted mozzarella. Just mix together, roll out flat, and cut into triangles. Bake for 12 to 15 minutes at 350 degrees F.
---
How to store leftovers:
Store: Leftover crustless pie can be refrigerated for up to four days in an airtight container.
Freeze: To freeze taco pie, place it in a freezer-safe container or a freezer bag and eat it within three months.
Thaw: It is best to thaw your keto taco pie overnight in the fridge.
Reheat: Reheat in the microwave for one or two minutes, depending on the amount you are reheating and the microwave wattage.
---
Recipe tips:
Besides being keto-free, this absolutely delicious taco casserole is also gluten-free.
The higher fat ground beef has better flavor but make sure to drain all the grease before using.
Cut back on the shredded cheddar cheese or use ground chicken or turkey instead.
Grate your own cheddar cheese. The packaged shredded cheese has potato starch in it and has more carbs.
Go ahead and put some taco shells or tortillas out with this dish for those who want to use them.
Using your own taco seasoning with fresh herbs and spices makes a huge difference in the flavor of this keto taco pie.
---
More Keto Dinner Recipes
If you're looking for more crowd-pleasing keto dinner recipes, try these:
The Best Keto Bacon Wrapped & Cheese Stuffed Burgers
Best Low Carb Keto Bacon Wrapped Grilled Cheese
Looking for more delicious keto recipes? Try this fool-proof keto pork chops one of the crispiest and juiciest dishes you can make.
Did you try this keto taco pie recipe? Tag me on Instagram so I can see! @lazy_girl_tips
Leave a comment, rate it, pin it, share it, and don't forget to tag a photo #lazy_girl_tips on Instagram. I'd love to see what you come up with. Cheers, friends!