Are you looking for a healthy keto-friendly side dish? Then this easy keto recipe for air fryer zucchini fries is for you! These Parmesan herb-crusted zucchini fries have no breading, are low in carbs, are free of gluten and grains, and are completely keto friendly.
Who doesn't like fries? I challenge you to find a person out there who doesn't like fries. I mean, I love fries. However, if you're on a keto diet, eating fries is a bit challenging. More specifically, it can be tough to find fries that are low in carbs and easy to make.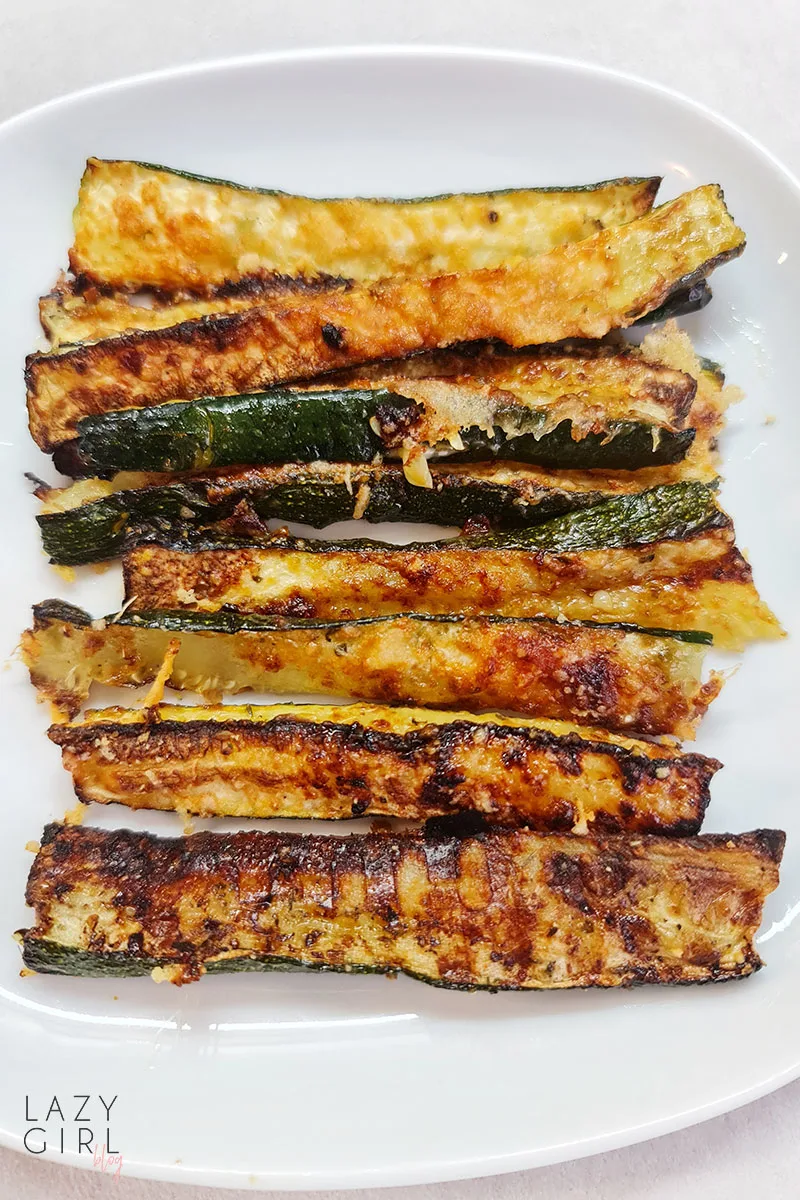 ---
This post may contain affiliate links. As an Amazon Associate, I earn from qualifying purchases for my referral at no extra cost to you! See Disclosure
---
I know fries are a beloved food when it comes to fast food, but they aren't exactly healthy, but these keto air fryer zucchini fries are amazing!
They cook up quickly and easily using your air fryer, so you can enjoy a healthy snack that only takes minutes to throw together.
When I was looking for recipes to use with my air fryer, I wanted something that would be easy. Let's be honest — a kitchen appliance called the "air fryer" fries food in a way that produces 75% less fat but tastes like you used at least half the oil. Yeah, it's tempting, but I still wanted something that couldn't have too many ingredients.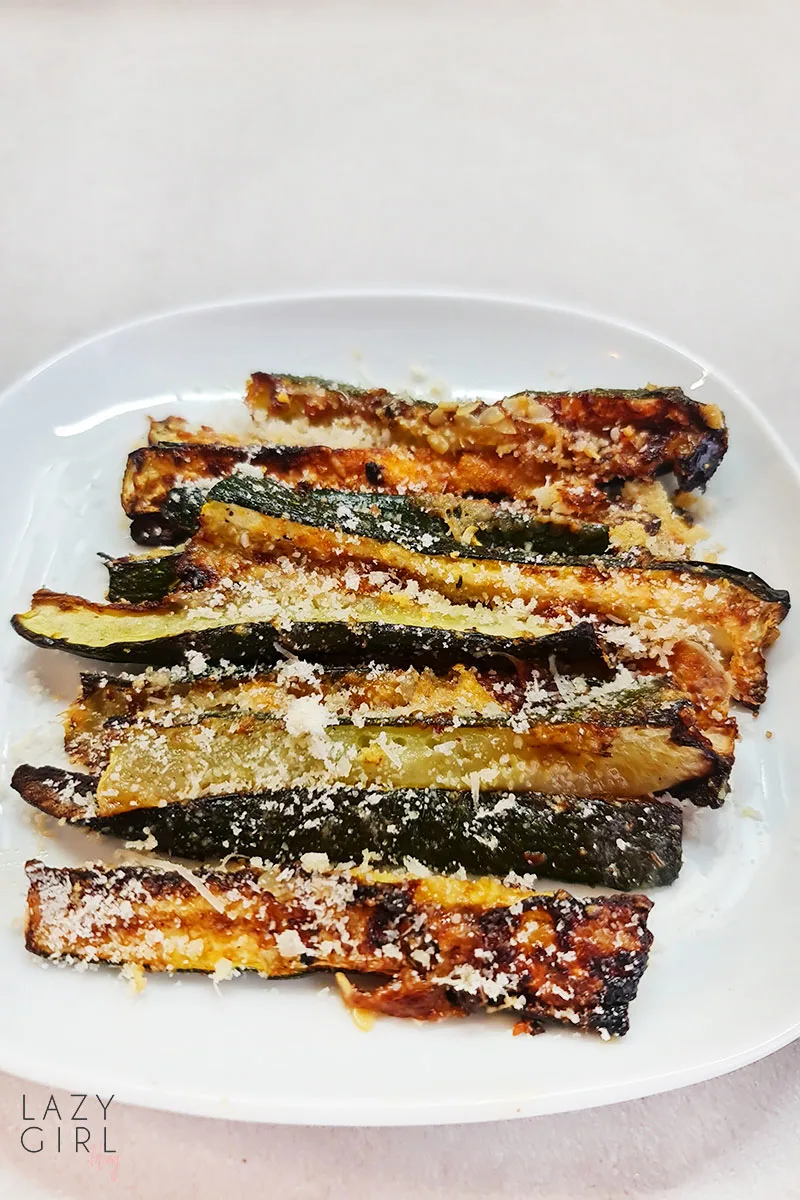 With only one tablespoon of olive oil, these air fryer keto zucchini fries have no breading, instead, they are crusted in Parmesan cheese. Better yet? They're ready in only 20 minutes! That's why these air fryer keto zucchini fries are so amazing!
Go ahead and try it! I promise that you won't regret it!
So if you're looking for a healthy keto-friendly side dish that's easy to make and tastes amazing—look no further than this easy keto recipe for air fryer zucchini fries!
---
How To Make Best Keto Air Fryer Zucchini Fries?
** scroll down for the full ingredient list and printable directions **
Here is how to make the best zucchini fries in your air fryer! Making the best zucchini fries in your air fryer is super easy!
First, preheat the air fryer to 400 degrees F. Wash and dry your zucchini, then slice it into thin strips. Here's a pro tip: don't bother peeling them! The peel adds an extra layer of crunchy goodness and makes these zucchini fries extra delicious.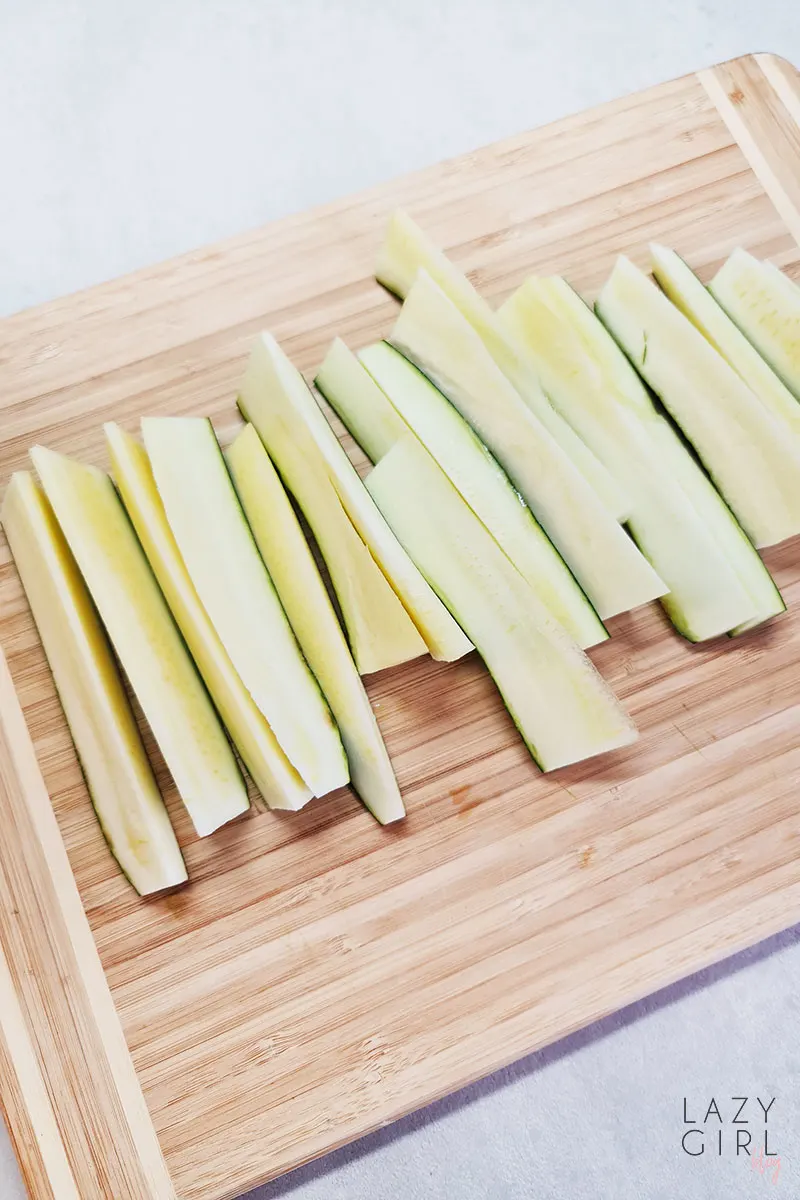 Place the zucchini in a single layer on a paper towel-lined plate and sprinkle with salt. Let them sit for a few minutes to draw out the moisture and allow these to crisp up. After a few minutes put them in a medium-sized bowl, add olive oil, pepper, and seasoning, and mix well.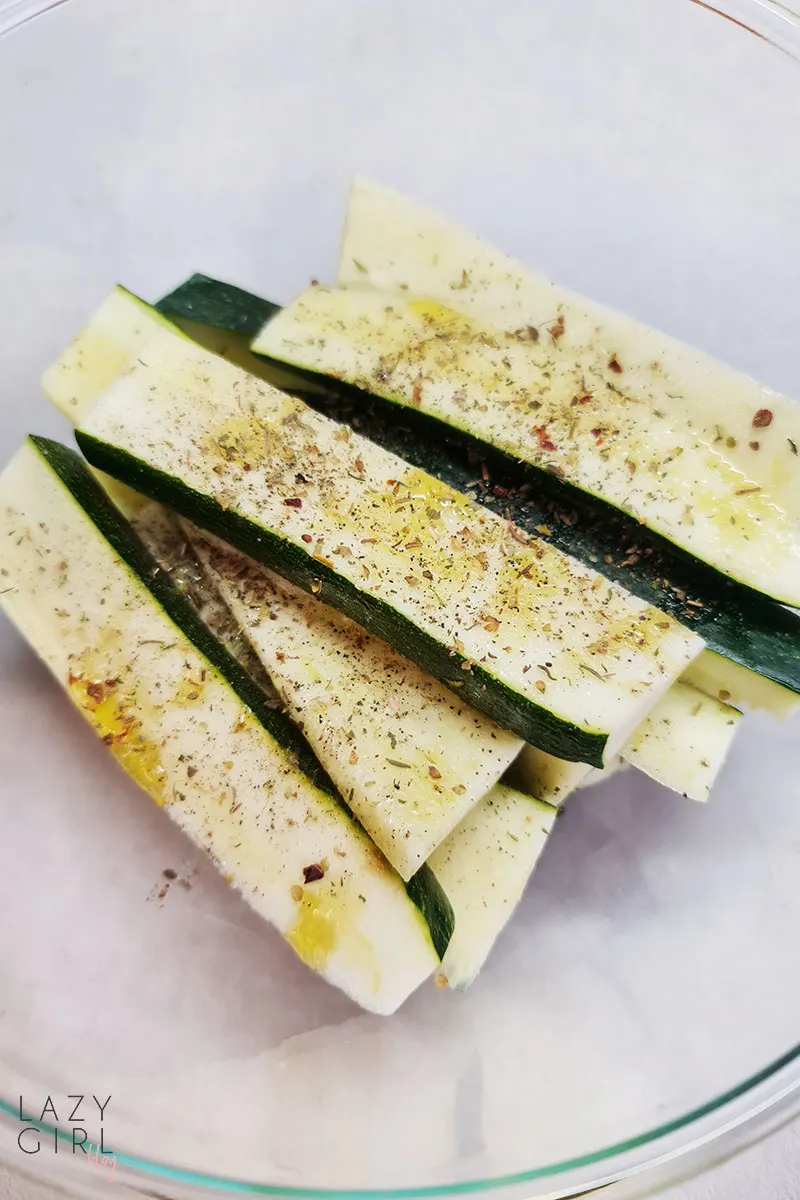 Place zucchini fries in the air fryer basket, and add Parmesan cheese. Put them in a single layer — you don't want them to overlap because that will make them steam instead of crisp up.
Cook for 20 minutes at 400 degrees F or until cooked through but not soggy. Let cool for 5 minutes before serving! These air fryer zucchini fries are super easy to make and delicious. You can make them on their own or serve them with your favorite dipping sauce, like ranch dressing or ketchup!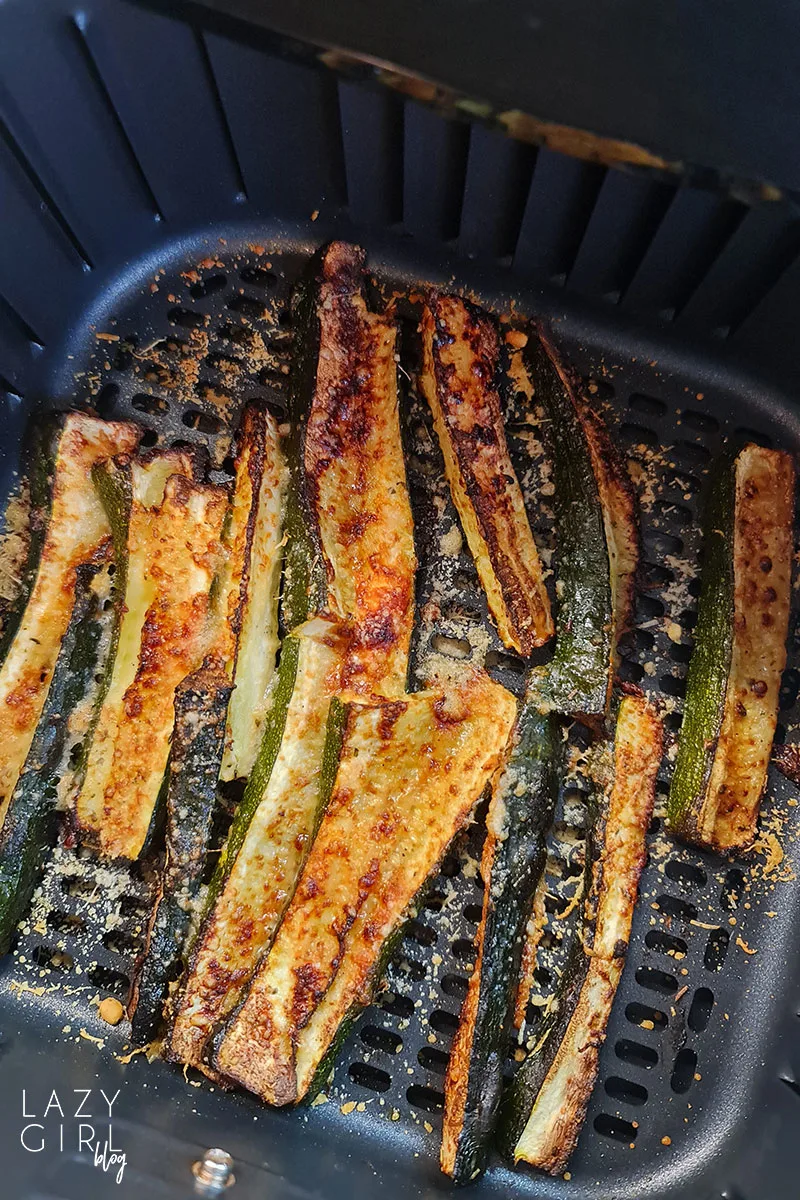 ---
Recommended Kitchen Tools (click the links below to see the items used to make this recipe)
---
Frequently asked questions
Are air fryers OK for Keto?
Yes, absolutely! There are ways to enjoy many of your favorite foods while still keeping healthy and within your dietary restrictions. One way to do this is by using an air fryer.
With an air fryer, you can make all kinds of delicious treats without having to worry about them being full of carbs or gluten! In fact, it's so easy – even someone who isn't used to cooking will be able to use an air fryer with ease!
Is zucchini OK for the keto diet?
Yes! Zucchini is one of the best keto-friendly vegetables out there. It's high on the list of low-carb foods that you can eat, and it's also really versatile. Zucchini is low in carbs and high in fiber, which makes them perfect for your keto diet. You can use it in everything from salads to desserts and more.
Are there carbs in zucchini fries?
The short answer is yes—there are carbs in zucchini fries! The good news is that zucchini fries are very low in carbs. One serving of zucchini fries contains around 7g total carbs, 5g net carbs, 10g fat, 6g protein, and 146 calories. If you're following the keto diet, you know that doesn't mean they can't be included in your meal plan!
Zucchini fries are a great way to get your veggies while still enjoying your favorite fried food. Zucchini fries are a delicious alternative to regular fries.
How do you keep zucchini fries from getting soggy?
So you want to make zucchini fries in the air fryer, but you're worried about them getting soggy. I get it. But don't worry — you don't have to sacrifice crispiness for health! The secret is salting your zucchini fries before they go into the air fryer. Sprinkle some salt over them on both sides and let them sweat for a few minutes. The salt will draw out the moisture and allow these to crisp up, just like they would if they were deep-fried. This will help them brown nicely without getting too soggy in their own juices!
---
More Keto Dinner Recipes
If you're looking for more crowd-pleasing keto dinner recipes, try these:
The Best Keto Bacon Wrapped & Cheese Stuffed Burgers
Best Low Carb Keto Bacon Wrapped Grilled Cheese
If you enjoyed this recipe, please share it with your friends, and leave me a comment below.
Tag me on Instagram @lazy_girl_tips so I can see it!
Leave a comment, rate it, pin it, share it, and don't forget to tag a photo #lazy_girl_tips on Instagram. I'd love to see what you come up with. Cheers, friends!