Craving for tasty low-carb Keto Hot Dogs for your lunch or dinner?
Large all-beef hot dogs are wrapped in cheese dough and then baked to golden perfection.
They're easy to make, super filling, and look so impressive.
I've always loved 'em, and I always will. Kids love this, and they are easy for packing in lunches.
The perfect low carb or keto lunch, snack, or meal.
I used all-beef hot dogs and you can use whatever brand you prefer. I think sausages would also be lovely.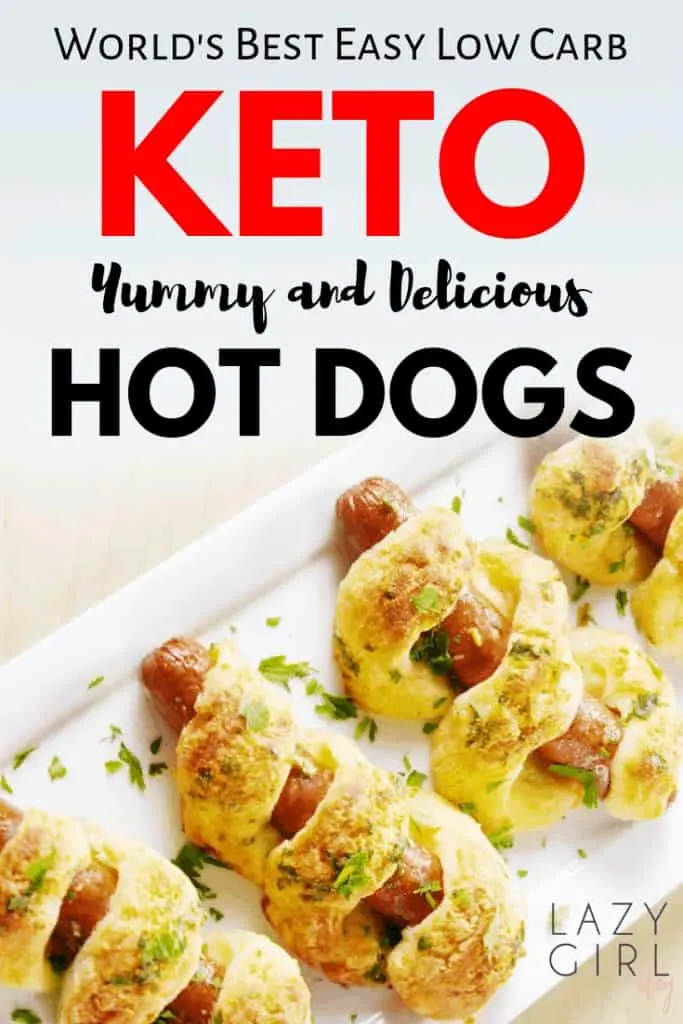 ---
This post may contain affiliate links. As an Amazon Associate, I earn from qualifying purchases for my referral at no extra cost to you! See Disclosure
---
World's Best Low Carb Keto Hot Dogs Recipe:
[bs_icon name="glyphicon glyphicon-time"] Prep Time: 15 mins
[bs_icon name="glyphicon glyphicon-time"] Total Time: 25 mins
[bs_icon name="glyphicon glyphicon-cutlery"] Servings: 8
---
Ingredients
4 oz. cream cheese
2 large eggs, beaten
2 1/2 cups almond flour, I use this brand
1 tsp. kosher salt
4 tbsp. butter, melted
1 tbsp. freshly chopped parsley
8 hot dogs
Mustard for serving, optional
---
Instructions
Preheat the oven to 400° and line a baking sheet with a silicone baking mat or parchment paper.
In a large microwave-safe bowl, melt together mozzarella and cream cheese.
Add eggs and stir to combine then add almond flour, baking powder, and salt.
Divide dough into 8 balls then shapes each ball into long ropes.
Wrap a rope around each hot dog.
In a small bowl whisk together butter, garlic powder, and parsley.
Brush garlic butter over each hot dog then bakes until golden, 10-15 minutes.
If you want you can serve your Keto hot dogs with mustard.
---
[bs_icon name="glyphicon glyphicon-heart"] Tip: Using larger hot dogs? Pre-fry them for a couple of minutes before wrapping them up in the cheese dough and baking.
---
[bs_icon name="glyphicon glyphicon-list-alt"]

Nutrition

Per serving: Net carbs: 7 g; Fiber: 4 g; Fat: 68 g; Protein: 29 g; kcal: 764;

If you like this recipe share it with your friends and (..of course..) pin it for later. 🙂