Delicious and healthy Low Carb Keto Carrot Mug Cake that you can make in the microwave, in less than 5 minutes, is a perfect sugar-free dessert when you are on your ketogenic diet.
This carrot mug cake recipe is really easy to make. It's soft, delightfully moist, looks great, and tastes even better!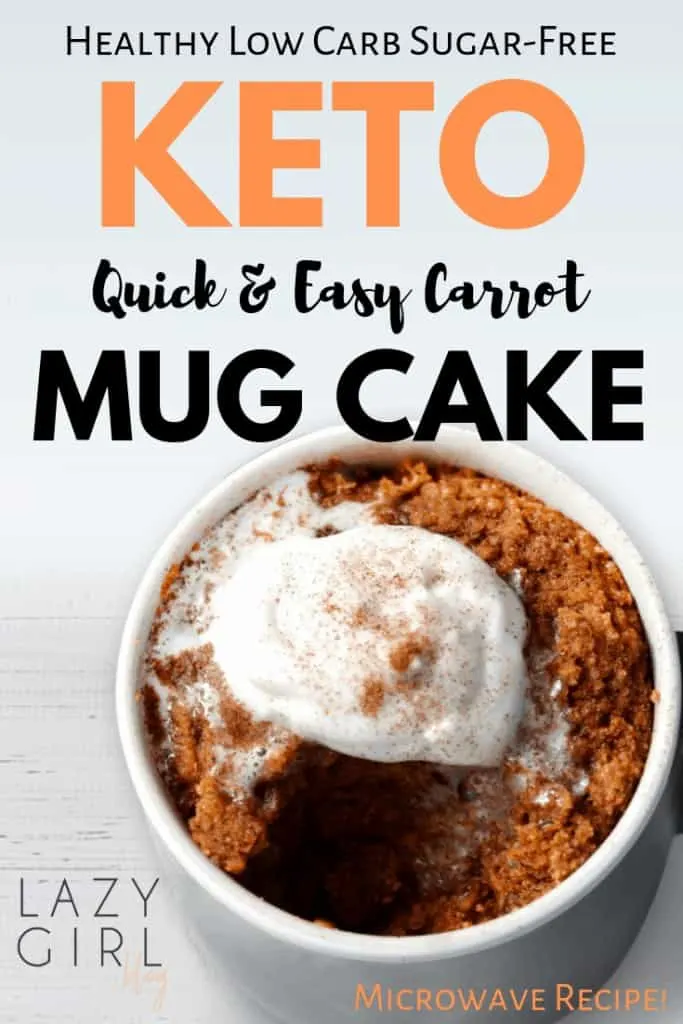 If you like carrot cake, desserts, or if you are on a keto diet, you need to try this recipe!
It's up to you if you want to add cream cheese frosting as well, but I highly recommend it!
It makes the keto mug cake super moist and delicious and you can't even tell anymore that you're eating a keto-friendly cake.
Keep this single-serving mug cake in mind the next time you're looking for a dessert just for one!
---
This post may contain affiliate links. As an Amazon Associate, I earn from qualifying purchases for my referral at no extra cost to you! See Disclosure
---
Keto Carrot Mug Cake Recipe:
[bs_icon name="glyphicon glyphicon-time"] Prep Time: 5 minutes
[bs_icon name="glyphicon glyphicon-time"] Cook Time: 5 minutes
[bs_icon name="glyphicon glyphicon-time"] Total Time: 10 minutes
[bs_icon name="glyphicon glyphicon-time"] Servings: 2
---
Ingredients
Carrot Cake:
---
Cream Cheese Frosting:
2 tbsp full-fat cream cheese
---
Instructions
Mix your dry ingredients – almond flour, cinnamon, pumpkin spice, baking powder, powdered erythritol, and crushed walnut pieces.
Add the wet ingredients- grated carrot, melted butter, double/heavy cream.
Fill the carrot cake batter into 2 well-greased ramekins (I used melted butter) or 1 pyrex glass bowl and microwave for 5 minutes at 800W (or 6 minutes at 700W).
Turn upside down onto a plate and serve with cream cheese frosting (cream cheese mixed with powdered erythritol). Decorate with more crushed walnuts and grated carrots. Or eat straight from the ramekin!
---
[bs_icon name="glyphicon glyphicon-tag"]

Notes

You can make this Keto carrot cake WITH AND WITHOUT EGG. If you choose to omit the egg, add an additional 1 tbsp of double/heavy cream. You won't be able to turn it out onto a plate – just eat it straight from the bowl/mug.

If you don't have pumpkin / mixed spice, sub with 1/4 tsp ginger, 1/4 tsp nutmeg, and 1/2 tsp cinnamon.

If you want to bake the cake in the oven, try 175 Celsius / 350 Fahrenheit for around 15 minutes. I have not tried this myself yet, but it's what I would go for. If you bake it as 1 larger cake rather than 2 ramekins, it may take a little longer.

[bs_icon name="glyphicon glyphicon-heart"] Tip: I got the best results microwaving the cake at 800 watts – this gives the carrot time to soften sufficiently. It also prevents the cake from rising too quickly and spilling over the sides of the ramekin.

700-800W is equal to a MEDIUM power level. If you're not sure how to set your microwave to a lower power level or to 700-800W, microwave for 2 1/2 minutes instead and check if your cake is done.
[bs_icon name="glyphicon glyphicon-list-alt"]

Nutrition

Per Serving: Calories 440; Total Fat 39.9g; Total Carbs 6g; Dietary Fiber 3.8g; Protein 14.2g;

If you like this recipe share it with your friends and (..of course..) pin it for later. 🙂