Whether you're vegan, lactose intolerant, or are simply craving something sweet, these indulgent treats are sure to satisfy. Here are The Best Vegan Desserts Even Non-Vegans Will Love…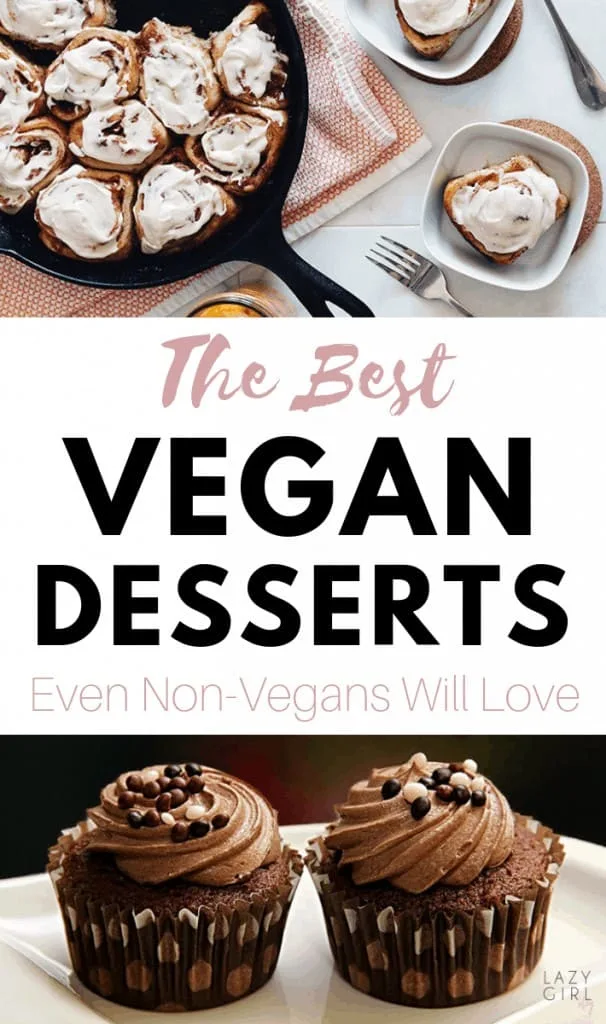 No matter how much more popular veganism is becoming these days, some people can't shake the perception that all egg- and dairy-free desserts must taste like flavorless slabs of sandpaper.
Clearly, these people have never tried any of these 100 percent vegan recipes.
Along with more and more vegan cafes, restaurants, food blogs, and meat, and dairy alternatives, these recipes prove being vegan is not a difficult (or boring) lifestyle.
Here are five of the best vegan desserts for everyone to enjoy.
---
This post may contain affiliate links. As an Amazon Associate, I earn from qualifying purchases for my referral at no extra cost to you! See Disclosure
---
One-bowl Chocolate Hazelnut Cake Recipe: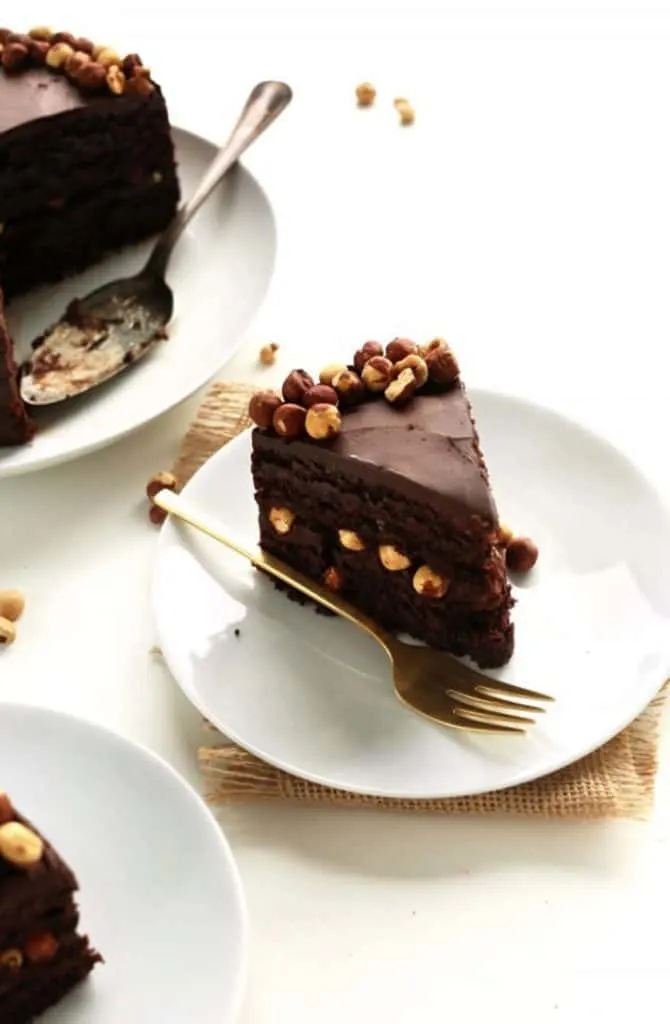 For when you need a birthday cake (or just feel like cake, no judgment here), this one-bowl chocolate hazelnut cake is the answer.
Rich, moist, mega chocolatey, and hazelnutty, this is basically like Nutella in cake form, which we have no problems with whatsoever.
While there isn't any Nutella actually in the cake, it has all of the essential components: Creaminess, chocolaty-ness, and loads of roasted hazelnuts!
This cake gets extra height from a solid layer of roasted hazelnuts + more on top! They also provide a healthy crunch to the cake.
[bs_icon name="glyphicon glyphicon-cutlery"] Ingredients:
Cake:
4 batches flax eggs (4 Tbsp (18 g) flaxseed meal + 10 Tbsp)
1 1/2 tsp apple cider vinegar
3 tsp baking soda
2/3 scant cup maple syrup or agave nectar (sub honey if not vegan)
2/3 cup cane or granulated sugar
1/2 cup melted coconut oil or vegan butter (such as Earth Balance)
1 tsp pure vanilla extract
2 cups unsweetened applesauce (or another hearty fruit puree, such as beets)
1/2 tsp sea salt
1 cup unsweetened cocoa powder (if clumpy, sift)
1 cup almond meal (finely ground from raw almonds)
1/2 cup gluten-free oat flour (finely ground from raw oats)
1 1/2 cups gluten-free flour blend*
Frosting / Toppings:
[bs_icon name="glyphicon glyphicon-file"] Notes
*For this cake, you can use the Bob's Red Mill 1:1 gluten-free flour blend.
*Nutrition information is a rough estimate.
Nutrition Per Serving (1 of 16 slices)
Calories: 444
Fat: 25g
Saturated fat: 12.5g
Sodium: 82mg
Carbohydrates: 55g
Fiber: 6.5g
Sugar: 35g
Protein: 6.3g
Full recipe: Minimalist Baker
---
Spiced Whiskey Peach Cinnamon Rolls Recipe: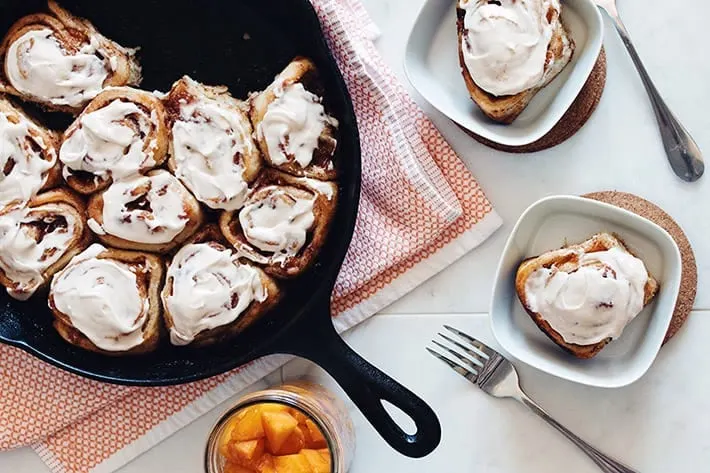 Simmer some peaches in a spiced maple whiskey sauce, stuff them into fluffy cinnamon rolls, top with some vegan vanilla icing, and all your sweet food dreams will come true.
[bs_icon name="glyphicon glyphicon-cutlery"] Ingredients:
For the Dough:
1 packet active dry yeast (2 ¼ tsp)
1 cup warm water (100°F)
¼ cup of sugar
3 cups all-purpose flour
1 tsp sea salt
¼ cup coconut oil (melted)
¼ cup all-purpose flour (for rolling out dough)
1 tsp coconut oil (to oil the bowl for proofing)
For the Spiced Peaches:
3 ripe peaches, peeled and diced (approximately 3 cups)
1 cup Spicebox Canadian spiced whiskey (or bourbon)
¼ cup maple syrup
For the Filling:
2 tbsp vegan butter (melted)
¼ cup of sugar
1 Tbsp cinnamon
For the Icing:
1 cup icing sugar
1 Tbsp vegan butter (softened)
1 Tbsp non-dairy milk (or water)
½ tsp vanilla extract
Full recipe: Food network
---
Raw Vanilla Cheesecake with Chocolate Almond Crust Recipe: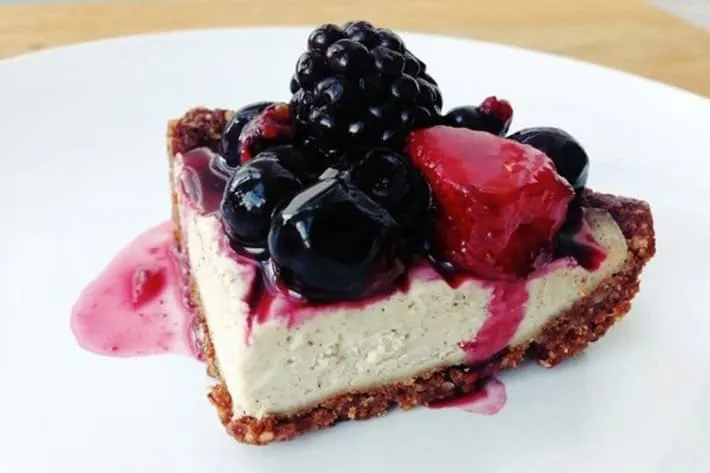 Vegans and non-vegans alike will love this creamy cheesecake. Top with fresh berries or fresh lemon curd for a light finish to any meal.
Chocolate Almond Crust
Vanilla Cheesecake Filling
1 ½ cups raw cashews, soaked for at least 3 hours
⅓ cup agave nectar (or 1/2 cup maple syrup for non-raw version)
¼ cup lemon juice
⅓ cup coconut oil
½ tsp vanilla powder or the inside of 1 vanilla bean
Topping
1 cup of frozen mixed berries
Full recipe: Food network
---
Vegan Chocolate Brownies Recipe: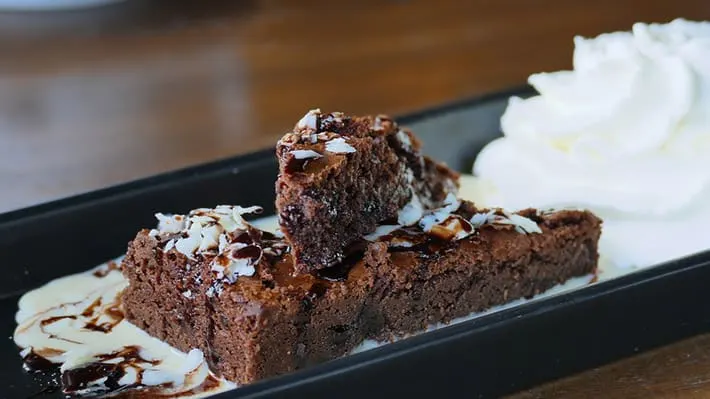 Gooey, rich, fudgy and seriously chocolatey, these vegan brownies are a joy to eat and will win you lots of, well, brownie points. And you only need a handful of everyday ingredients to make them. Serve with ice cream for extra tastiness.
[bs_icon name="glyphicon glyphicon-cutlery"] Ingredients:
5 tablespoons sunflower oil, plus extra for greasing
170 g self-raising flour
3 heaped teaspoons cocoa powder
180 g golden caster sugar
sea salt
200 g pecan nuts
Full recipe: Jamie Oliver
---
Chocolate Cupcakes With Chocolate Avocado Icing Recipe: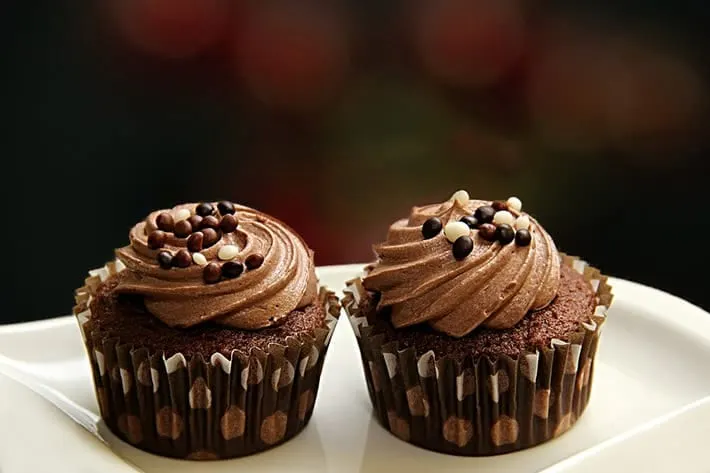 With a rich and fluffy chocolate base, these cupcakes are topped with decadent chocolate icing made with a secret ingredient: avocado. Just give it a go before you knock it.
[bs_icon name="glyphicon glyphicon-cutlery"] Ingredients:
Cupcakes:
Frosting:
Full recipe: love and lemons
---
Some of the links above are affiliate links, which pay me a small commission for my referral at no extra cost to you! If you make a purchase through the link, it won't cost you more but I may earn a small commission. I only recommend products that I personally use and love!
Did you make these recipes? Tag me on Instagram so I can see! @lazy_girl_tips
Leave a comment, rate it, pin it, share it, and don't forget to tag a photo #lazy_girl_tips on Instagram. I'd love to see what you come up with. Cheers, friends!