These Halloween food ideas are perfect for your Halloween party or simply for making a family meal a little more spooktastic!
It's that spooky time of year again! Holidays are a time that allows you to get creative with food and create food art!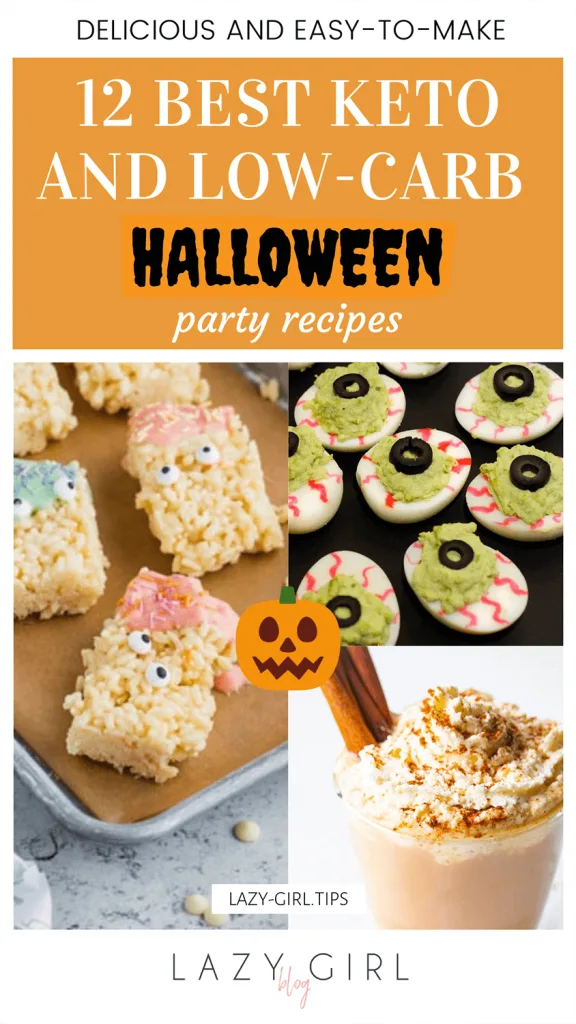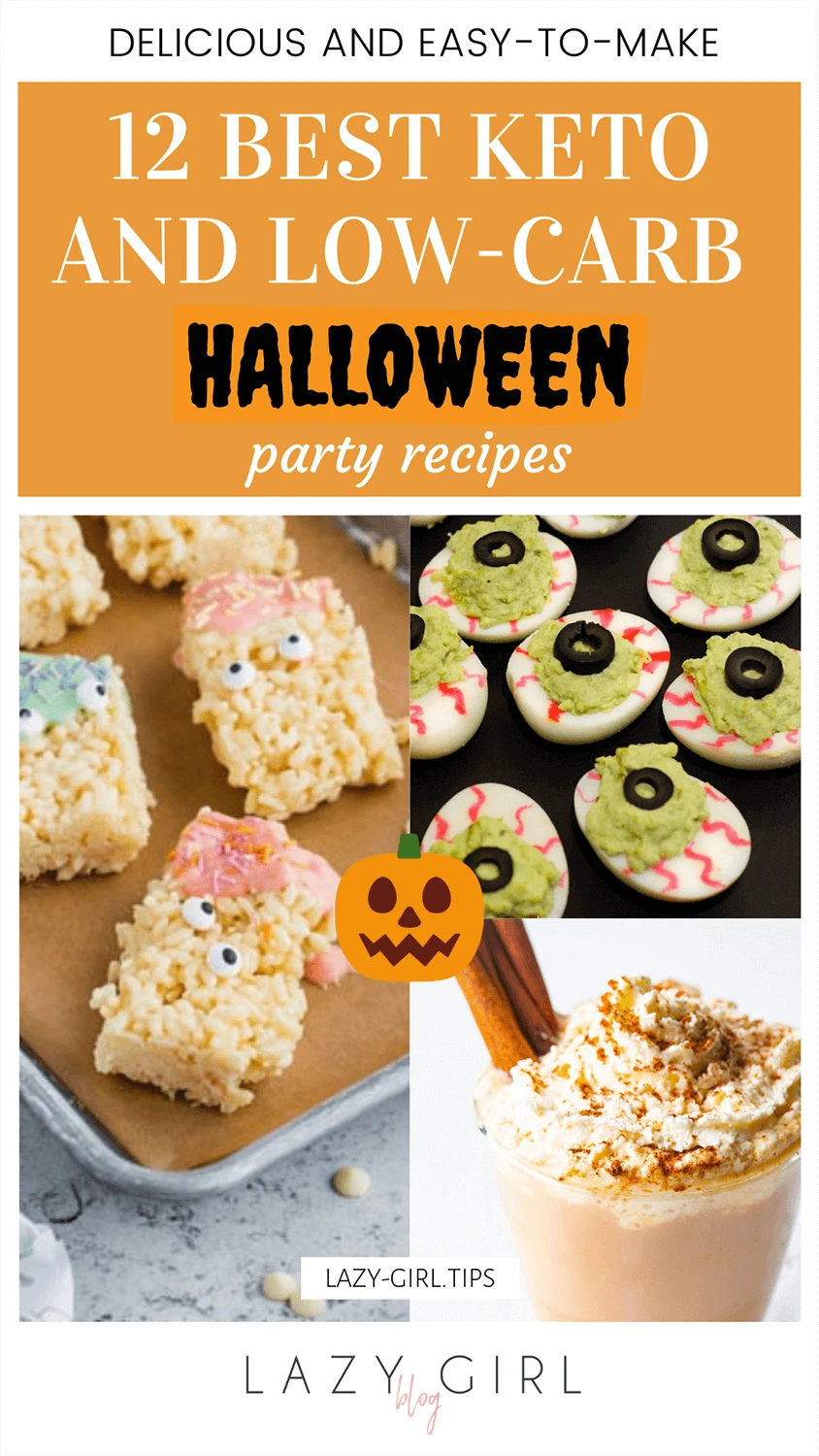 ---
This post may contain affiliate links. As an Amazon Associate, I earn from qualifying purchases for my referral at no extra cost to you! See Disclosure
---
Mummy Hot Dogs With Cut & Arms Recipe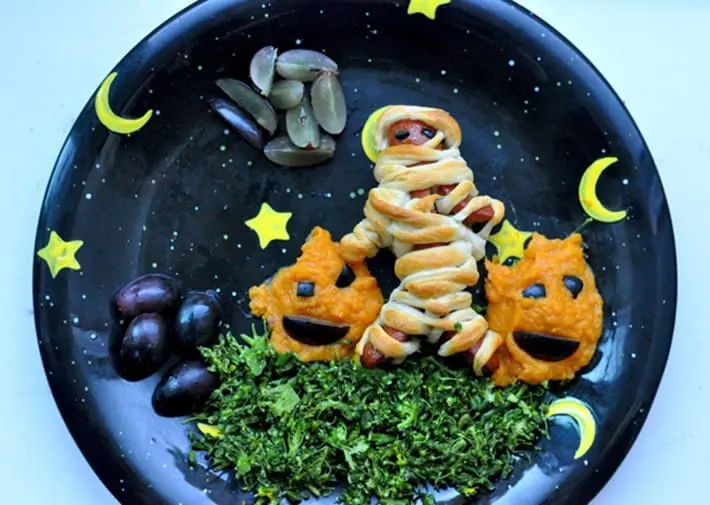 These are the first and original Mummy Hot Dogs with cut arms and legs, a fun idea I hope people enjoy.
I think the best way to serve healthy meals for a big family is to buy vegetables in season. Taking advantage of sales is smart too.
With Halloween here, this is a great way to make eating vegetables fun.
This mummy hot dog with the legs and arms cut separately came to me when I was thinking about how to change the classic hotdog wrapped with dough.
I thought my kids would get a kick out of them and they did.
Ingredients:
6 Beef Hot Dogs
1 Crescent Roll Dough
Olives
You'll want to start first by rolling out your crescent roll dough and using a pizza cutter to cut small strips. The next steps are extremely easy you'll cut each side to create arms and legs and then wrap your crescent roll dough around your dog.
Spray with baking spray and bake for 15 minutes at 350 degrees!
---
Mini Spider Pizzas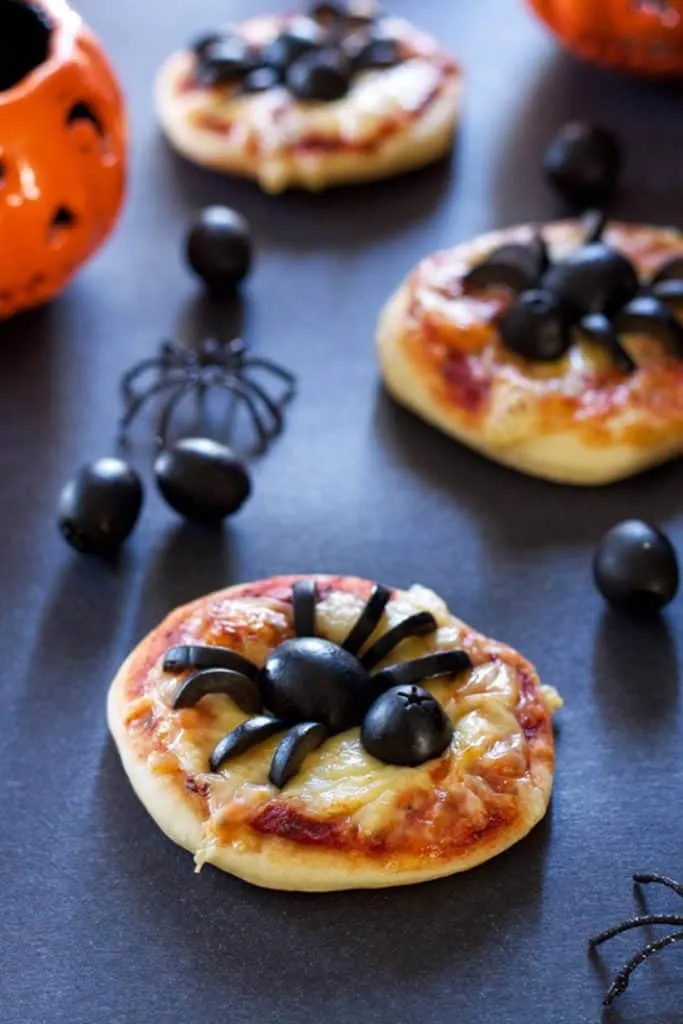 Making these Mini Spider Pizzas is so easy that even kids can help! While I don't have kids of my own, I've noticed that when they can help with cooking they tend to enjoy eating the food more.
Black olives are a great choice for kids because they have great texture and even better flavor. They aren't mushy or crunchy, but nice and firm.
The salty flavor of the olives goes perfectly on top of a cheese pizza, not to mention the dark black is a nice pop of color on top of the white mozzarella cheese.
Plus, what kid doesn't like to play with their food, and that's exactly what they get to do when they make the black olive spiders!
Before you send your trick-or-treaters out this Halloween, get them into the kitchen to help you make these fun and festive Mini Spider Pizzas!
Ingredients:
For the Pizza Sauce
15-ounce can of tomato sauce
6-ounce can of tomato paste
1 t. dried basil
1 t. dried oregano
1 t. dried parsley
1/2 t. garlic powder
1/4 t. red pepper flakes (optional)
1 t. balsamic vinegar
For the Toppings
1 cup part-skim mozzarella cheese, shredded
1 can large California Black Ripe Olives
Instructions:
Preheat the oven to 450 degrees.
Spray a baking sheet with cooking spray and set aside.
Roll out the pizza dough and use a 3-inch round cookie cutter to cut out the mini pizzas.
Place the dough on the prepared baking sheet
…
---
Witch Finger Cookies (without food coloring!)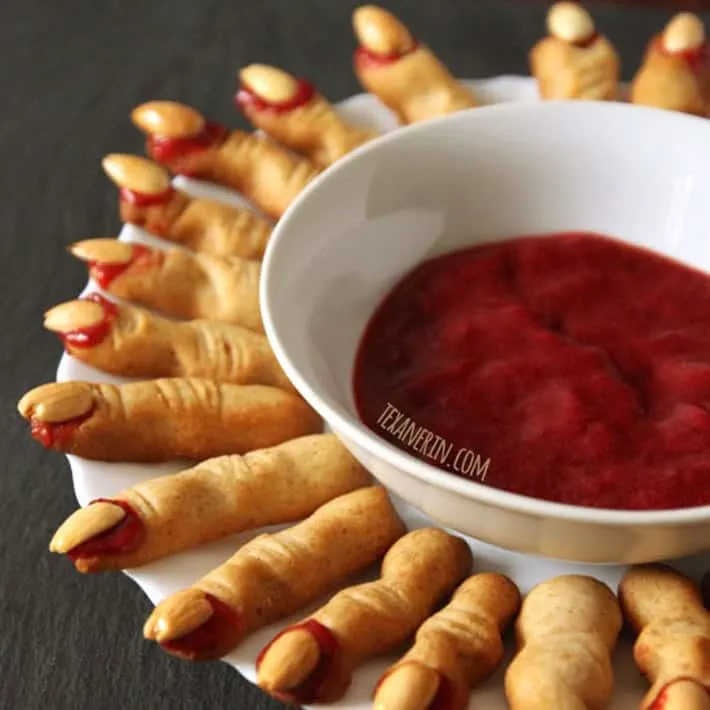 These healthier witch finger cookies use jam in place of food coloring! It can be made with all-purpose flour or with whole wheat for a 100% whole grain version. The perfect Halloween dessert!
All of the witch finger cookies I found use red decorating gel. Food coloring doesn't normally bother me (I know it should) but the thought of eating red decorating gel makes me queasy.
So here we have some awesome strawberry jam. And it complements the almond flavor perfectly.
To be honest, I think these shortbread cookies are kind of boring tasting without the jam.
Strawberry jam helps a lot. Raspberry jam would also be great but for the blood effect, I think strawberry is better.
If you don't have white whole wheat flour, you could use all-purpose flour in these witch finger cookies. I'm guessing the whole spell would also work well! You may need to add a tiny bit of extra flour if the dough is extra sticky.
Full Recipe: texanerin
---
Spider Cupcakes for Halloween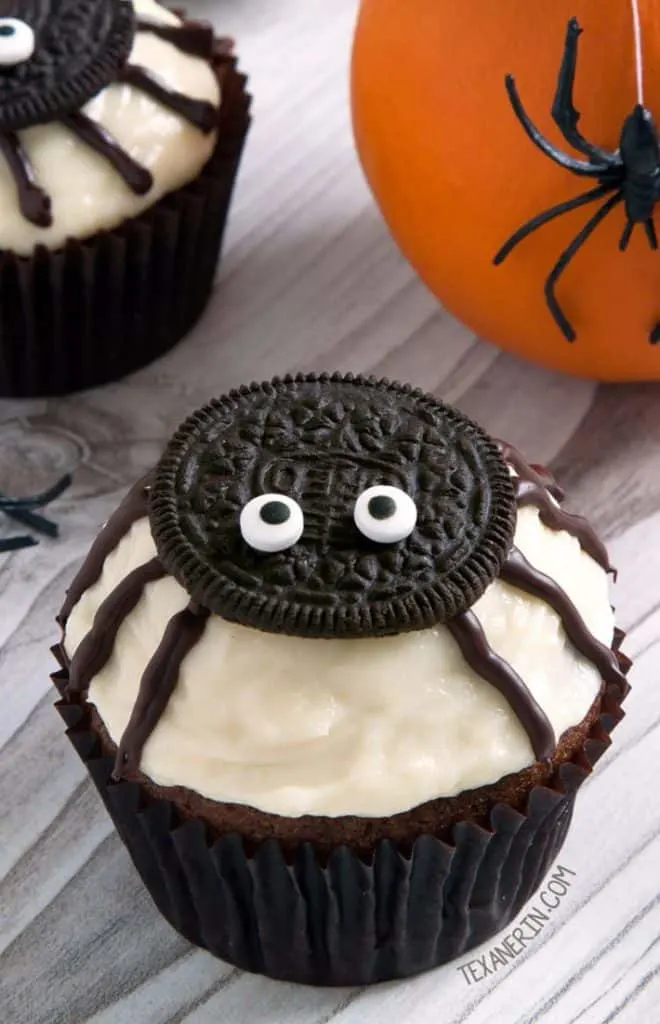 Easy to make spider cupcakes with a pumpkin cupcake base and cream cheese frosting!
The candy eyeballs on these cupcakes are pretty nasty ingredient-wise.
There's even a warning on the back of the package about how some of the ingredients may have an adverse effect on the activity and attention of children. We picked them off before we ate the cupcakes.
Full recipe: texanerin
---
Rice Krispies Treat Monsters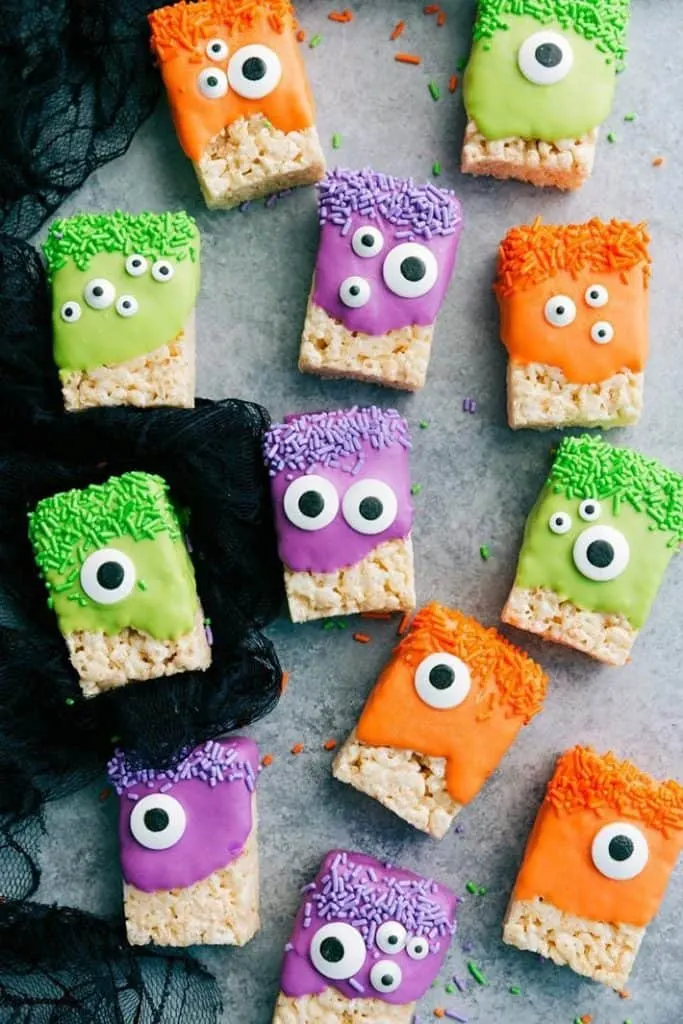 These Monster Halloween Treats have a lot of different options and while they can certainly be more than 3-ingredients, you can definitely go the "minimalist" route and make some cute monster treats with only 3 ingredients.
chose to use a variety of colored candy melts and ended up using about 1/3rd of each (12 ounces) bag of chocolate.
If you do just one color, you'll use just about the entire bag to coat the tops of the Krispie treats. You can also use an assortment of eye candies or just one shape/size.
In case you prefer the convenience of shopping online, you can purchase the ingredients to make these by clicking the links below:
Ingredients:
1 bag (12 ounces) of candy melts (in your favorite color, or use a variety of colors)
1 (16 pack) box of pre-made/individually wrapped Rice Krispies treats, or your favorite homemade recipe
Assorted Candy Eyeballs
Optional: shortening or vegetable oil, colored sprinkles
Instructions:
Line a large sheet pan with parchment paper and set it aside.
Add the candy melts (if using one color, separate it into 3 parts and if using different colors, place about 1/3 of each color) into a microwave-safe bowl(s).
Add about 1 teaspoon shortening or vegetable oil if desired (optional, it just makes for smoother/easier application of the chocolate to the Krispie treats) to each bowl of chocolate. (I use 1 teaspoon shortening to each 1/3 of chocolate candy melts)
Microwave (one bowl at a time) of candy melts in bursts of 20 seconds, stirring vigorously in between each burst for 10 seconds
…
Full recipe: chelseasmessyapron
---
Peanut Butter Spider Cookies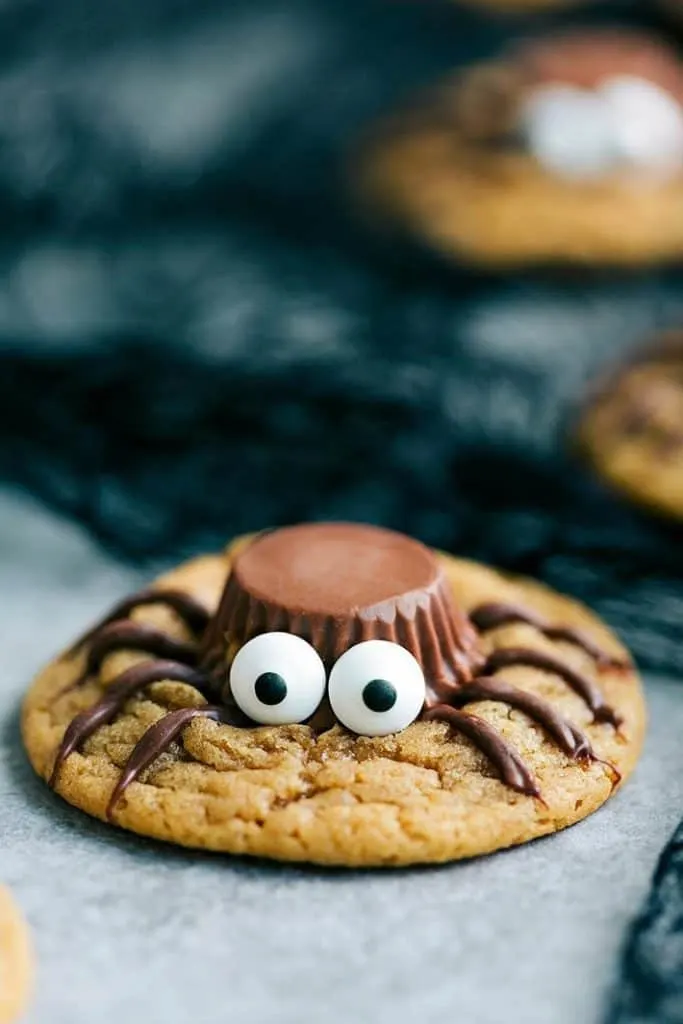 These spider cookies are super tasty, simple, and fun! Again, you can make these with three ingredients, or use a few more ingredients.
To stay true to 3-ingredients, I use refrigerated peanut butter cookie dough, which is delicious, but you can also use your favorite peanut butter cookie dough recipe.
If you use a different recipe, avoid pressing down the center with the tines of the fork.
The eyeball candies add an extra ingredient, but they're totally optional. The cookies are still super cute (and delicious) without the eyeballs.
You could also use chocolate chips or piped chocolate in place of the eyeball candies.
In case you prefer the convenience of shopping online, you can purchase the ingredients to make these by clicking the links below:
Ingredients:
1 tube (16.5 ounces) refrigerated peanut butter cookie dough (or your favorite homemade peanut butter cookies)
20-24 miniature Reese's peanut butter cups
1 cup milk chocolate chips
Optional: candy eyeballs, shortening, or vegetable oil
Instructions:
Prepare the cookies according to package directions. Remove from the oven and transfer the cookies to a cooling rack to slightly cool.
Unwrap the peanut butter cups and then gently press in the center of the cookies. Let harden.
In a microwave-safe bowl, add the chocolate chips, and about a half-teaspoon of vegetable oil or shortening (if desired; makes it a little easier to work with!)
Microwave in bursts of 15 seconds stirring in between each burst for 10 seconds until the chocolate is melted and smooth. Transfer the melted chocolate to a plastic bag and cut off the very tip of the bag
…