An Absolute Classic! You only need a few ingredients for this easy keto low-carb pumpkin pie recipe with an almond flour crust. It will be your favorite sugar-free pumpkin pie!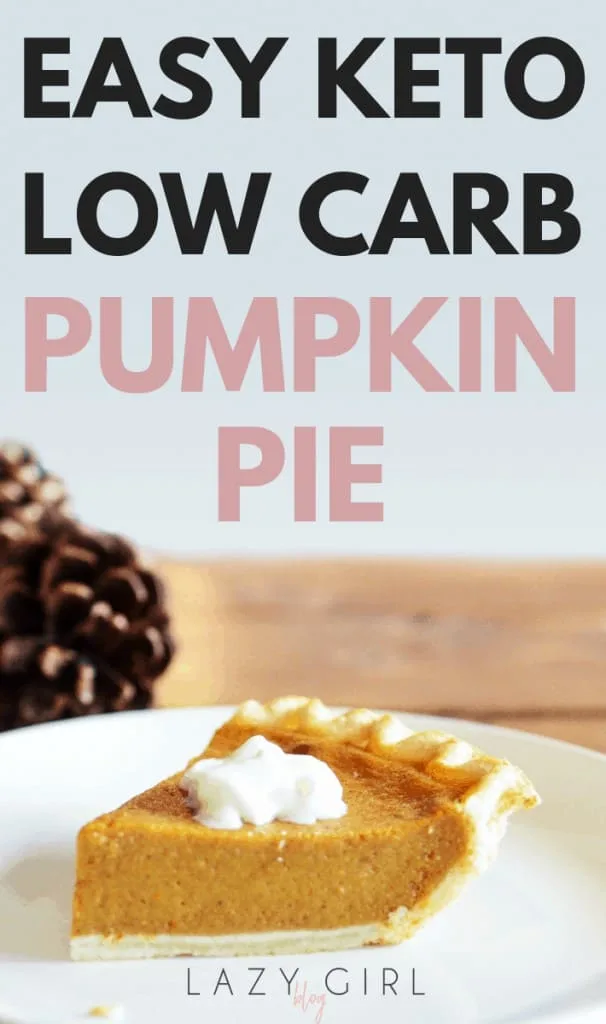 With the holidays coming up, you'll need a good sugar-free pumpkin pie recipe! The nice thing about this one is, it tastes like a regular pumpkin pie, so the whole family will eat it.
Plus, you'll be happy to hear that making this keto pumpkin pie is not particularly difficult at all!
My top priority for an easy low-carb pumpkin pie was for it to be as simple as possible. Complicated desserts are just not for me. The good news is, it was actually really easy to make a pumpkin pie recipe sugar-free.
---
This post may contain affiliate links. As an Amazon Associate, I earn from qualifying purchases for my referral at no extra cost to you! See Disclosure
---
We all know that pumpkin and winter squashes (as well as sweet potatoes) contain natural sugars, but I have not added any additional sugars. I used my favorite low-carb sugar alternatives. I like the Sukrin brand, but you can use your favorite.
The keto pumpkin pie filling has only five ingredients, plus optional vanilla extract and molasses. Both of these add a lot of flavors, so I recommend including them if you can. The carbs they contribute are negligible since the amount is so small and spread across the entire recipe.
You can make this into a paleo pumpkin pie by using coconut cream instead of heavy cream. That's an easy substitution. Other than that, if you need another sweetener to consider it paleo-friendly, that's not a problem. Something like coconut sugar should work just fine, preferably ground up to a finer consistency.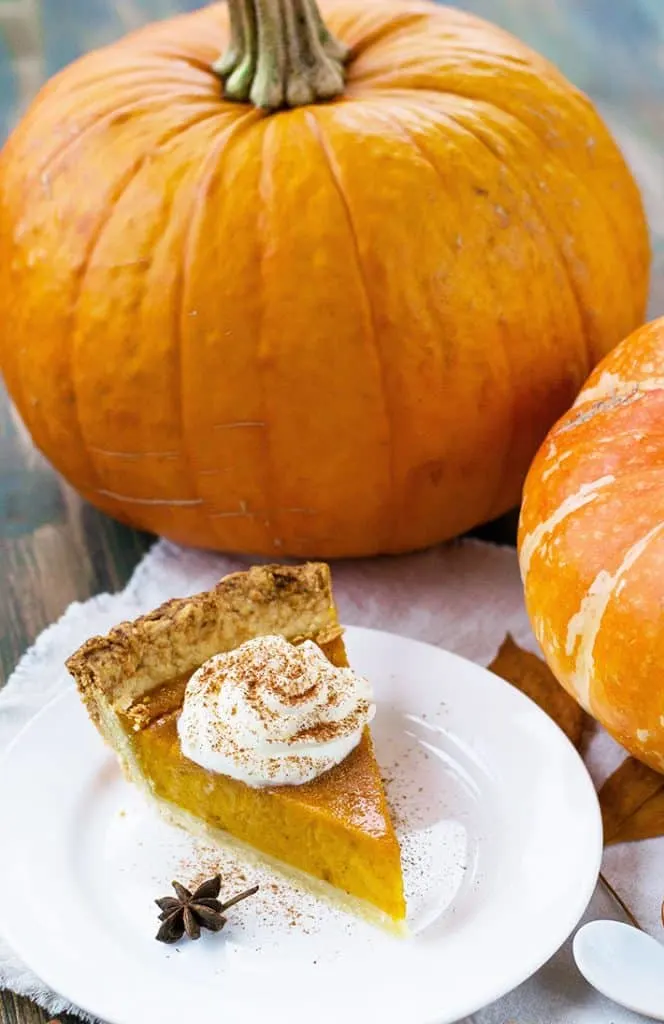 [bs_icon name="glyphicon glyphicon-cutlery"] KETO PUMPKIN PIE RECIPE
Ease of Preparation: Easy
Prep Time: 25 Minutes
Cooking Time: 45 Minutes
Total Time: 70 Minutes
---
Ingredients:
SEASONING
CRUST
2 & 1/2 Cups Almond Flour or Almond Meal
4 Tablespoons Sukrin Gold (or your favorite sweetener to taste)
5 Tablespoons Grass-Fed Butter
1 Large Egg
1 Teaspoon Pumpkin Pie Seasoning (above)
PIE FILLING
---
[bs_icon name="glyphicon glyphicon-file"] Instructions:
SEASONING
In a Small Mixing Bowl combine the 2 Teaspoons Ground Cinnamon, 1 Teaspoon Ground Ginger, and 1/2 Teaspoon Nutmeg.
CRUST
Pre-heat the oven to 350*F.
In a Large Mixing Bowl combine the 2 & 1/2 Cups Almond Flour, 4 Tablespoons of Sukrin Gold sweetener, and 1 Teaspoon of the Pumpkin Pie Seasoning.
Melt 4 & 1/2 Tablespoons of Grass-fed Butter, and reserve the remaining 1/2 Tablespoon for greasing the pie plate. Add 1 Large Egg to the melted butter and whisk together. (Make sure that your butter is only just melted and not piping hot or else it will start to scramble your egg when you add it)
In a Food Processor (or mix by a hand if you prefer) add the dry ingredients first, and then pour the egg and butter mixture on top. Pulse long enough to fully mix the crust together.
Grease a 9.5″ Pie Plate with 1/2 Tablespoon of the Grass-fed Butter to prevent the crust from sticking.
Spread the crust out evenly in the pan, making sure to build it up along the sidewalls of the pie plate to hold the pie properly.
Bake the crust in the oven for about 10-12 minutes, or until you feel that it is partially baked enough. You do NOT want to fully bake it in this step.
Set on the counter to cool off a little bit while preparing the Pumpkin Pie Filling.
PIE FILLING
In a Food Processor (or Large Mixing Bowl if mixing by hand) combine a 15oz can of Pure Pumpkin, 3 Large Eggs, 4 Tablespoons of Heavy Whipping Cream, 2/3 Cup Sukrin Gold sweetener, 1 Teaspoon Vanilla Extract, and 2 & 1/2 Teaspoons of the Pumpkin Pie Seasoning.
Pour the mixed Pie Filling into the Crust, and spread evenly with a spatula. Tap on the counter to release any air bubbles, and then bake in the oven at 350*F for about 45 minutes.
Remove when the center of the pie is no longer jiggly and place it on the counter to cool off completely to room temperature.
After the pie has reached room temperature, place it in the refrigerator for at least a couple of hours, or overnight if preferred. You will want the pie to cool off enough to be fully set.
Note: If you are wanting to prevent the crust from browning up too much you can bake the pie with a sheet of Aluminum Foil laid carefully across the top.
Loved this recipe? Let us know!