Sugar-Free Keto Condensed Milk is such a versatile low-carb ingredient for keto dessert recipes. This sugar-free keto condensed milk is gluten-free, low carb, rich, and creamy. It's just what you've been waiting for to take your keto baking to the next level. Trust me, it's as good as the real thing.
It serves as the perfect replacement in any recipe calling for traditional, carb-heavy sweetened condensed milk. It also can be used as a frosting and a fat bomb base!
If you thought, since going keto, you had to give up your favorite desserts that call for sweetened condensed milk, this is a treat for you.
You won't believe how easy it is to make keto-sweetened condensed milk at home!
Condensed milk is commonly used for baking desserts like pies, cookie bars, puddings, and even your morning coffee. Keep a jar of this in the fridge for all your dessert needs.
This can also be made dairy-free by using coconut milk. Instead of using heavy cream use coconut milk, but make sure it's full fat coconut milk. If you're looking to make this dairy-free don't add the butter.
Making low-carb sweetened condensed milk at home isn't hard, but it does require your attention. Be sure to stay with your pan and not walk away.
---
This post may contain affiliate links. As an Amazon Associate, I earn from qualifying purchases for my referral at no extra cost to you! See Disclosure
---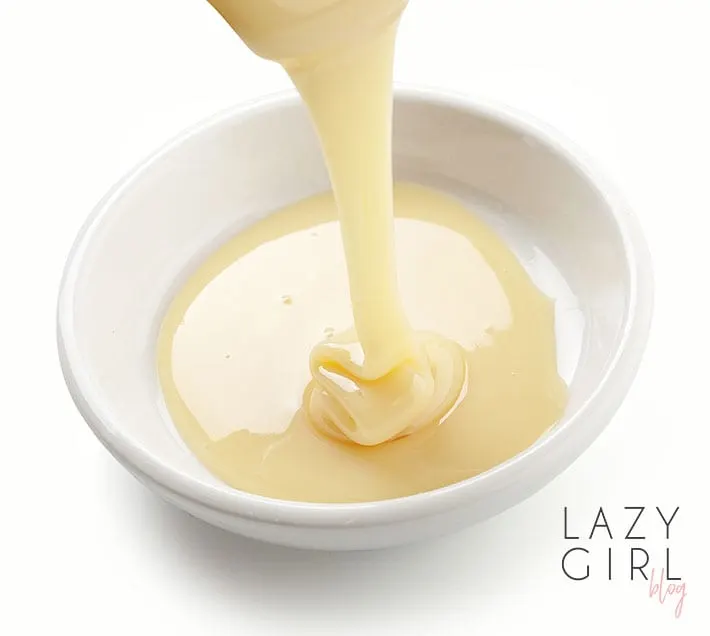 Keto Sweetened Condensed Milk Ingredients
---
heavy whipping cream
butter
powdered Swerve
vanilla extract
Heavy cream – Regular condensed milk is made from milk, not cream. This recipe uses heavy cream because it thickens up great and is keto-friendly.
Low Carb Sweetener –Powdered Swerve mixes so well with the heavy cream. It's mixed in better than the granulated kind.
Butter – You only need a little bit. I used 2 tablespoons and that was good, but it is up to taste. You can add up to 3 tablespoons of butter to this recipe.
Vanilla – Adding vanilla to this recipe get you the perfect flavor.
How to Store
---
This sauce is best stored in a sealed glass jar in the fridge. It will thicken up further once chilled. If you find it too thick before using it, gently heat it up.
If stored like this, it should stay good for about two to three weeks.
You can also store it in a freezer in an airtight container for up to three months (but first let it thaw in the refrigerator overnight).
If the sweetened condensed milk separates after freezing and thawing, you can briefly reheat it on the stovetop while whisking.
If you loved this post or any of the recipes, please leave a comment below. I love hearing from you! You can also tag #lazygirltips on social media.

Did you make this Sugar-Free Keto Condensed Milk recipe? Tag me on Instagram so I can see! @lazy_girl_tips
Leave a comment, rate it, pin it, share it, and don't forget to tag a photo #lazy_girl_tips on Instagram. I'd love to see what you come up with. Cheers, friends!
If you like this recipe share it with your friends and (..of course..) pin it for later. 🙂