Low Carb Chocolate Coconut Cake Bites – Keto Lamingtons are homemade white cakes dipped in decadent chocolate and rolled in coconut. Who doesn't love lamingtons?
This Australian classic is a favorite of many. If you are looking for an Australian dessert, keto lamingtons are sure to be a hit!
This is a keto version with no added grain flour or any other carby ingredient. These are low-carb, tea-time, and guilt-free lamingtons!
Soft vanilla sponge coated in chocolate and coconut, and you have one of the best keto recipes that can be made and enjoyed all year round.
This recipe maybe does take a bit of work but I can tell you after eating one the effort is worth it.
---
This post may contain affiliate links. As an Amazon Associate, I earn from qualifying purchases for my referral at no extra cost to you! See Disclosure
---
Tips for making the Best Keto Lamingtons?
---
Don't let each piece of sponge cake sit in chocolate coating for too long, try to dip quickly do they don't get too wet, and start falling apart.
Don't skip the xanthan gum in this recipe; it's the ingredient that holds this all together and helps create perfect slices.
If the cakes crack a little bit, no worries, small cracks are perfectly fine. The filling and the chocolate keep everything together.
Powered sweetener is preferred over granular, as it blends better and creates a better texture.
If you don't have powdered sweetener and only have granular, go ahead and give it a blast with a high-speed blender, or food processor.
Store in an airtight container in a fridge for up to 3-5 days.
Before serving, let the keto chocolate bars (keto Lamingtons) sit at room temperature for at least 30 minutes. This way, they will develop a much more rich taste and softer texture.
Serve these lamingtons at room temperature. Storing them in the fridge will make the chocolate hard. Still tasty, but the texture is far better if they are at room temperature.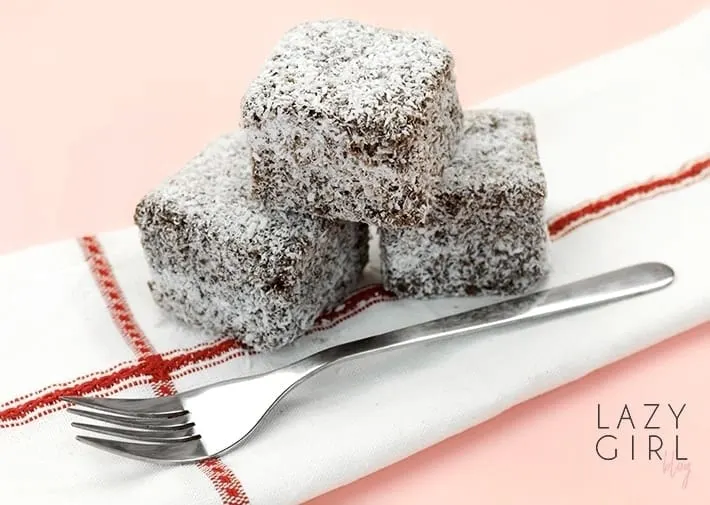 How to make the best low carb Lamingtons?
---
First, preheat the oven 170 C / 340 F and line a 9-inch square cake pan with baking paper.
To make the sponge, separate the eggs into two large bowls. Whisk together the egg yolks, vanilla extract, sweetener, and salt until thoroughly combined. Add the melted butter and mix to incorporate evenly.
Place the egg whites in your stand mixer and whisk on medium speed for 3 minutes. whisk the egg whites to stiff peaks.
In a separate bowl, sift together the almond flour, psyllium husk powder, baking powder, and xanthan gum. Sift those dry ingredients into the egg white mixture and gently fold through.
Fold in the beaten egg whites in egg yolks batter, a quarter of the whites at a time. Fold as gently as you can to preserve the air and create a fluffy sponge.
Gently spoon the mixture into the prepared cake tin and bake for 25 – 30 minutes until a skewer inserted into the center comes out clean. Remove and allow to cool on a wire rack.
For icing place cocoa powder, cream of tartar, vanilla extract, and butter into a heatproof bowl.
Bring milk to boil and pour over the cacao mix, and stir thoroughly to get uniform chocolate cream.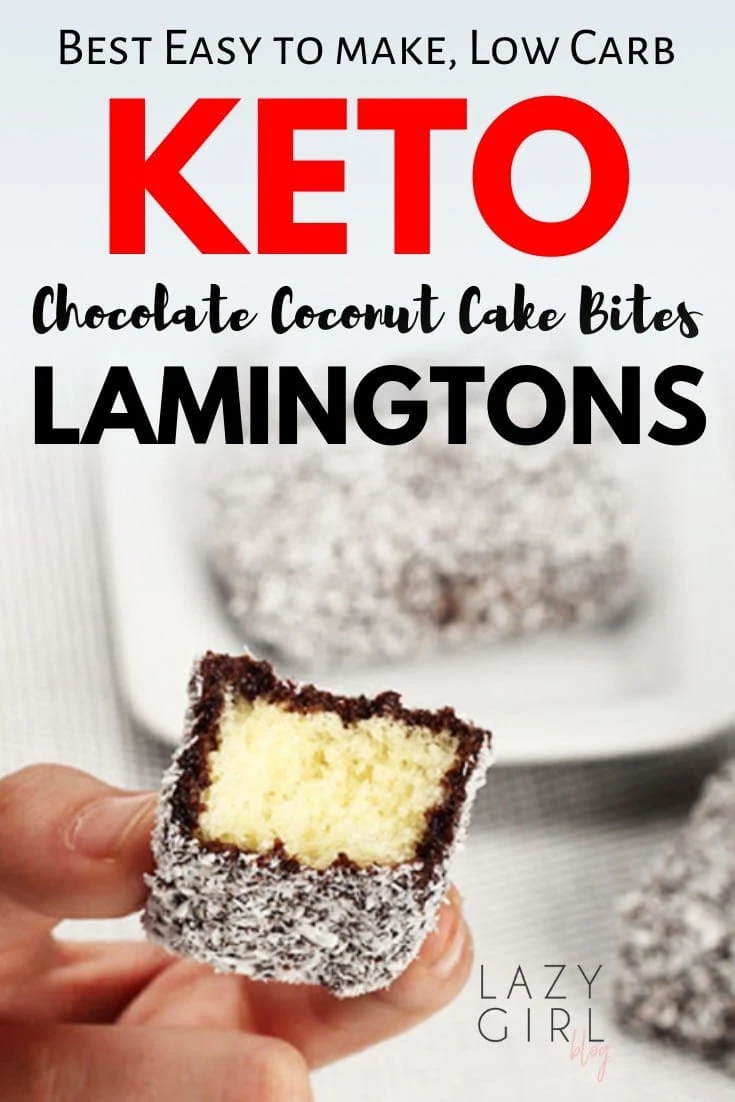 How to assemble keto Lamingtons?
---
On a separate plate, spread out the desiccated coconut.
Helping yourself with a pair of forks, dip each rectangle of sponge in icing, let drain for a couple of seconds, and then roll in shredded coconut, ensuring the coconut is thoroughly covering the icing.
Place each coconut bar on a cooling tray to set.
Did you make this Keto Lamingtons recipe? Tag me on Instagram so I can see! @lazy_girl_tips
Leave a comment, rate it, pin it, share it, and don't forget to tag a photo #lazy_girl_tips on Instagram. I'd love to see what you come up with. Cheers, friends!
If you like this recipe share it with your friends and (..of course..) pin it for later. 🙂