There's no need to give up delicious, satisfying desserts when you're on Keto or any other low-carb diet!
I'm not going to lie to you, this No-Bake Keto Peanut Butter Cheesecake is delicious. It's also super easy to make.
The only sugar present in this recipe is the sugar in the natural peanut butter, which would vary according to which brand you prefer.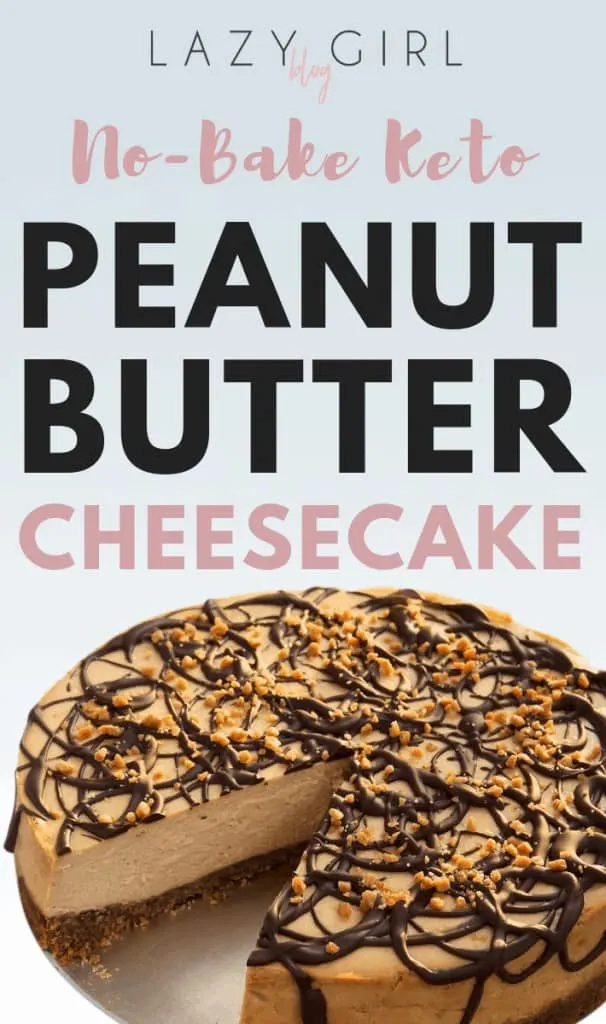 Every bite is a rich, decadent combo of chocolate glaze, creamy peanut butter filling, and chocolate cookie crust.
---
This post may contain affiliate links. As an Amazon Associate, I earn from qualifying purchases for my referral at no extra cost to you! See Disclosure
---
No-Bake Peanut Butter Keto Cheesecake Recipe:
Ingredients
Crust:
Filling:
Chocolate Glaze:
---
Instructions
For the crust:
Mix finely chopped peanuts, Swerve granular, cocoa powder, and butter together until combined.
Press into the bottom of a cake pan.
Place in the freezer until the filling is done.
For the filling:
Whip the heavy whipping cream, 1/4 C powdered Swerve, and vanilla until stiff peaks form; set aside.
Beat the remaining 1/2 C powdered Swerve, cream cheese, peanut butter, and butter until fluffy.
Fold in the whipped cream until completely combined.
Spread filling on the pie crust.
While the crust cools, make your chocolate glaze. Add the sugar-free chocolate chips and coconut oil to a small bowl, and microwave for 20 to 30 seconds. Once heated, stir until consistent sauce forms. Then, add the sauce to a plastic bag, twisting the middle of the bag to push the sauce into one corner.
Place in the fridge for two hours, or until firm.
Slice, serve, and enjoy!