The BEST low-carb tortilla chips recipe ever! Tortilla chips are without a doubt a favorite snack food, right up there with popcorn and hot dogs!
They're served at sporting events, movie theaters, parties and gatherings, and even just snack time at home.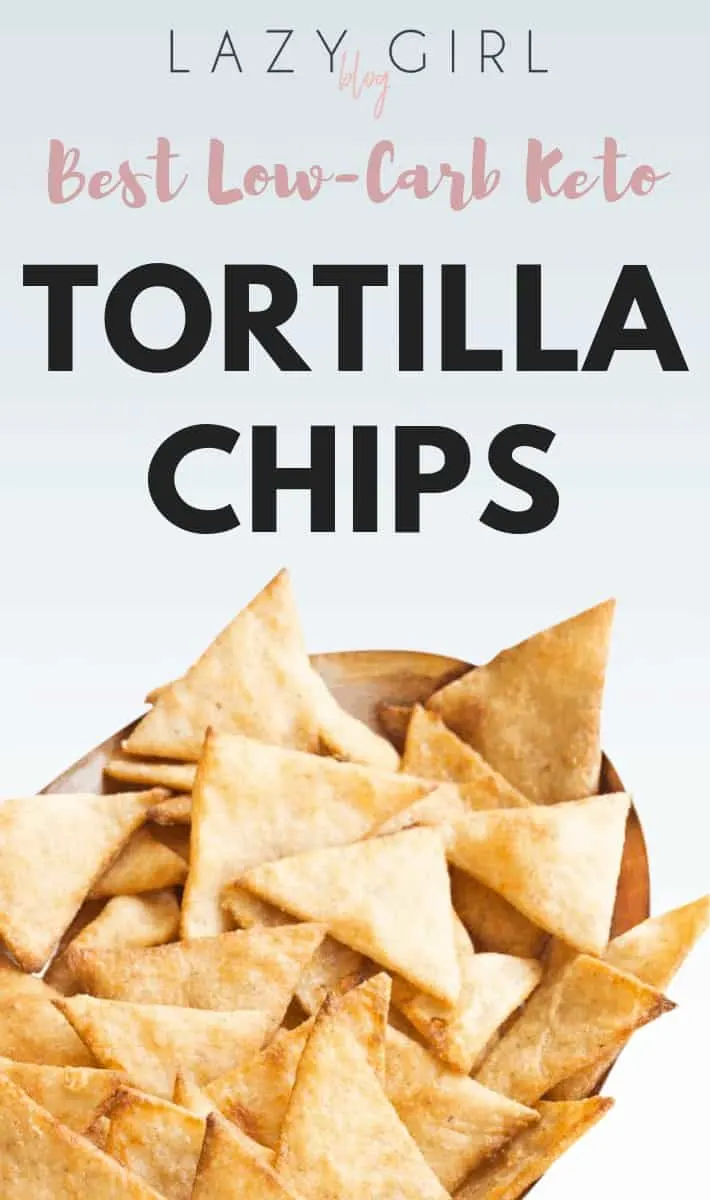 These keto tortilla chips are made with just a few common ingredients that you have in your pantry right now.
This recipe for the Best Low-Carb Tortilla Chips makes a perfect snack for dipping.
Best of all, these chips work for low-carb, Atkins, ketogenic, lc/hf, gluten-free, grain-free, and Banting diets.
---
This post may contain affiliate links. As an Amazon Associate, I earn from qualifying purchases for my referral at no extra cost to you! See Disclosure
---
Low Carb Keto Tortilla Chips Recipe:
Ingredients
---
Instructions
Preheat the oven to 375F. Line 2 large baking sheets with parchment paper or Silpat liners.
Prepare a double boiler. A pot partially filled with water with a mixing bowl that fits on top works well for this purpose. Over high heat, bring the water in the pot to a simmer, then turn the heat to low.
In the bowl part of the double boiler, add the mozzarella cheese, almond flour, chili powder (if used), and salt. Using caution not to get burned by the steam, place the bowl over the pot of simmering water. I use a silicone mitten to hold the bowl. Stir ingredients constantly. Or, you can melt the cheese in a microwave. If you're using the microwave, place the cheese in a large glass bowl, microwave it for 1 minute, and then in 15-second intervals after that, checking and stirring until it's melted.
Once the cheese is melted, use a fork to mix in the almond flour, flaxseed meal, salt, and pepper. Use your hands to knead it a bit until it looks like dough. (If the dough cools too much, you may need to microwave it for a few seconds so it's easier to work with.)
When it starts to hold together in a ball, turn it out onto a piece of parchment paper.
Divide the dough into 2 equal sections.
Using the rolling pin, roll each ball of dough out onto the prepared baking sheets until each is a rectangle about 8 by 10-inches.
Using a pizza cutter, cut each into square or triangle-shaped chips. Spread the chips out on the baking sheets so they're not touching.
Repeat for the second ball of dough.
Bake until golden brown on both sides, about 5 to 10 minutes, flipping the chips once halfway through. Watch them carefully as it is easy to burn them.
Chips will become crunchier as they cool.
Serve, or store the chips for up to 3 days in an airtight container at room temperature. To re-crisp, the chips after the first day, bake them for 5 minutes at 350F.
---
Recipe Notes
Serving size: ⅙ of recipe
Calories: 147 Fat: 10.9 Potassium: 122 Net Carbs: 2.6 Carbohydrates: 4.3 Sodium: 289 Fiber: 1.7 Protein: 9.2