Low Carb Keto Creamy Broccoli Cheese Soup is rich, creamy, and ready in under 20 minutes and it is the perfect keto soup when you are on the ketogenic diet.
The beauty of soup, in general, is that you can have it cold or hot, you can have it thick or thin, chunky or smooth. It's just a wide range of options when it comes to making it.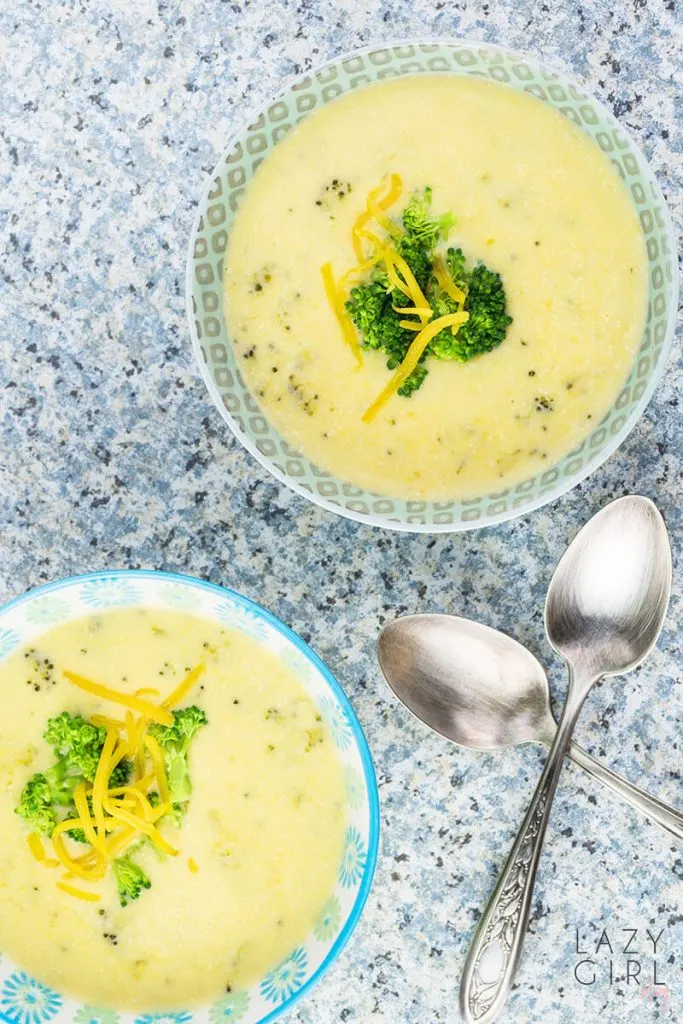 When the temperature outside drops, there's nothing more comforting than a big bowl of soup.
And this Low Carb Creamy Broccoli Cheese Soup is not only comforting, but it's also healthy, low in carbs, and delicious!
It's the perfect meal to warm you up on a cold winter day.
It is also great for those times when you are looking for a hearty, comforting meal.
This is a very easy cheese and broccoli soup recipe that will not only deliver a big dose of nutrients but keep you fueled for a good part of the day.
Low carb and keto aside, this soup is just amazing.
This soup recipe is creamy, delicious, and low-carb.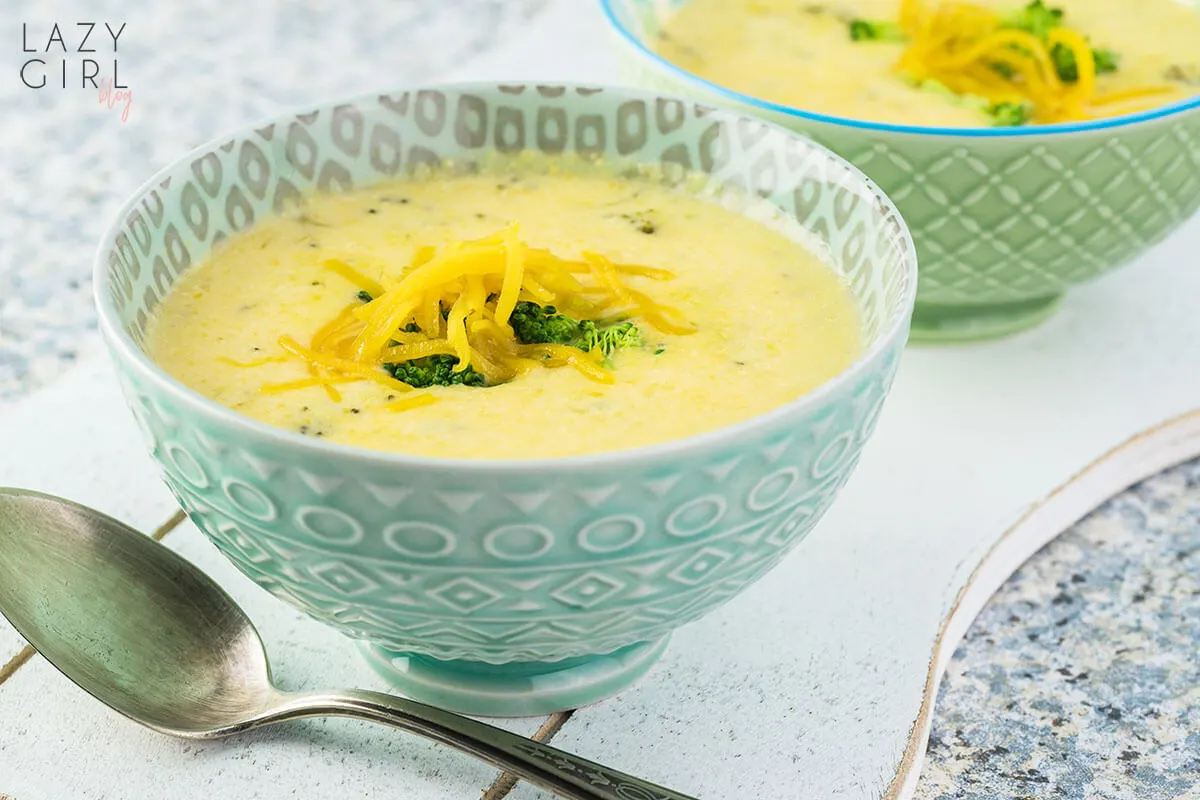 ---
This post may contain affiliate links. As an Amazon Associate, I earn from qualifying purchases for my referral at no extra cost to you! See Disclosure
---
How can you make broccoli cheese soup thick without using flour or potatoes?
There are a few options.
One of the easiest ways to thicken gluten-free soups is by adding a small amount of xanthan gum.
Xanthan gum is a plant-based thickening agent that is commonly used in gluten-free foods.
You can find xanthan gum at almost all large grocery stores, or online.
---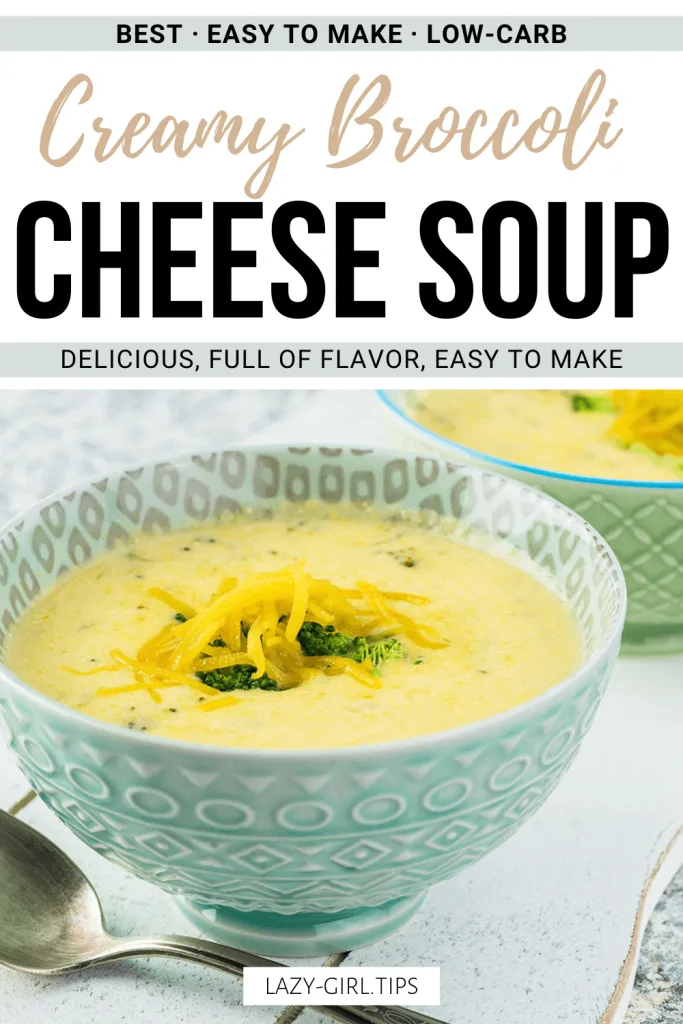 Keto Broccoli Cheese Soup Recipe:
---
Ingredients
---
Instructions
Cut the broccoli florets off the broccoli stalk as close to the head as possible. Leave the stems out.
Roughly chop the rest making sure not to waste any of the broccoli.
We are not going to puree the florets as we want to get a chunk of broccoli in every bite of the soup.
Heat a tablespoon of butter or any other kind of fat that you like to add flavor to the soup.
Add one roughly chopped small onion, garlic, and broccoli stalks and fry until it starts to get some color or when the onions have caramelized.
Season with Himalayan 1 tsp pink salt, 1 tsp black pepper, and 1 tsp parsley. You could also add some paprika, cayenne pepper, or your favorite seasoning.
After about 5 minutes add vegetable stock.
Simmer for further 5 minutes then transfer into a blender. Blend until thick and set aside.
Using the same saucepan and add a tablespoon of butter and cook the broccoli florets for 5 minutes stirring continuously.
Once the broccoli florets have cooked, pour out the pureed soup that was blended and add 1 ¼ cups or 300ml heavy cream.
Stir and add one tsp of xantham gum, and 3 cups of your favorite grated cheddar cheese stirring non-stop.
Let it cook until the cheese has melted and it's all one delicious creamy mixture then serve.
---
[bs_icon name="glyphicon glyphicon-heart"] Tip: If you've ever made soup or anything requiring melting cheese then you may have had an issue with it clumping or just getting all yucky on you. There are 2 ways to rectify this:
Make sure the soup is not HOT HOT, have it on low heat, or better yet take it OFF the heat when adding the cheese.
Adding TOO MUCH cheese at once. Put in a 1/4 cup at a time, and stir it around. It doesn't take long to melt and then keep adding it until it's all incorporated.
Nutrition:
Calories – 585; Carbohydrate – 12.5 gr.; Protein – 21 gr.; Fat – 51 gr.; Saturated fat – 32 gr.; Trans fat – 0 gr.; Fiber – 3.5 gr.; Sugar – 5 gr.;
Share this recipe with your friends and family, and let me know what you think of the recipe in the comments.
Leave a comment, rate it, pin it, share it, and don't forget to tag a photo #lazy_girl_tips on Instagram. I'd love to see what you come up with. Cheers, friends!