Sloppy Joe is a traditional American dish and there's nothing like homemade Sloppy Joe's from scratch. This messy perfection,
Low carb gluten-free Sloppy Joe's makes for a great lunch or dinner for the whole family.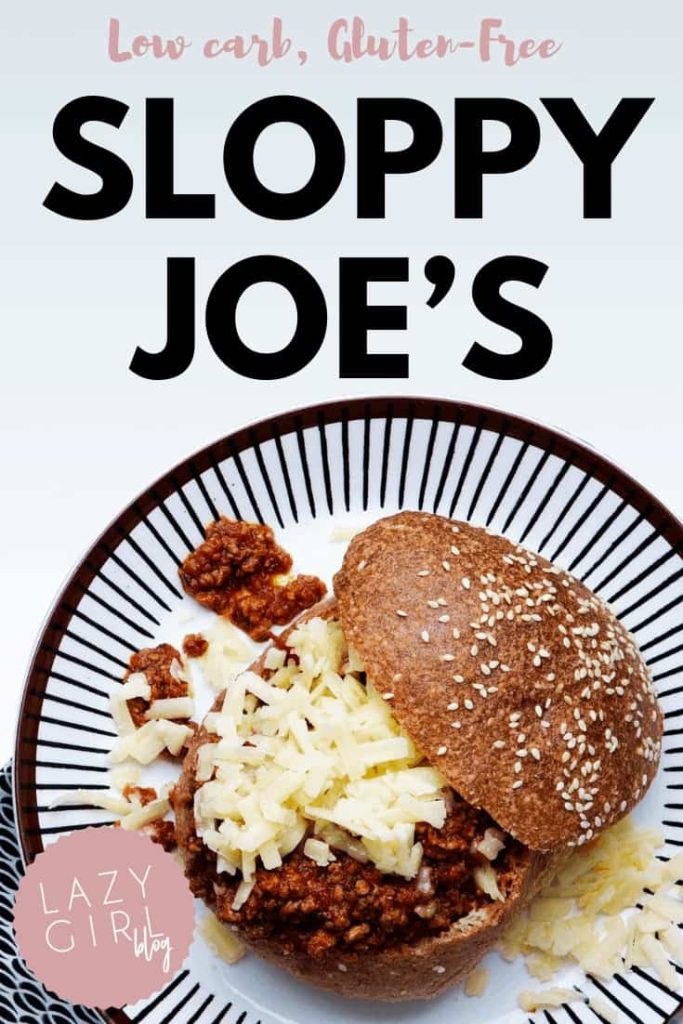 This fun low-carb dish has all the succulent flavor of the traditional version, but with none of the gluten and added sugars. Indulge your inner child tonight.
These Low carb Sloppy Joe's give you all the satisfaction of a classic sloppy joe, but without all the carbs and gluten.
Sloppy Joe's are fun to eat and deliver a kick of flavor. Eating well just goes SO much easier.
---
This post may contain affiliate links. As an Amazon Associate, I earn from qualifying purchases for my referral at no extra cost to you! See Disclosure
---
Low carb Sloppy Joe's Recipe:
Ingredients
The Bread:
Meat sauce:
2 tbsp olive oil
1 yellow onion
4 garlic cloves
>20 oz. ground beef
4 tbsp tomato paste
14 oz. crushed tomatoes
1 tbsp chili powder
1 tbsp Dijon mustard
1 tbsp red wine vinegar
2 tsp salt
¼ tsp ground black pepper
Toppings:
---
Instructions
The bread:
Preheat the oven to 350°F (175°C). Mix the dry ingredients in a bowl.
Add the vinegar, boiling water, and egg whites to the bowl. Whisk the dough with a hand mixer for about 30 seconds. Don't overmix it. (You want the consistency to resemble Play-Doh.)
With moistened hands, form the dough into 4 or 8 pieces of bread.
Bake on the lower rack in the oven for 50–60 minutes, depending on the size of your bread. They're done when you hear a hollow sound when tapping the bottom of the bun.
Meat sauce:
Sauté onion and garlic in a large frying pan over medium-high until the onion is soft and translucent.
Add the ground beef to the pan and increase the heat a little. Fry the meat thoroughly.
Add the other ingredients and mix well.
Let simmer for at least 15 minutes on low heat until most of the liquid is reduced.
Taste and add more seasoning if needed.
Serve in low-carb bread with a lot of shredded cheese.
[bs_icon name="glyphicon glyphicon-heart"] Tip: Sprinkle poppy or sesame seeds on the bread before baking. You can also make a hot dog or hamburger buns out of the dough. Six pieces of this bread contain about 2 grams of carbs per bun.
Nutrition:
Per serving: Net carbs: 6 % (14 g); Fiber: 12 g; Fat: 73 % (79 g); Protein: 21 % (51 g); kcal: 1013
Recipe by: Anne Aobadia; Photo by Emma Shevtzoff