Keto Chicken With Herb Butter is an easy and so quick delectable keto and low carb meal that has tender and juicy chicken.
Melt a large dollop on top of this mouthwatering butter-fried chicken. You'll be getting your butter on in no time – and loving it!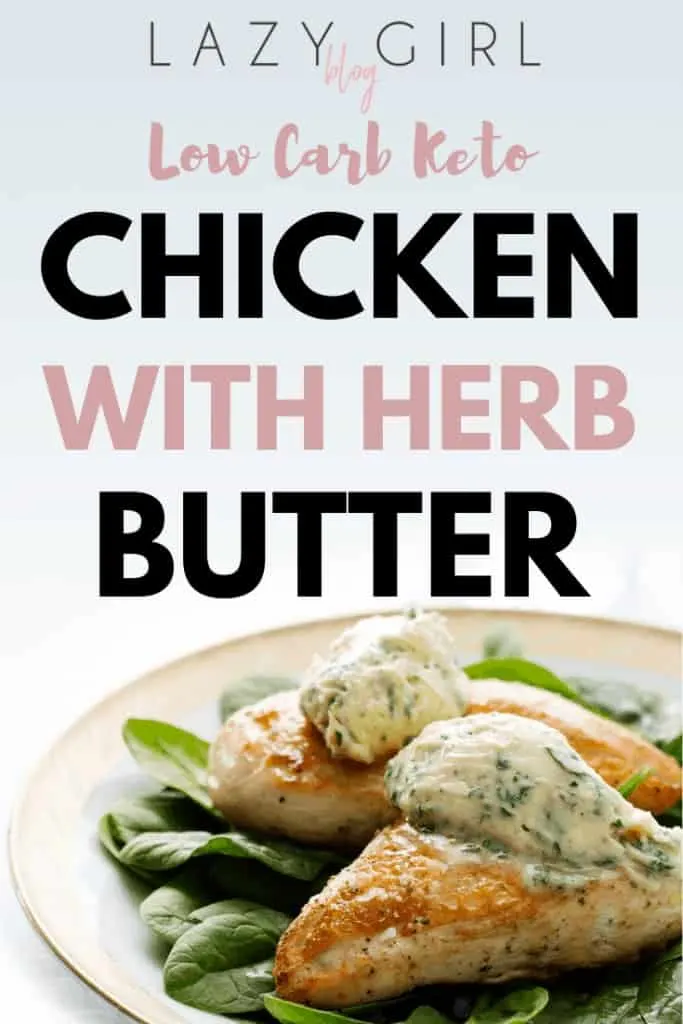 But the best part about it is that you can make an easy 20-minute meal but still have it be incredible!
And you can never go wrong with the butter garlic and herb combination. Am I right?
The chicken was perfectly tender and juicy. It is so so good sautéed whit the herb butter and they are perfectly tender.
It was the perfect pairing with the chicken and makes for a completely low-carb meal! You are going to love it.
---
This post may contain affiliate links. As an Amazon Associate, I earn from qualifying purchases for my referral at no extra cost to you! See Disclosure
---
Keto Chicken With Herb Butter Recipe:
Prep time: 5 min.
Cook time: 15 min.
---
Ingredients
Fried chicken:
4 chicken breasts
30 g butter or olive oil
salt and pepper
Herb butter:
150 g butter, at room temperature
1 garlic clove
½ tsp garlic powder
60 ml chopped fresh parsley
1 tsp lemon juice
½ tsp salt
Leafy greens:
225 g leafy greens, for example, baby spinach
---
Instructions
Take the butter out of the fridge and bring it to room temperature.
Start with the herb butter. Mix all ingredients thoroughly in a small bowl and let sit until it's time to serve.
Season the chicken with salt and pepper. Fry in butter or oil on medium heat until the fillets are cooked through, and register 165 degrees (75° Celsius) with a meat thermometer. Lower the temperature towards the end to avoid dry chicken filets.
Serve the chicken on a bed of leafy greens and place a generous amount of herb butter on top.
[bs_icon name="glyphicon glyphicon-heart"] Tip: It's easy to keep this delicious herb butter on hand! You can make it ahead of time and store it in the refrigerator for up to 3 days. And it's versatile! This butter pairs marvelously with other meats – try it on steak, turkey, or pork chops.
[bs_icon name="glyphicon glyphicon-tasks"] Nutrition:
Per serving: Net carbs: 1 % (2 g); Fiber: 2 g; Fat: 69 % (64 g); Protein: 30 % (63 g); kcal: 841
Recipe by: Anne Aobadia, Photo credit: Emma Shevtzoff