This cheesecake salad is a wonderful and SO refreshing low-carb dessert! It is a sugar-free, gluten-free, LCHF, and keto recipe.
Probably one of the things I love most about this Cheesecake Salad is that it is so quick and easy to make with only a couple of minutes of prep time.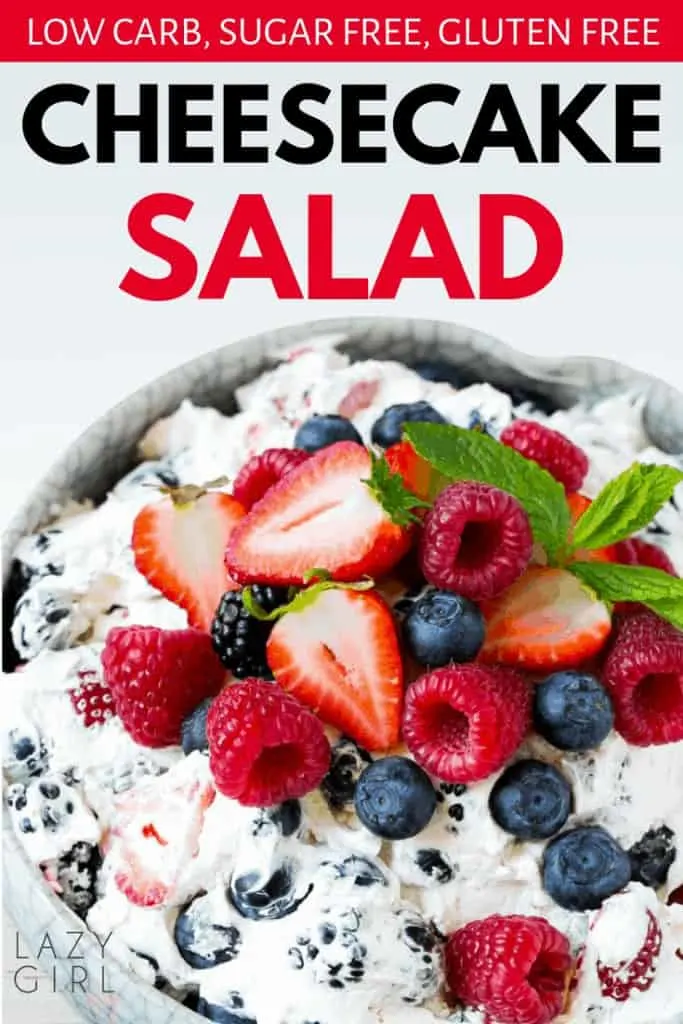 I can already hear some of you… "that's not a salad!". And you're right!
In the traditional lettuce-type of salad, no, it's not. But in a creamy fruit salad kind of way… absolutely!
To make this simple fruit salad, all you have to do is beat cream cheese with low-carb sweetener(s) and heavy cream.
Then you just fold in your keto-friendly berries.
---
This post may contain affiliate links. As an Amazon Associate, I earn from qualifying purchases for my referral at no extra cost to you! See Disclosure
---
Low Carb Cheesecake Salad Recipe:
Prep Time: 10 minutes
Total Time: 10 minutes
Servings: 23 people
Calories: 134kcal
---
Ingredients
16 ounces cream cheese softened
1/2 teaspoon monk fruit concentrated powder
1/4 teaspoon stevia concentrated powder
1 cup heavy whipping cream
16 ounces strawberries cut into bite-sized pieces
14 ounces blueberries about 4 cups
12 ounces blackberries about 2 cups
6 ounces raspberries about 1 cup
---
Instructions
Beat cream cheese with an electric mixer until smooth.
Add in monk fruit, stevia, and heavy whipping cream. Beat with an electric mixer until thick and creamy. If too thick, a little extra cream can be added.
Fold in fresh berries. Store in the fridge or serve immediately.
---
Notes
A total of about 1/2 cup sugar equivalent is needed in the recipe. Therefore, about 1/2 cup of Swerve or Splenda can be used instead of the monk fruit and stevia blend if desired. Makes about 11.5 cups.
---
Nutrition
Per Serving (0.5 cups): Calories 134; Total Fat 11g; Total Carbohydrates 8g; Dietary Fiber 2g; Protein 2g;
If you like this recipe share it with your friends and (..of course..) pin it for later. 🙂