This low-carb keto vanilla ice cream is ridiculously creamy and delicious. Plus, it won't freeze rock solid, like your usual homemade low-carb ice cream!
Perfect for the ketogenic diet as an after-dinner treat, or simply an anytime snack.
It's the easiest low-carb ice cream I've ever made, and there is no way you can mess this one up since it's vanilla ice cream you can add almost anything, and it's going to taste delicious.
It's the best sugar-free low-carb ice cream recipe I've ever made. At least the best keto vanilla ice cream, for sure. You won't believe how EASY it is to make this keto-friendly ice cream recipe.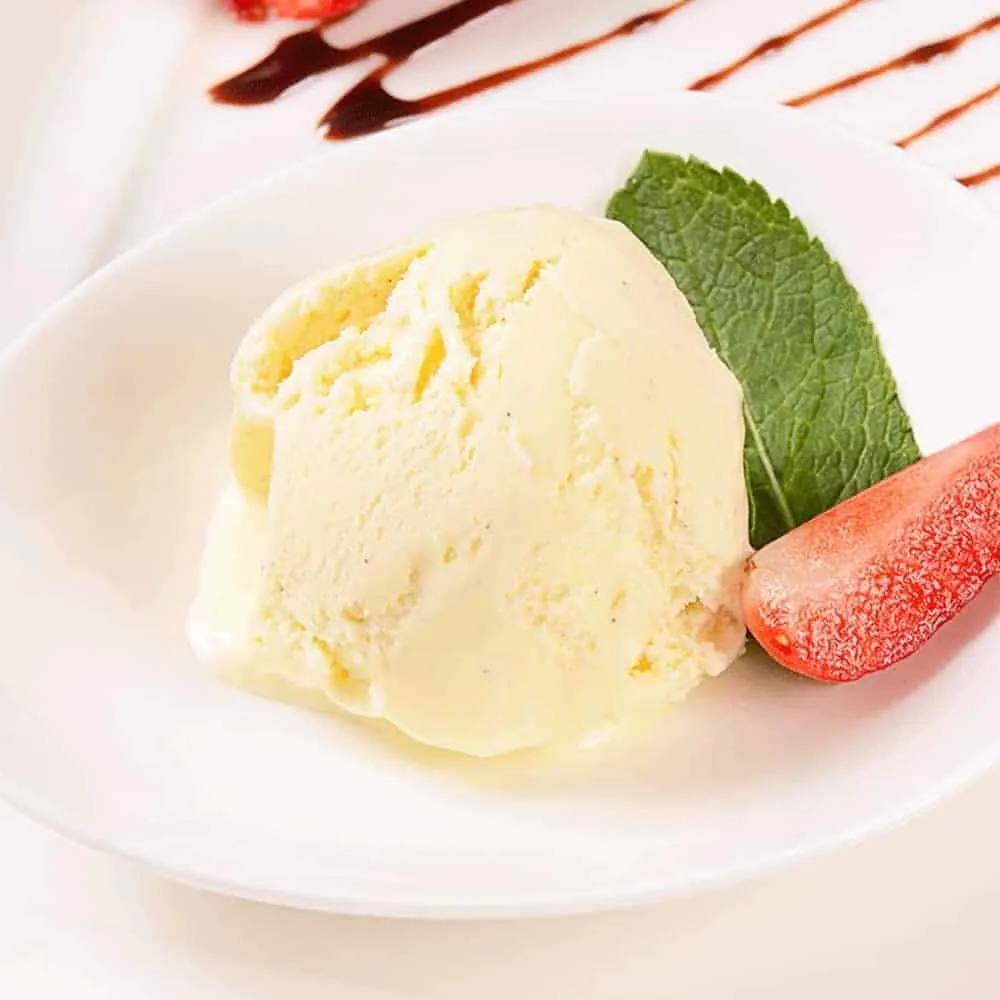 ---
This post may contain affiliate links. As an Amazon Associate, I earn from qualifying purchases for my referral at no extra cost to you! See Disclosure
---

Can You Eat Ice Cream On A Keto Diet?
---
You can't eat regular ice cream on keto, but you can eat keto ice cream! And fortunately, making my homemade low-carb ice cream recipe is super simple.

Can You Make Low Carb Ice Cream Without An Ice Cream Maker?
---
Yes! You can make my homemade low-carb ice cream recipe without an ice cream maker if you don't have one. If you don't have an ice cream freezer, you can still make ice cream.
But, you can also use an ice cream maker if you do have one. If you don't own an ice cream maker, no big deal! This recipe will still turn out amazing as no-churn ice cream.
Better yet, if you're an ice cream lover, you might want to consider getting an ice cream maker.
I have this one from Cuisinart and use it frequently. It's one of the best appliance investments I've ever made.

Ingredients For Keto Ice Cream:
---
From this base, you can create a multitude of other flavors. Just be careful to pay attention to the carbohydrate content of anything else you add to make sure the ice cream maintains the macro profile you're looking for.

Coconut Milk
Are you keto and dairy-free? You'll want to go with the full-fat coconut milk option, which is one of my personal favorites.
You can also go with other milk options such as almond milk or cashew milk, or incorporate blended soaked cashews into the ice cream.
But, you have to know that using nuts and nut-based milk will add carbohydrates to the ice cream, so be cognizant of that if you're keto.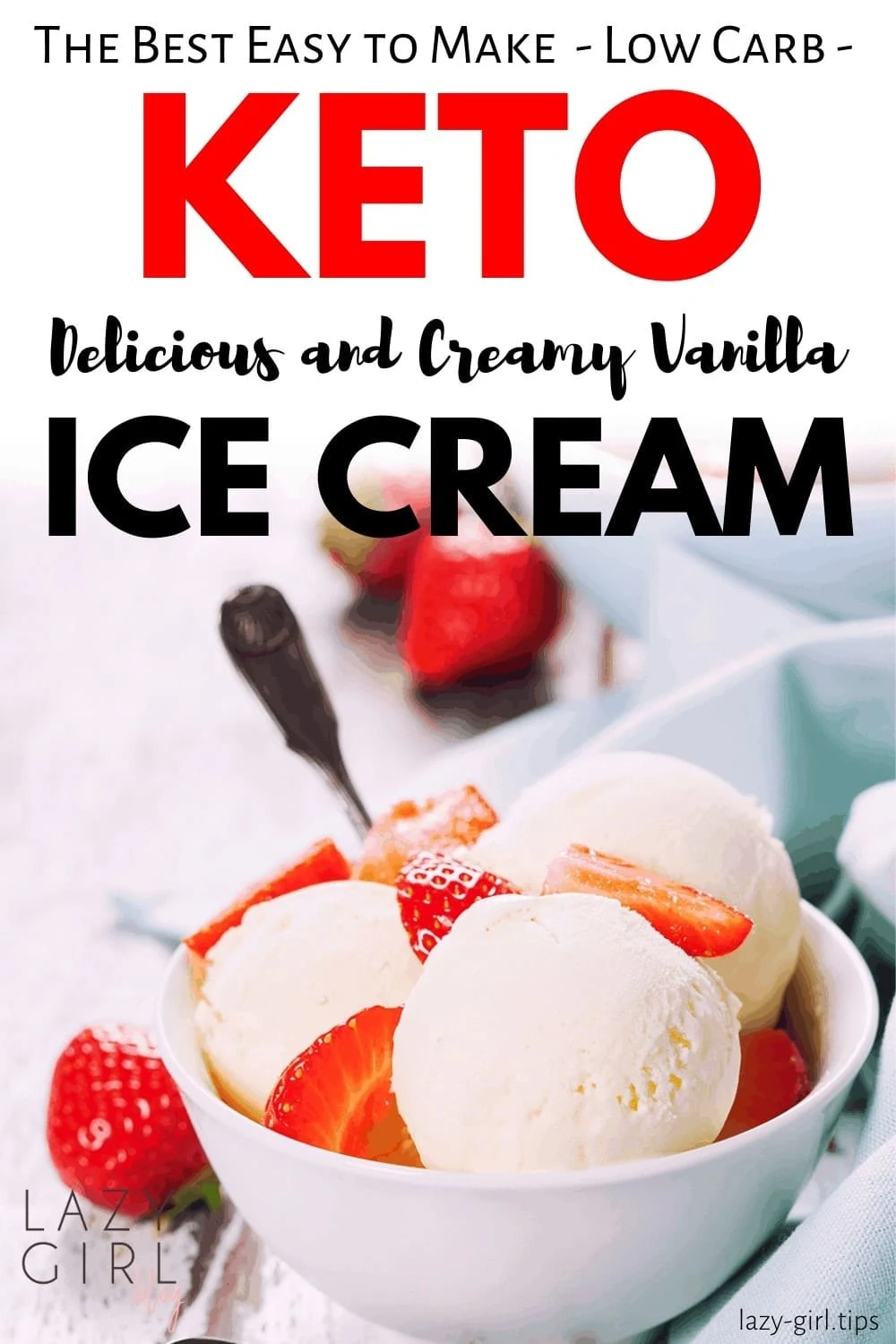 Sweetener Options
My personal preference when it comes to zero-sugar sweeteners is Swerve. Other great sweetener options are Stevia, Monk Fruit Sweetener, Erythritol, and Xylitol.
How much sweetener should you use? That's entirely up to you. All the above options have zero calories, zero carbohydrates, and zero sugar, so theoretically, you can sweeten to your heart's delight without a blood sugar backlash.

Vanilla Bean or Vanilla Extract:
Depending on the flavor you're going for, you can absolutely go with or without a vanilla bean. You're already putting two tablespoons of pure vanilla extract in the ice cream base to make it nice and vanilla-y, yet adding a vanilla bean adds an extra depth of flavor.
If you don't keep vanilla beans on hand, don't sweat it! Just be sure you use a high-quality pure vanilla extract.
You can use this keto ice cream recipe as your base for all your low-carb ice creams!
The consistency is very nice and creamy. One warning, though, just one taste of this ice cream will ruin any affinity you have for the purchased sugar-free ice cream out there.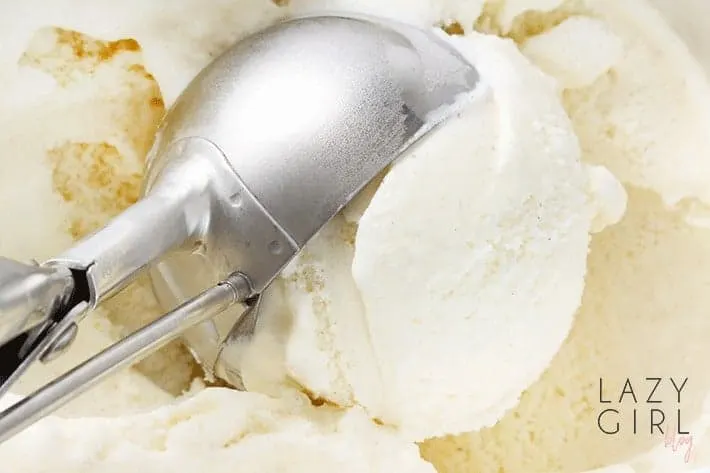 ---

Did you make this Low Carb & Keto Vanilla Ice Cream recipe? Tag me on Instagram so I can see! @lazy_girl_tips
Leave a comment, rate it, pin it, share it, and don't forget to tag a photo #lazy_girl_tips on Instagram. I'd love to see what you come up with. Cheers, friends!