No-bake Keto Ferrero Rocher Fat Bombs are delicious, low carb, paleo, vegan, quick, and easy to make.
They are the perfect high-fat treat for Ketonauts and the absence of sugar means no insulin slump.
Sweet cravings can be satisfied quickly and efficiently with a small keto fat bomb or another keto treat.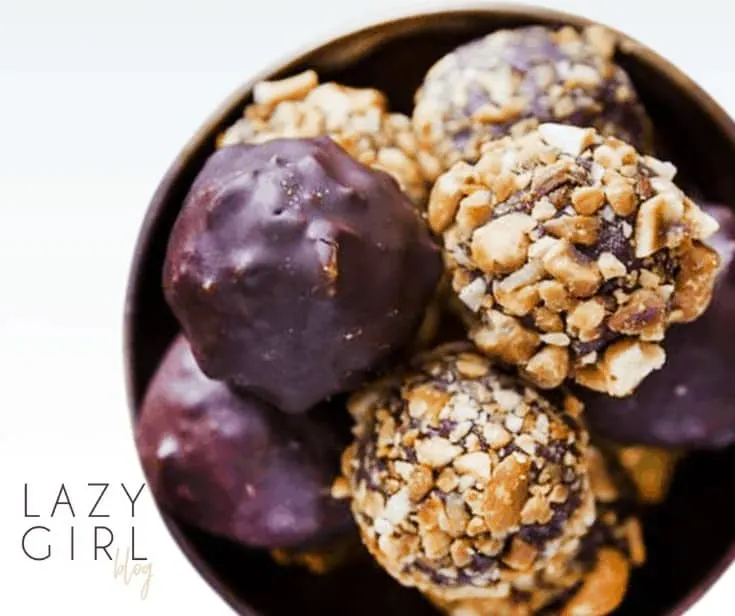 Ferrero Rocher Keto fat bombs are absolutely perfect for those situations.
With only 1.2g net carbs per fat bomb and a whopping 13.7g of healthy fats, you can treat yourself without kicking yourself out of ketosis.
---
This post may contain affiliate links. As an Amazon Associate, I earn from qualifying purchases for my referral at no extra cost to you! See Disclosure
---
Ferrero Rocher Keto Fat Bombs Recipe:
Ingredients:
---
Instructions:
Melt the sugar-free chocolate using a double boiler and melt the coconut oil if necessary.
Add the ground hazelnuts, melted coconut oil, powdered erythritol, baking cocoa powder & vanilla extract into a food processor and blend on high for approx. 30-45 seconds.
Then, add the melted chocolate and blend for another 15 seconds.
Scrape off chunky bits from the sides and the bottom of the food processor and blend again for a few seconds if necessary.
Place the mass in the freezer and chill for approx. 10 minutes.
After the fat bomb mass has cooled down, take it out of the freezer and start to form small balls with your hands.
Add a whole hazelnut into the middle of the ball and roll it in chopped hazelnuts afterward.
You can serve the fat bombs immediately or store them covered in plastic wrap at room temperature for approx. 2-3 days.
Recipe by: Uliana Zoellner