A simple and delicious Keto Coconut Cheesecake Pie Recipe that's low carb and keto-friendly.
It's easy to make coconut cream pie dessert. This keto coconut cheesecake pie is for coconut lovers, as well as cheesecake fans.
The low-carb cheesecake pie is so light and fluffy that you will find it hard to eat only one piece.
I love everything about this gorgeous keto coconut cheesecake pie – that golden almond flour crust and creamy coconut filling are calling my name!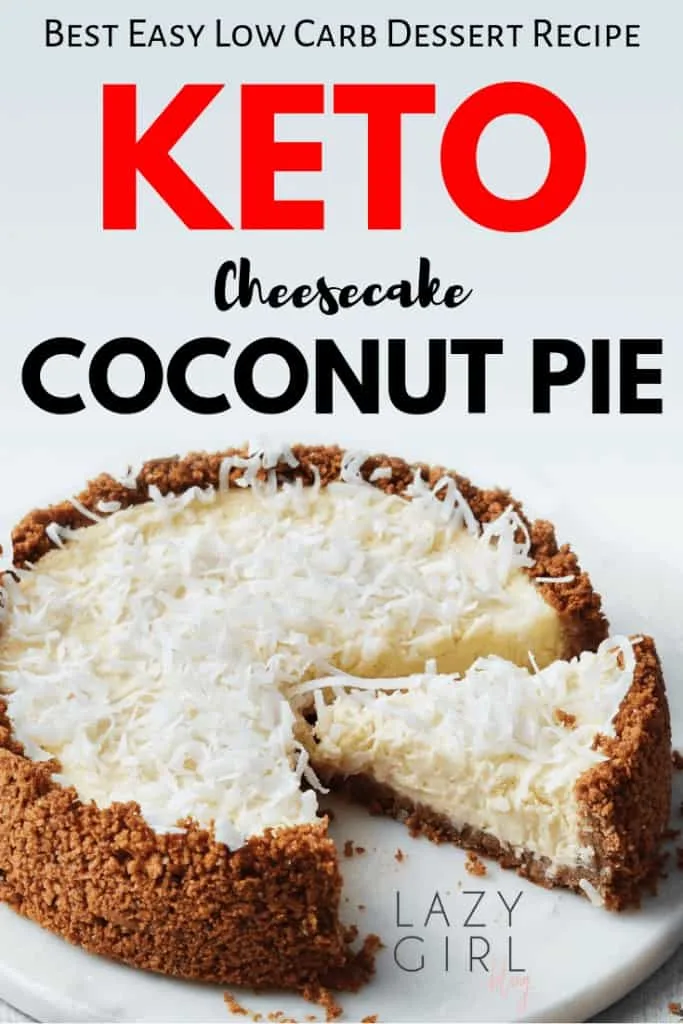 ---
This post may contain affiliate links. As an Amazon Associate, I earn from qualifying purchases for my referral at no extra cost to you! See Disclosure
---
Keto Coconut Cheesecake Pie Recipe:
[bs_icon name="glyphicon glyphicon-time"] Prep Time: 15 minutes
[bs_icon name="glyphicon glyphicon-time"] Cook Time: 1 hour 40 minutes
[bs_icon name="glyphicon glyphicon-time"] Total Time: 1 hour 55 minutes
[bs_icon name="glyphicon glyphicon-cutlery"] Servings: 16 slices
---
Ingredients
For Crust:
---
For Filling:
---
Instructions
For Crust:
Preheat the oven to 350.
Grease the pie pan with coconut oil.
Lightly toast almond flour in a dry skillet or pan over medium heat, until fully golden and fragrant (2-4 minutes).
In a medium bowl, mix all ingredients well with a spatula.
Fold the mixture with the spatula towards the end to get a good mixture.
Add pie mixture to the prepared pie pan. Using your hands or spatula, press the mixture out evenly.
Add to oven and bake for 8-10 minutes.
---
For Filling:
Reduce oven temperature to 300F.
In a large bowl, beat cream cheese on medium until smooth. Beat in sweetener until well combined.
Beat in eggs one at a time, scraping down sides of bowl and beaters as needed. Then beat in coconut milk, vanilla extract, and coconut extract until smooth.
Brush the sides of the springform pan with a little oil or melted butter and then pour the filling over the cooled crust.
Place the springform pan on a cookie sheet and place it on the center rack of the oven. On the rack below, place a large baking dish filled with water.
Bake 1 hour 30 minutes to 1 hour 45 minutes, or until edges are set and the center just barely jiggles when shaken. Remove and let cool completely.
Run a sharp knife around the edges of the pan and remove the sides. Cover with plastic wrap and refrigerate for at least 3 or 4 hours.
---
Topping:
Sprinkle with 1/2 cup large flaked coconut. If you want you can toast coconut in a dry skillet over medium heat, shaking until coconut was lightly browned. You can also add whipping cream on top if wanted.
---
[bs_icon name="glyphicon glyphicon-list-alt"]

Nutrition

Per Serving (1 serving = 1/16th of cake): Calories 334; Calories from Fat 277; Total Fat 30.8g; Total Carbohydrates 5.4g; Dietary Fiber 1.6g; Protein 4.9g;

If you like this recipe share it with your friends and (..of course..) pin it for later. 🙂