This Low Carb Keto Chocolate Pistachio Cupcake recipe is easy to follow and makes perfectly moist cupcakes every time.
They met all of my own expectations… chocolatey cupcakes with a creamy pistachio glaze on top.
You'll impress your family with these homemade cupcakes. This classic dessert is a must-make.
I hope you enjoy this recipe as much as did. Have a fantastic day and thanks so much for stopping by to check out this sweet treat!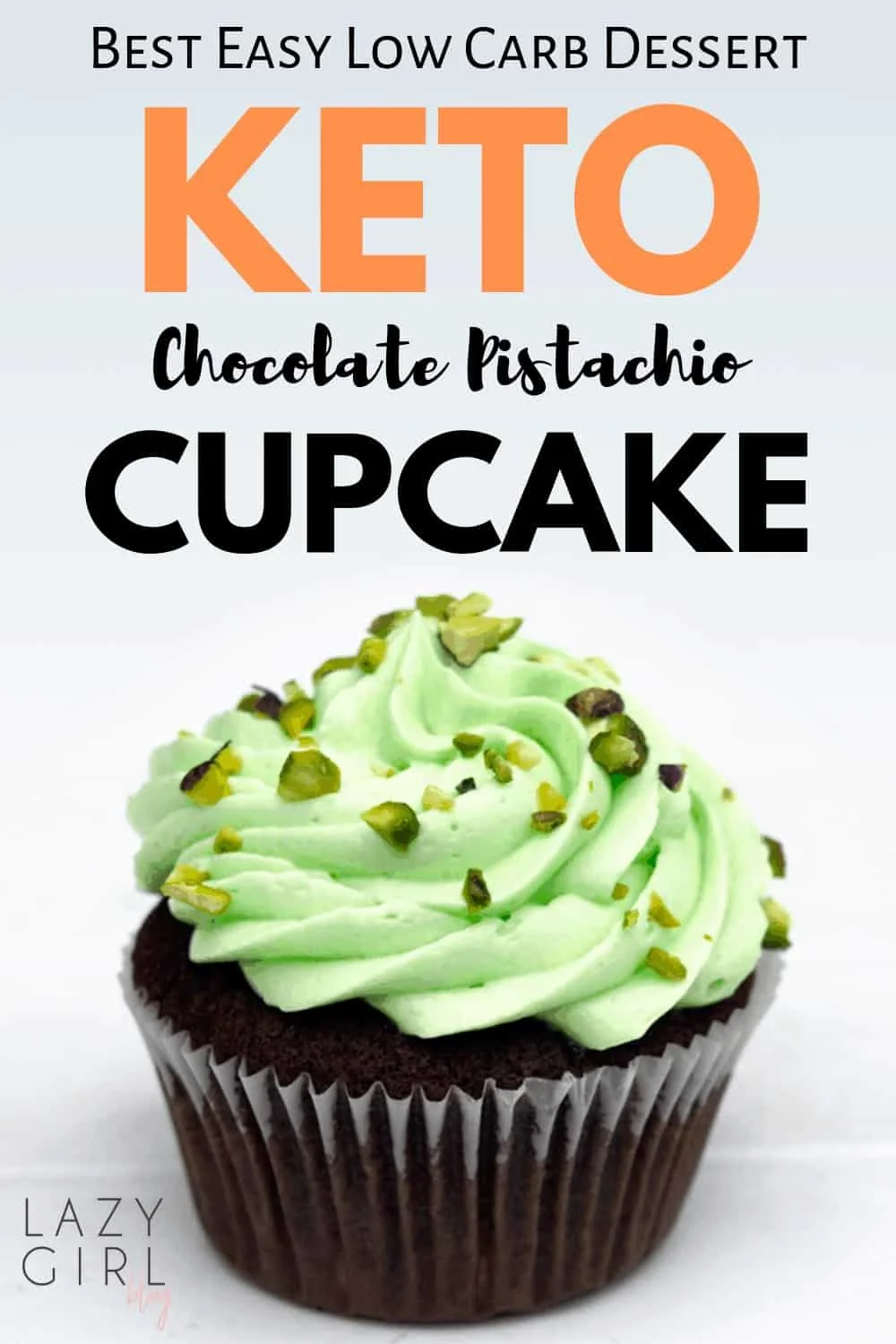 ---
This post may contain affiliate links. As an Amazon Associate, I earn from qualifying purchases for my referral at no extra cost to you! See Disclosure
---
Low Carb Keto Chocolate Pistachio Cupcake Recipe:
[bs_icon name="glyphicon glyphicon-cutlery"] Servings: 12
---
Ingredients
For Cupcakes:
---
For the Cream:
50 g pistachios, unsalted
200 g cream cheese
200 g of Greek yogurt
lemon juice, to taste
green food coloring (if necessary, to taste)
Pistachios chopped, for garnish
---
Instructions
For Chocolate Cupcake:
Preheat the oven to 325F and line 12 muffins cups with paper liners (parchment ones are best for non-stackability).
In a medium bowl, whisk together almond flour, cocoa powder, coconut flour, meringue powder, instant coffee, baking powder, and salt.
In a large bowl, beat coconut oil with sweetener until well combined. Whip the egg whites until stiff peaks form. Combine the yolks and vanilla extract.
Beat in half of the almond flour mixture, and then almond milk. Beat in remaining almond flour mixture until well combined.
Fill each muffin cup about 2/3 full with batter and bake 18 to 22 minutes, until just firm to the touch and a tester inserted in the center comes out clean.
Remove and let cool for 10 minutes in a pan, then transfer to a wire rack to cool completely.
---
For Cream:
Grind the pistachios and place them in a bowl. Add the cream cheese and the Greek yogurt. Mix everything well. Prepare the gelatine according to the package instructions and add it to the pistachio paste. Add sweetener and lemon juice to taste.
If the cream is firm, apply with a syringe bag.
Finally, sprinkle chopped pistachios on top. Serve and enjoy!
---
[bs_icon name="glyphicon glyphicon-list-alt"]

Nutrition

Per serving: 1cupcake | Calories: 160kcal | Carbohydrates: 3g | Protein: 2g | Fat: 16g | Saturated Fat: 7g | Polyunsaturated Fat: 0.4g | Monounsaturated Fat: 3g | Cholesterol: 30mg | Sodium: 5mg | Potassium: 6mg | Fiber: 2g | Sugar: 1g

If you like this recipe share it with your friends and (..of course..) pin it for later. 🙂