If you want an easy to make, TRUE flourless keto chocolate cookies, then you've come to the right place!
This recipe will give you the most amazing keto chocolate flourless cookies, I promise you won't be disappointed.
You may have guessed that this girl L O V E S chocolate.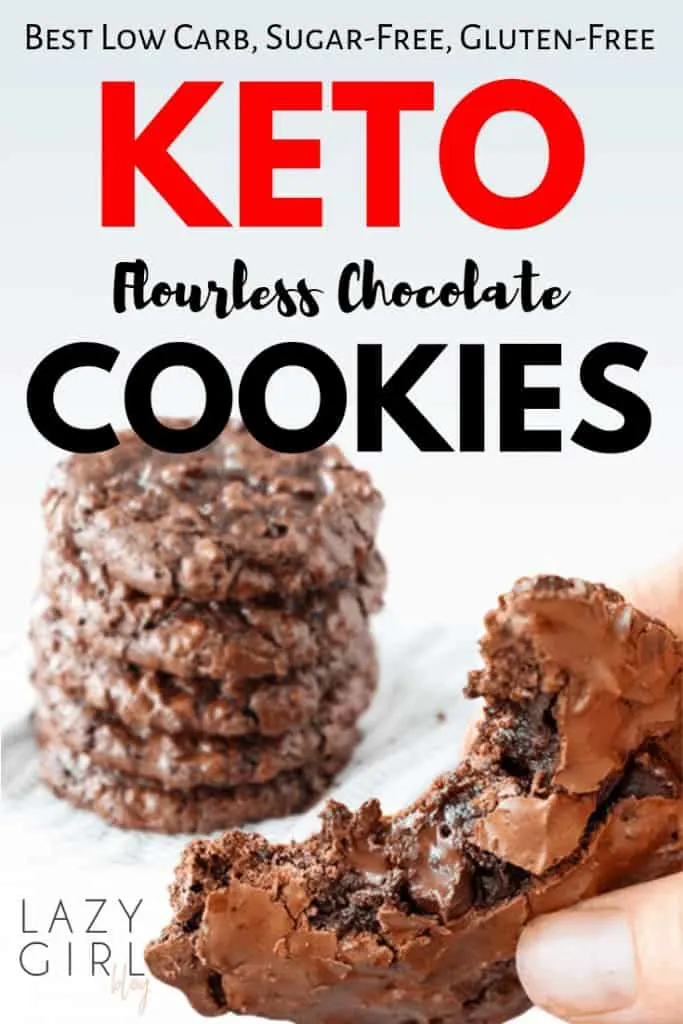 It seems like I am always gravitating to chocolate when I'm in the mood to make a dessert.
It's not that I don't enjoy other flavor profiles but chocolate always seems to find me.
I have tried many different low-carb chocolate cookie recipes, and these are my favorite; moist, chewy, and so decadent.
This is definitely the world`s BEST low carb, sugar-free, gluten-free Keto Chocolate Cookie and it is super easy to make!
---
This post may contain affiliate links. As an Amazon Associate, I earn from qualifying purchases for my referral at no extra cost to you! See Disclosure
---
Flourless Keto Chocolate Cookies Recipe:
[bs_icon name="glyphicon glyphicon-time"] Prep Time: 10 minutes
[bs_icon name="glyphicon glyphicon-time"] Cook Time: 12 minutes
[bs_icon name="glyphicon glyphicon-time"] Total Time: 22 minutes
[bs_icon name="glyphicon glyphicon-cutlery"] Servings: 18 cookies
---
Ingredients
---
Instructions
Preheat the oven to 350°F. Line a rimmed baking sheet with a silicone baking mat or parchment paper.
In a large mixing bowl, combine the almond butter, sweetener, cocoa powder, peanut butter powder, eggs, butter, water, vanilla extract, and baking soda. Using an electric hand mixer, mix until all ingredients are well combined. It will be a very thick dough. Fold in the chocolate chips.
Form the cookie dough into 1 1/2 inch to 2 inch balls. You can make them smaller to yield more cookies.
Place the cookie dough balls on the prepared baking sheet. Bake for 8 to 11 minutes (begin checking on them at 8 minutes). Remove the baking sheet from the oven and place it on a cooling rack to allow the cookies to cool before eating.
---
[bs_icon name="glyphicon glyphicon-list-alt"]

Nutrition

Per serving (1 cookie): Calories 115; Fat 10g; Total Carbs 3.8g; Fiber 2.4g; Protein 4g;

If you like this recipe share it with your friends and (..of course..) pin it for later. 🙂