Healthy Keto Cauliflower Fried Rice is my quick alternative to Fried Rice! Finding good rice alternatives is important for any low carb or keto diet.
This Cauliflower Fried Rice is a flavorful low-carb side dish that could really be enjoyed as a meal!
It is my favorite low-carb side dish when I'm craving Chinese take-out.
If you've been to Chinese food, this recipe is a must-try!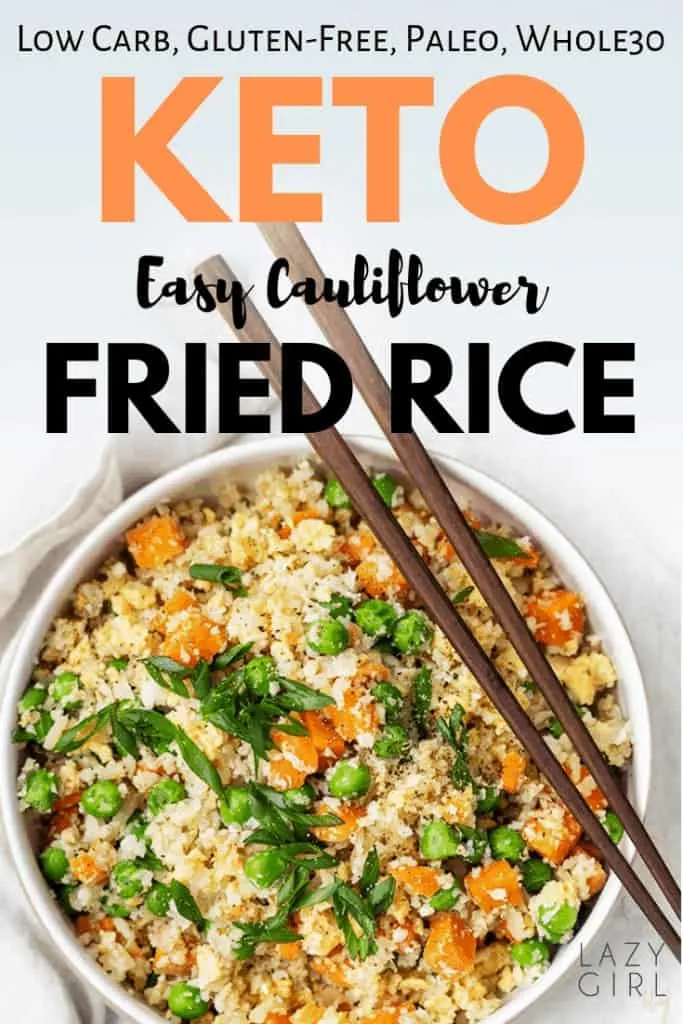 You are going to love this Easy Keto Cauliflower Fried Rice recipe.
Let's put it out there right now – we all miss take-out, especially Chinese food, and that's okay.
With this Cauliflower Fried Rice recipe, you can make your "take-out" exactly to your liking and enjoy a delicious meal after which you won't feel any regret!
One of the most popular dishes to order at a Chinese restaurant is fried rice, however, this recipe has a tasty low-carb twist!
---
This post may contain affiliate links. As an Amazon Associate, I earn from qualifying purchases for my referral at no extra cost to you! See Disclosure
---
Keto Cauliflower Fried Rice Recipe:
[bs_icon name="glyphicon glyphicon-time"] Prep Time:20 minutes
[bs_icon name="glyphicon glyphicon-time"] Cook Time:10 minutes
[bs_icon name="glyphicon glyphicon-time"] Total Time:30 minutes
[bs_icon name="glyphicon glyphicon-cutlery"] Servings: 4
---
Ingredients:
---
Instructions:
Remove the core and let the cauliflower dry completely.
Coarsely chop into florets, then place half of the cauliflower in a food processor and pulse until the cauliflower is small and has the texture of rice or couscous – don't over process or it will get mushy. Set aside and repeat with the remaining cauliflower.
Combine egg and egg whites in a small bowl and beat with a fork. Season with salt.
Heat a large saute pan or wok over medium heat and spray with oil.
Add the eggs and cook, turning a few times until set; set aside.
Add the sesame oil and saute onions, scallion whites, peas and carrots, and garlic for about 3 to 4 minutes, or until soft. Raise the heat to medium-high.
Add the cauliflower "rice" to the saute pan along with soy sauce. Mix, cover, and cook for approximately 5 to 6 minutes, stirring frequently, until the cauliflower is slightly crispy on the outside but tender on the inside.
Add the egg then remove from heat and mix in scallion greens. Garnish with sesame seeds.
Serve warm and enjoy!
---
[bs_icon name="glyphicon glyphicon-list-alt"] Nutrition
Per Serving: Calories: 108 | Net Carbs: 7.75g | Carbohydrates: 12g | Protein: 7.3g | Fat: 9.25g | Fiber: 4.25g
If you like this recipe share it with your friends and (..of course..) pin it for later. 🙂