Are you ready for a quick and tasty keto mug cake? Settle in you won't be disappointed with this yummy keto cinnamon roll mug cake.
This keto mug cake recipe is truly one of the best recipes for keto. A single serving cinnamon roll mug cake that cooks in the microwave.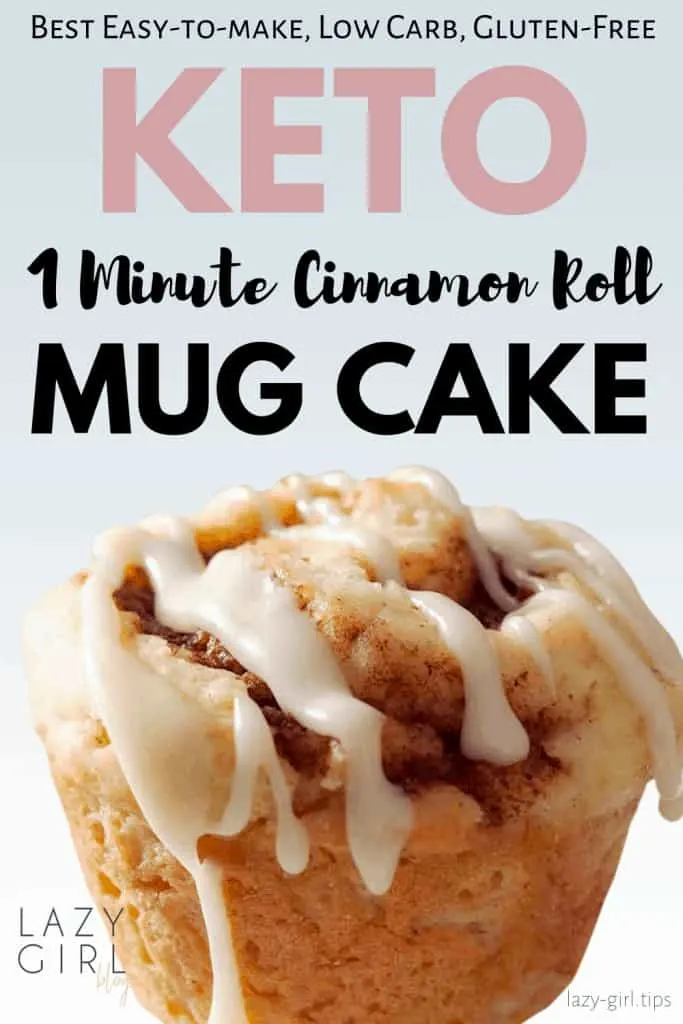 It is also paleo, gluten-free, and wheat-free. It's so easy & perfect for when those sweet cravings hit & you NEED dessert.
It is so easy to make. It literally takes a minute or two to form and about fifty seconds to cook.
This quick and easy low-carb cinnamon roll mug cake is light, fluffy, and slightly moist on the inside! It's loaded with protein and fiber, making it the perfect low-carb snack or healthy dessert to satisfy the sweet tooth.
It also takes less than a minute to whip up! It has the taste and texture of a classic cinnamon roll minus the usual suspects. There is NO butter, grains, or sugar in the entire recipe, but you'd never be able to tell!
Depending on which protein powder option you choose, this recipe is naturally gluten-free, ketogenic, paleo, vegan, dairy-free, and completely sugar-free! Oh, and for those without a microwave, there's a tested oven option!
This takes just two minutes to make! When I have no time whatsoever, a low-carb muffin in a mug is my favorite.
---
This post may contain affiliate links. As an Amazon Associate, I earn from qualifying purchases for my referral at no extra cost to you! See Disclosure
---
Healthy Keto Cinnamon Roll in a Mug with Coconut Flour
Low-carb mug cakes and mug muffins like this make a perfect quick breakfast! They take so little time that you can make them even when you think you don't have time for breakfast.
Seriously, with a 2-minute muffin in a mug as an option, there are no excuses. Now you have the time. The combination of protein and healthy fats will keep you full through lunch.
This mug cake has a gorgeous cinnamon swirl, which creates an amazing flavor dimension. I adore anything with cinnamon, even more so when it's swirled into something.
Coconut oil in this mug muffin recipe provides delicious moisture and provides tons of nutritional benefits, too. Who knew a low-carb cinnamon roll in a mug that tastes so good can be so healthy?
You can enjoy this mug muffin straight out of the mug for easy cleanup. One mug and that's it!
---
Icing
If you have a favorite paleo icing, feel free to use it on this cake.
You can make icing using coconut cream and maple syrup, heating it until it becomes thick and syrupy.
You can also top this with condensed coconut milk.
or you can make cream cheese "Frosting":
---
Keto Cinnamon Roll Mug Cake Recipe:
Servings: 1
Ingredients
Instructions
Spray a microwavable mug with

cooking spray

and add the egg/whites and mix it into the dry mixture. Add the milk of choice, coconut oil, and vanilla extract. If a batter is too crumbly, continue adding the milk of choice until a very thick batter is formed.
Add 1-2 tablespoons more milk, if needed for desired consistency. You want the batter to stay thick, but not dry.
In a small bowl, whisk together granulated sweetener and cinnamon and sprinkle over the top of the mixture in the mug. Use the tip of a knife to swirl cinnamon mix into the top of the batter.
Microwave for 60 seconds, or until just cooked in the center. Top with glaze and enjoy! Take out of the microwave and if desired transfer the muffin to a plate. Enjoy!
---
Nutrition
Serving: 1 mug cake | Calories: 132kcal | Carbohydrates: 6g | Protein: 25g | Fat: 4g | Fiber: 253g |
---
Some of the links above are affiliate links, which pay me a small commission for my referral at no extra cost to you! If you make a purchase through the link, it won't cost you more but I may earn a small commission. I only recommend products that I personally use and love!
If you like this recipe share it with your friends and (..of course..) pin it for later. 🙂