This low-carb Keto Chocolate Cream Pie recipe is for a decadent chocolatey with only 3.5g net carbs per slice. It's a sugar-free dessert that you would never guess is sugar-free.
You can't go wrong with this chocolate dessert.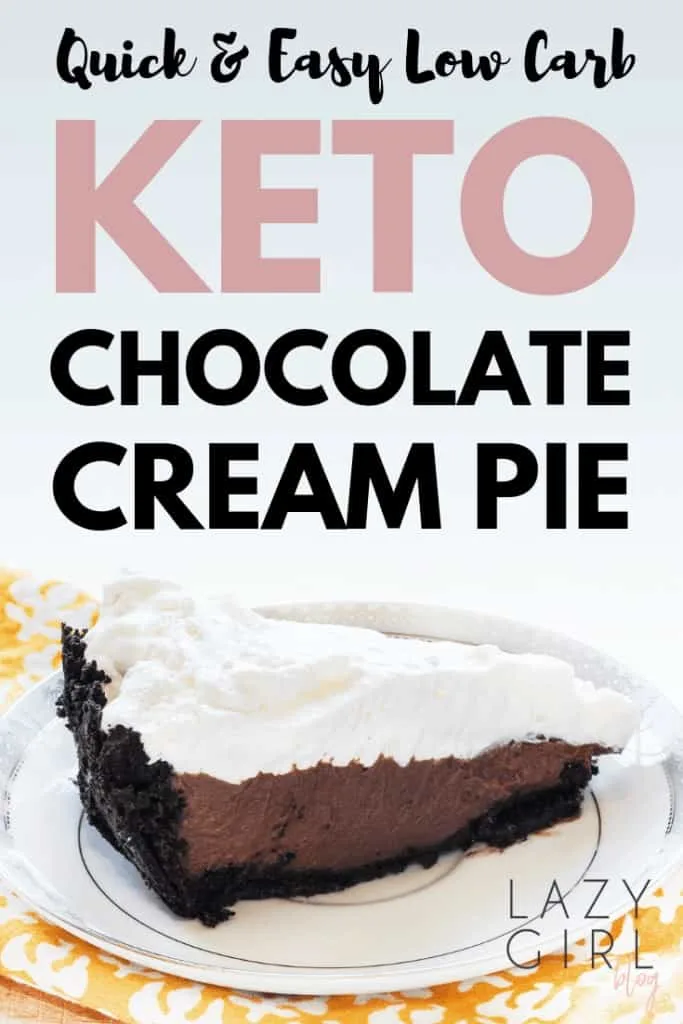 This delicious pie takes about 30 minutes to make.
Yet the flavor is rich and the texture is silky smooth and the chocolate flavor is very satisfying without being overwhelming.
It doesn't taste low-carb at all. In fact, you could fool your guests and they wouldn't know they're eating a sugar-free and gluten-free pie.
---
This post may contain affiliate links. As an Amazon Associate, I earn from qualifying purchases for my referral at no extra cost to you! See Disclosure
---
Keto Chocolate Cream Pie Recipe:
Prep Time: 20 minutes
Cook Time: 12 minutes
Servings: 8
---
Ingredients
Crust:
---
Chocolate Filling:
---
Whipped Cream:
---
Instructions
Preheat the oven to 375F and get out a pie pan.
Place almond flour, sweetener, cocoa powder, baking soda, and salt in a food processor or blender. Pulse to blend. Add the vanilla extract and butter and blend until the mixture comes together to form a dough. Transfer the dough to the pie pan and press the dough evenly into the bottom and sides of the pan. Use a fork to add holes in the crust for the steam to escape.
Bake for 10-12 minutes. Allow cooling in the pan for 1 hour. The crust will firm up as it cools.
To make the chocolate filling, set 3 eggs and 1/3 cup of erythritol into a double boiler and whisk them together until the erythritol is dissolved and the eggs have thickened. This could take about 5-10 minutes.
When your eggs are thick and pale, take them off the heat and allow them to cool while you prep your chocolate.
Cream together your butter and another 1/3 cup of erythritol with an electric hand mixer.
Add melted chocolate, vanilla extract, and salt and beat to combine.
To the buttery chocolate mix, add the eggs and stir to combine.
Add the chocolate silk batter to your crust and refrigerate overnight or for at least 4 hours.
When you're ready to serve, whip a cup of heavy whipping cream with a tablespoon of erythritol until it has tripled in volume and stiffened up. Add the whipped cream to the top of the set pie.
Serve chilled and enjoy!
---
[bs_icon name="glyphicon glyphicon-tasks"] Nutrition:
Per slice: Calories 444; Fat: 42g; Protein: 10g; Net Carbs: 3.5g