A copycat recipe for your favorite American snack cake, but this homemade version is WAY better and it is low carb, dairy-free, sugar-free, gluten-free, and a whole lot healthier.
This Low Carb Chocolate Hostess Cupcake recipe is easy to follow and makes perfectly moist cupcakes every time.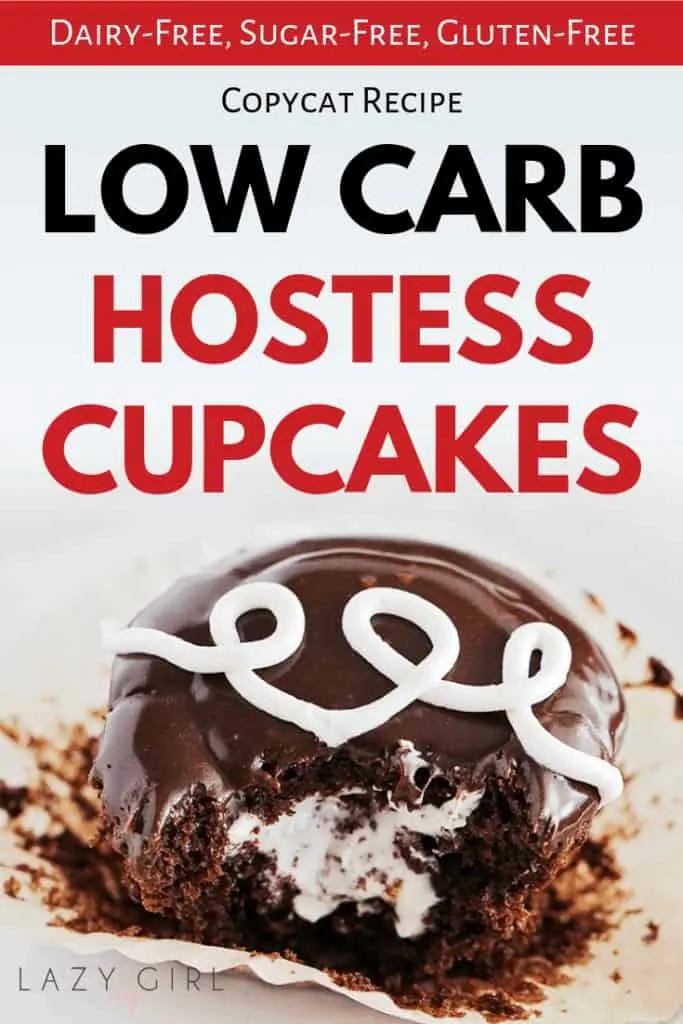 And for those of you that aren't coconut lovers, they didn't taste like coconut at all.
They met all of my own expectations… chocolatey cupcakes with a creamy vanilla center and a chocolate glaze on top.
You'll impress your family with these homemade treats and they'll never want you to buy the store-bought dessert again!
This classic dessert is a must-make.
---
This post may contain affiliate links. As an Amazon Associate, I earn from qualifying purchases for my referral at no extra cost to you! See Disclosure
---
Low Carb Chocolate Hostess Cupcakes Recipe:
[bs_icon name="glyphicon glyphicon-cutlery"] Servings: 12 cupcakes
---
Ingredients
For Cupcakes:
---
For Cream Filling:
---
For Chocolate Ganache:
---
Instructions
Cake:
Preheat the oven to 325F and line 12 muffins cups with paper liners (parchment ones are best for non-stackability).
In a medium bowl, whisk together almond flour, cocoa powder, coconut flour, meringue powder, instant coffee, baking powder, and salt.
In a large bowl, beat coconut oil with sweetener until well combined. Whip the egg whites until stiff peaks form. Combine the yolks and vanilla extract.
Beat in half of the almond flour mixture, and then almond milk. Beat in remaining almond flour mixture until well combined.
Fill each muffin cup about 2/3 full with batter and bake 18 to 22 minutes, until just firm to the touch and a tester inserted in the center comes out clean.
Remove and let cool for 10 minutes in a pan, then transfer to a wire rack to cool completely.
Using a knife or a 1-inch round cookie cutter, core each cupcake and cut just the top off each core (to put back on the filled cupcakes).
---
Cream Filling:
Remove a can of coconut milk from the fridge and flip it upside down. Open the can and pour off all the coconut water (reserve for smoothies or some other use).
Scoop out the coconut cream and place it in a large bowl.
Add 3 tbsp powdered sweetener and vanilla extract and beat until it resembles whipped cream.
Spoon filling into the center of each cupcake and then top with a thin top from cupcake cores. You will have some leftover cream filling and will use some of it for the white squiggles across the top.
Refrigerate cupcakes while preparing the ganache.
---
Chocolate Ganache:
Melt coconut oil, chocolate, and sweetener in a small pot over low heat, stirring until smooth.
Stir in cocoa powder until smooth.
Let sit 20 to 30 minutes until thickened, (but don't let it completely cool or it will become too hard – you want it thick enough to spread over the tops of the cakes).
Remove cupcakes from the fridge and use a spoon to spread ganache over the top of each. Chill until set.
For the white writing across the top, mix 2 tbsp of leftover coconut cream filling with the remaining 2 tbsp powdered Swerve until smooth.
Spoon into a plastic baggie with the very tip cut off and pipe onto cooled cupcakes in whatever design you wish.
---
[bs_icon name="glyphicon glyphicon-tasks"]

Nutrition

Per Serving (1 cupcake): Calories 215; Total Fat 18.5g; Total Carbs 8.7g; Dietary Fiber 4.5g; Protein 6.7g; Net Carbs 4.2g;

If you like this recipe share it with your friends and (..of course..) pin it for later. 🙂