Fresh, sweet, and easy to make! This no-bake strawberry cheesecake lasagna is the perfect dessert to please a crowd.
Creamy layers of cheesecake, graham crackers, and sweet strawberries sit overnight like an icebox cake and become a delicious dessert "lasagna".
This is one so simple that anyone can make it and look like an expert at the culinary arts and it is the perfect make-ahead dessert for spring and summer picnics and potlucks.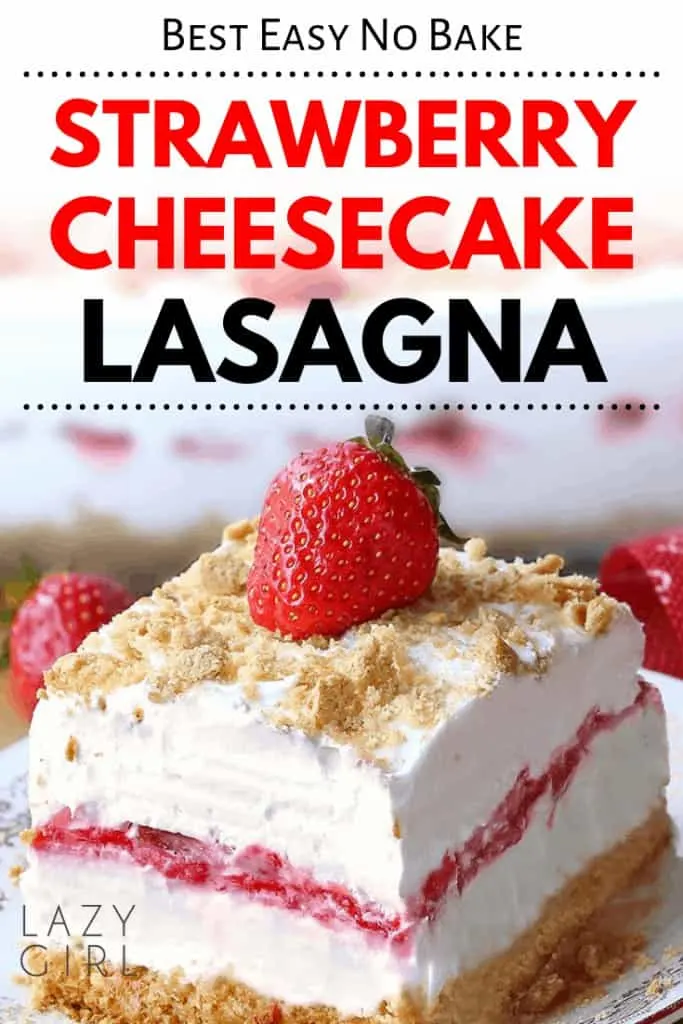 ---
This post may contain affiliate links. As an Amazon Associate, I earn from qualifying purchases for my referral at no extra cost to you! See Disclosure
---
No-Bake Strawberry Cheesecake Lasagna Recipe:
[bs_icon name="glyphicon glyphicon-time"] Prep Time: 30 minutes
[bs_icon name="glyphicon glyphicon-cutlery"] Servings: 10 -12
---
Ingredients
2 1/2 cups graham cracker crumbs divided
1 stick of butter melted
1 8-ounce package of cream cheese, softened
1 cup powdered sugar
2 8-ounce containers of frozen whipped topping, thawed
1 16-ounce container of fresh strawberries, divided
---
Instructions
In a medium bowl, combine 2 cups of graham cracker crumbs and melted butter.
Firmly press into a crust in the bottom of a 9×13 glass or porcelain dish, and let it chill in the freezer for about 10-15 minutes to firm up.
In a large bowl, combine the softened cream cheese, powdered sugar, and 1 container of the whipped topping. Stir well to combine. Spread the mixture evenly over the cooled crust.
Set 5-6 whole strawberries aside for decoration. Wash, hull, and slice the remaining strawberries. Layer the berries evenly on top of the cream cheese mixture.
Top with the remaining container of whipped topping. Refrigerate for at least 2 hours, preferably overnight.
Top with the remaining whole and chopped strawberries, and sprinkle with graham cracker crumbs (you may not use it all), before serving.
* If your strawberries aren't sweet enough, add the 1/4 cup of sugar and 1 TBsp of lemon juice in a bowl with your sliced strawberries. Mix well and set aside. Do not forget to drain the strawberries, before you place them on.
If you like this recipe share it with your friends and (..of course..) pin it for later. 🙂
Source: sugarapron.com