These Low Carb Keto Cream Cheese Brownies are a delicious guiltless treat!
They are gluten-free and low sugar brownies and two favorite desserts combined into one tasty dessert!
If you are looking for a great sugar-free, low-carb alternative to traditional cream cheese brownies, you've found it in these chewy, chocolate, keto cream cheese brownies.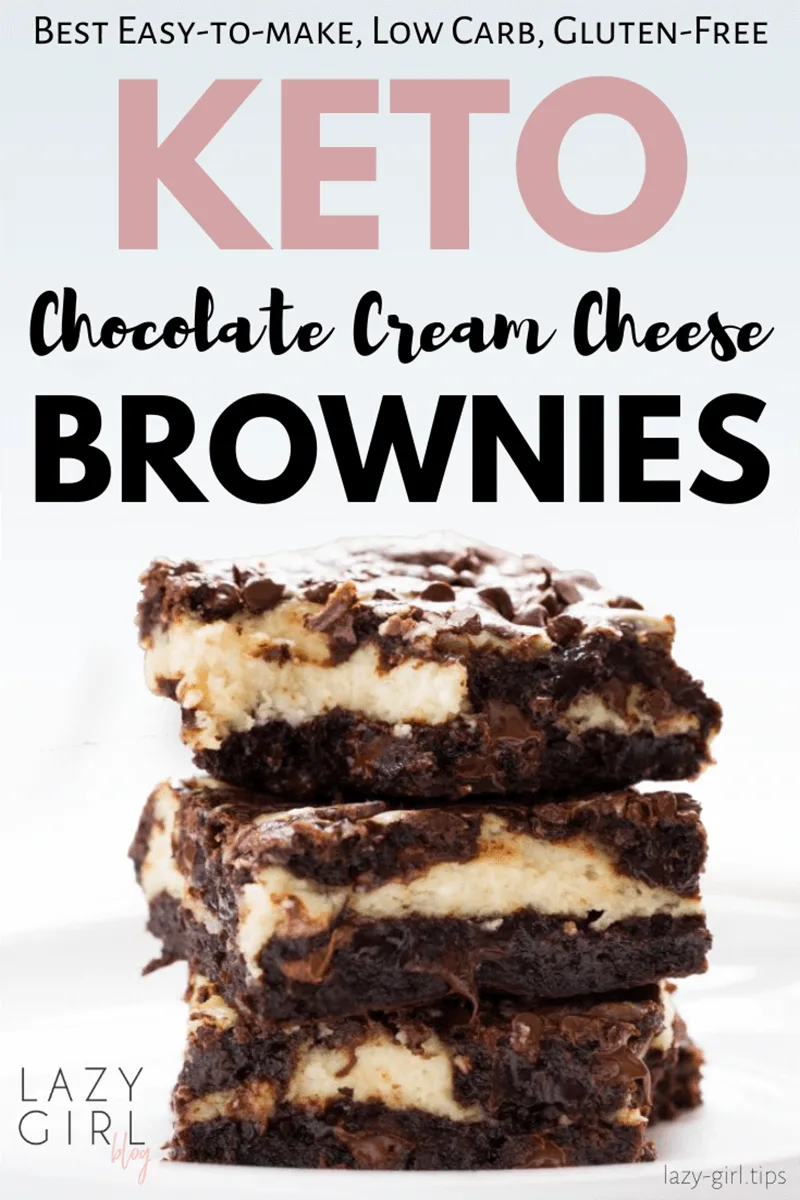 Curb your chocolate cravings without the guilt and still stick to your low-carb or ketogenic diet.
I have made these keto cream cheese brownies several times now.
It is delicious once cooled, but better a day later, as the brownie is a touch moister.
Either way, it'll be amazing. Each bite fills your mouth with an intensely rich combination of cream cheese and deep-dark chocolate that, I`m certain, won't disappoint – no matter which flavor you prefer.
These brownies are perfection and best of all – they're way easier to make than cheesecake.
Rich brownies with a sweet, thick cheesecake swirl.
They are just what you need when you want a low-carb dessert!
---
This post may contain affiliate links. As an Amazon Associate, I earn from qualifying purchases for my referral at no extra cost to you! See Disclosure
---
Tips for Making Keto Cream Cheese Brownies
Definitely make the cream cheese layer first as once the brownie batter is made it will quickly stiffen up. The almond flour absorbs moisture super fast. If you make the brownie batter first, by the time the cream cheese batter is made the brownie batter will be too thick to "swirl" or marble.
If you want to really get that marbled cheesecake brownie to look, add a little bit of heavy cream ~2tbsp to the top brownie batter portion right before layering it on top. This will help with marbling.
As with any keto dessert, these do have a different texture than traditional brownies made with all-purpose flour. This is due to the eggs, almond flour, and erythritol. The batter for these keto cream cheese brownies will be thicker than you are used to with regular brownies.
Almond flour cannot be substituted for coconut flour in a 1:1 ratio. Please note that I have NOT experimented with this ratio so I cannot guarantee the results. Also, the nutrition facts would be different so take that into consideration.
While you can substitute Stevia for the Erythritol in this recipe, please note that it will not be a 1:1 ratio swap. Stevia is much more concentrated in sweetness, and can actually taste bitter in large quantities. I have not tested this recipe using granulated Stevia so I am unsure how it would change the batter's consistency and taste or affect the final outcome.
---
Easy Low Carb Keto Brownies – Best Chocolate Cream Cheese Brownies Recipe:
[bs_icon name="glyphicon glyphicon-time"] Prep Time: 15 minutes
[bs_icon name="glyphicon glyphicon-time"] Cook Time: 20 minutes
[bs_icon name="glyphicon glyphicon-time"] Total Time: 35 minutes
[bs_icon name="glyphicon glyphicon-cutlery"] Servings: 16 brownies
---
Ingredients
Cream Cheese filling:
---
Brownies
---
Instructions
Preheat the oven to 350°F. Line your baking pan (8×8 inch) with parchment paper on the bottom and sides.
First, make the Cream Cheese layer. In a medium bowl, beat cream cheese and granulated erythritol until whipped. Then add egg and vanilla and mix until well combined. Set aside.
Melt the butter and chocolate together over low heat.
When the butter and chocolate have melted, set aside to cool.
In a large bowl, whisk together the eggs, granulated erythritol, baking powder, vanilla, and salt. When smooth whisk in the chocolate until well combined.
Gently stir through the almond flour, one tablespoon at a time, and whisk until well combined.
Fold the chocolate chips into the brownie batter.
Spoon half the brownie batter into the prepared pan, then top with the cream cheese filling.
Dollop the remaining brownie batter onto the cream cheese, swirling the two together.
Bake for 20-25 minutes or until the center is mostly set. It may jiggle slightly but once you remove it from the oven it should firm completely. Remove from the oven and cool before slicing!
Enjoy!
---
[bs_icon name="glyphicon glyphicon-heart"] Tip: To ensure that the moist, sticky brownies released from the pan in one piece, line your greased pan with parchment paper, and grease the parchment.
[bs_icon name="glyphicon glyphicon-tasks"] Nutrition:
Some of the links above are affiliate links, which pay me a small commission for my referral at no extra cost to you! If you make a purchase through the link, it won't cost you more but I may earn a small commission. I only recommend products that I personally use and love!
Did you make this Keto Chocolate Cream Cheese Brownies recipe? Tag me on Instagram so I can see! @lazy_girl_tips
Leave a comment, rate it, pin it, share it, and don't forget to tag a photo #lazy_girl_tips on Instagram. I'd love to see what you come up with. Cheers, friends!