Keto Coconut Brownies – Fudgy brownies topped with a layer of creamy coconut and finished with a smooth chocolate ganache.
These chocolate coconut brownies are simply impossible to resist. For those who love coconut desserts, these are one of the best brownies ever.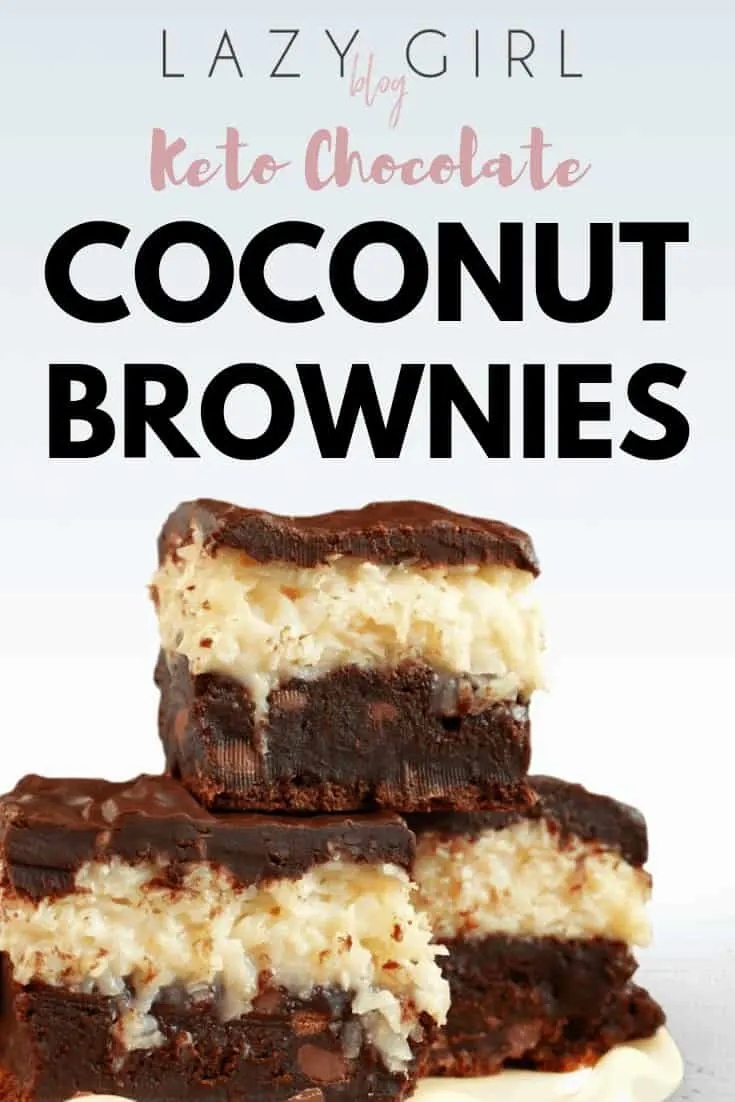 Keto Chocolate Coconut Brownies are keto-friendly and will satisfy your sweet tooth without destroying your diet and they are super easy to make.
---
This post may contain affiliate links. As an Amazon Associate, I earn from qualifying purchases for my referral at no extra cost to you! See Disclosure
---
Keto Chocolate Coconut Brownies Recipe:
[bs_icon name="glyphicon glyphicon-time"] Prep Time: 20 minutes
[bs_icon name="glyphicon glyphicon-time"] Cook Time: 30 minutes
[bs_icon name="glyphicon glyphicon-time"] Total Time: 50 minutes
[bs_icon name="glyphicon glyphicon-cutlery"] Servings: 16 brownies
---
Ingredients
Coconut Layer:
---
Brownies:
---
Chocolate Glaze:
---
Instructions
Preheat the oven to 350°F. Line your 8×8 inch or 9×9 inch baking pan with parchment paper on the bottom and sides.
Melt the butter and chocolate together over low heat.
When the butter and chocolate have melted, set aside to cool.
In a large bowl, whisk together the eggs, granulated erythritol, vanilla, and salt. When smooth whisk in the chocolate until well combined.
Gently stir through the almond flour, one tablespoon at a time, and whisk until well combined.
Fold the chocolate chips into the brownie batter.
Pour mixture into the prepared pan and bake for about 30 minutes until a toothpick inserted in the center comes out with a few moist crumbs sticking to it.
In a microwave-safe bowl or stovetop, combine your coconut butter with your Maple Flavored Syrup and melt until smooth and creamy. If your coconut butter is already smooth and drippy, omit the heating part.
Add unsweetened shredded coconut to the mixture.
Pour the coconut mixture over the brownie.
Prepare your Chocolate Glaze. In a bowl, add both the chocolate chips and heavy cream. Microwave in 30-second intervals until the chocolate has melted. Whisk until smooth.
Spread it evenly and refrigerate for at least 1 hour before serving.
---
[bs_icon name="glyphicon glyphicon-heart"] Tip: If you want the white coconut layer to stay as white as possible, make sure the ganache topping is completely set before cutting them. Some chocolate will streak into the coconut, it's inevitable, but the more set the topping is, the more likely they'll cut neatly.
[bs_icon name="glyphicon glyphicon-tasks"] Nutrition:
Per serving: Calories: 145; Fat: 14g; Net Carbs: 2g; Protein: 4g;
If you like this recipe share it with your friends and (..of course..) pin it for later. 🙂