Need a yummy alternative to carby mashed potatoes? This creamy, buttery, super easy-to-make Keto Cauliflower Mashed 'Potatoes' with Sour Cream or Cream Cheese, and Parmesan is the low carb side dish of your dreams!
It's simple to make and I think that my method is the absolute best for creating creamy, flavorful cauliflower mashed 'potatoes'. Low carb, healthy, and a hit with my kids too!
The carbs in cauliflower are low, making this dish perfect for any occasion including the holidays, Thanksgiving, and Christmas.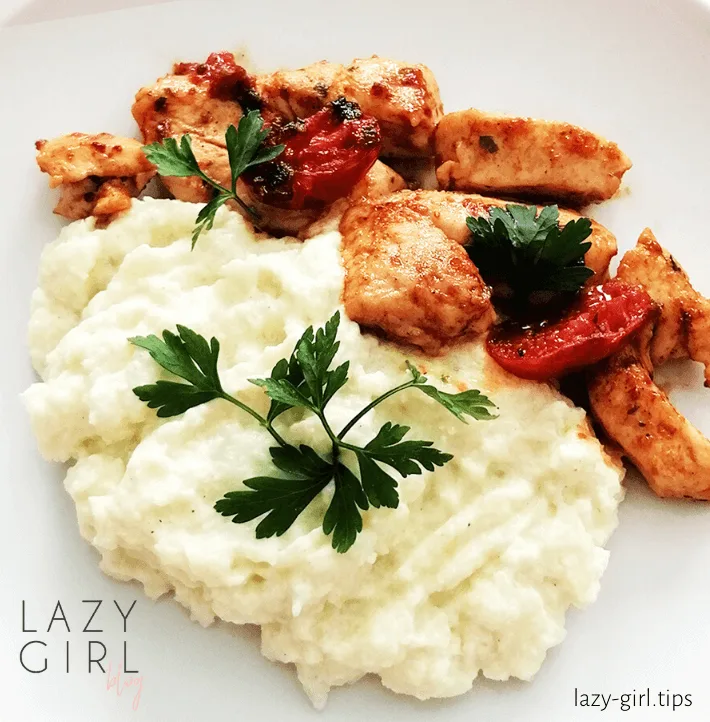 Seriously, my family loves these so much, and you won't even feel deprived of potatoes AT ALL. This is a perfect keto-friendly solution if you miss mashed potatoes.
So, even though keto mashed cauliflower is not really potatoes, that makes it all the more interesting. Just like spaghetti zucchini makes great low-carb noodles!
Cauliflower is perfect for keto! It's also loaded with so many health benefits! Cauliflower has tons of nutritional benefits over white potatoes.
It's packed with fiber, vitamin C, vitamin K, folate, potassium, iron, and calcium. It's definitely one of my favorite low-carb veggies. It also helps reduce blood pressure and strengthens your immune system.
---
This post may contain affiliate links. As an Amazon Associate, I earn from qualifying purchases for my referral at no extra cost to you! See Disclosure
---
How Do You Make Cauliflower Like Mashed Potatoes?
---
It's actually really easy. You will need ahead cauliflower, garlic, butter, sour cream (or substitute with cream cheese), parmesan, and salt and pepper to taste.
After boiling your cauliflower, drain it very well, and then transfer the cauliflower to a food processor.
If you don't have one, try a high-powered blender, hand blender, or just mash by hand. Then just process (or mix) the cauliflower with cream cheese, Romano or Parmesan cheese, salt, and pepper. This couldn't be simpler!
---
How Many Carbs Are In Cauliflower?
One head of cauliflower has 6 total carbs. This recipe has only 1.3 net carbs per serving. Pair this dish with a juicy buttery, steak or grilled chicken to save on the remaining net carbs!
---
Some of the links above are affiliate links, which pay me a small commission for my referral at no extra cost to you! If you make a purchase through the link, it won't cost you more but I may earn a small commission. I only recommend products that I personally use and love!
Did you make this Easy Keto Cauliflower Mashed Potatoes – Mashed Cauliflower recipe? Tag me on Instagram so I can see! @lazy_girl_tips
Leave a comment, rate it, pin it, share it, and don't forget to tag a photo #lazy_girl_tips on Instagram. I'd love to see what you come up with. Cheers, friends!