Sarah Alexander is now diabetes-free and looks great after losing nine stones. She is now half the woman she used to be and is enjoying the benefits of a healthy lifestyle and reversing her diabetes symptoms.
Miss Alexander from Diss, has lost more than nine stones after she sought help to change her life around.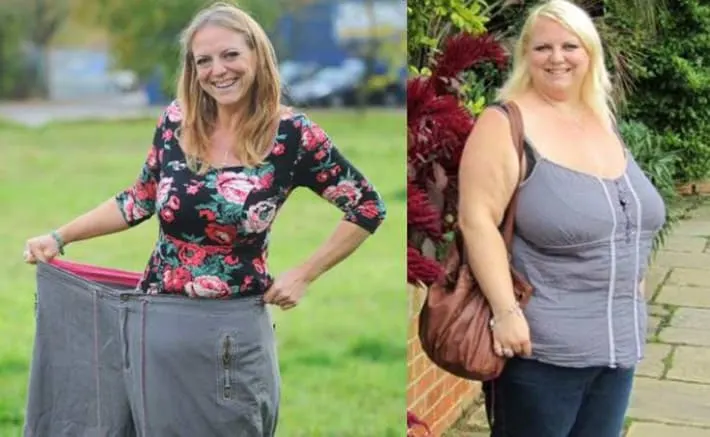 The 38-year-old feared for her life after she used to get out of breath, suffered infections, and was diagnosed with type 2 diabetes.
But after 15 months of healthy eating with the Diss Slimming World group and a separate strenuous exercise regime, Miss Alexander now weighs 10th 5lbs and has dropped from a size 32 to a 10.
"I was terrified, and ashamed of the size that I'd got to, but was desperate for help," she said. "I was just in the worst health I had ever been in my life. If I walked anywhere or bent over to tie my shoelaces, I was always sweating and out of breath.
"I was terrified about what people would think of me. Just going to a shop, I was worrying that people would look at me and think 'there's the fat girl'."
Miss Alexander was told by doctors she needed to change her diet drastically and she subsequently joined the Diss group of Slimming World.
Following a food optimization plan and taking steps to get fitter, such as walking, jogging, and Aquafit, she lost two stones in her first nine weeks.
"I needn't have been worried as I was welcomed with open arms, and made friends from the very first night, and made myself a promise to go back next week to support that friend I had made."
Her slimming success has seen a reversal of her diabetes symptoms and she now tackles 10k runs, including the Race for Life, and swims regularly.
Miss Alexander, who runs her own sales company and had tried lots of diets before, said: "It was absolutely terrifying to be told I had diabetes. It made me have a chat with myself and I said I want to give myself extra years of life."
"Going to a group and getting support from friends and family by confronting my fears has helped me to take on the weight loss."
"I would have never been able to do that before. Being diagnosed with type 2 diabetes is scary and quite isolating. Going to a group and getting support from friends and family by confronting my fears has helped me to take on the weight loss," she said. "It is absolutely fantastic. I feel like a completely new person."
Jane Aldous, Miss Alexander's consultant, said: "Sarah is a superstar in the group, not only losing nine stone, gaining this amazing size ten figure and the hugest smile ever, but she's an inspiration to other members, new and existing, and everyone is bowled over by Sarah's journey."
Jane Aldous, Miss Alexander's Slimming World consultant, said: "Sarah is an absolute superstar. She is an inspiration to other members, new and existing, and everyone is bowled over by Sarah's journey."